The Dance Enthusiast Asks Food Scholar Meryl Rosofsky about "Breaking Bread with Balanchine" at The Guggenheim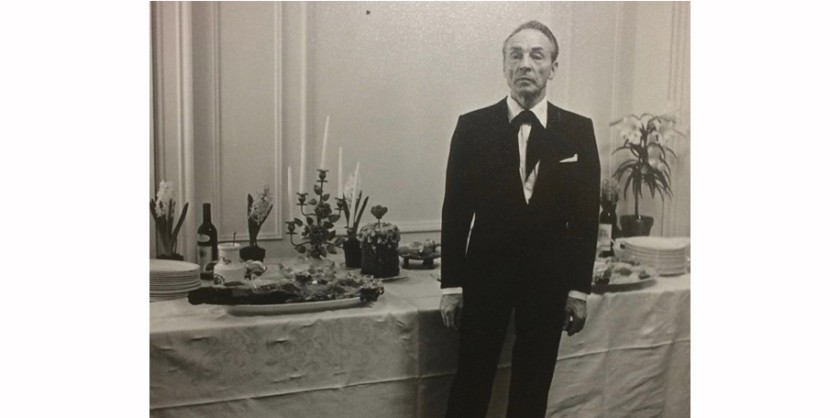 The Food Scholar Presents A Brief "Culinary Biography" Of The Choreographer
Breaking Bread with Balanchine—Meryl Rosofsky as presenter
Sunday and Monday, April 8 & 9 from 7:30-9:00pm
Venue: Solomon R. Guggenheim Museum, 1071 5th Ave, New York, NY
More details: http://bit.ly/2DJHKTu 
Tickets available on The Guggenheim website
---
Sammi for The Dance Enthusiast: Food stands as a symbol for a slew of things: identity, history, relationships, politics, gender, biology, and the list goes on. How does "Breaking Bread With Balanchine" shed light on one of the greatest choreographers in history?
Meryl Rosofsky, Food Scholar and Curator of the Program: Brillat-Savarin, the French gastronomic philosopher (leave it to the French to have such a thing!) famously said, "Tell me what you eat, and I'll tell you who you are." Our relationship to food illuminates all kinds of things about us. I feel it's even possible to weave a 'culinary biography' around a person's relationship to food and cooking, including for those who are not 'food personalities' per se — we all eat, after all. This concept was born out by seminal food historian Laura Shapiro last year in her book, What She Ate, which traces the lives of six disparate women — including Eleanor Roosevelt and Eva Braun — through their foods.
In Balanchine's case, he was actually a great cook, intuitive and inventive. People are usually surprised to learn how much time he devoted to the kitchen! Jennifer Homans, who wrote Apollo's Angels, was the one who told me a few years ago that outside of the making of ballets, cooking was Balanchine's most important creative endeavor. This revelation sparked the idea for my "Breaking Bread With Balanchine" project, which I was fortunate to be able to pursue as a fellow at the Center for Ballet and the Arts.
Meryl Rosofsky at Works & Process. Courtesy of Works & Process at the Guggenheim/Titus Ogilvie-Laing, November 2017.
If you look at the dishes Balanchine liked to prepare, you can trace his geographic journey from the Imperial Russia of his childhood — borscht! pelmeni! — to the cultural and culinary meccas of Paris and the South of France with Diaghilev — grand aioli! — to America, with its focus on the quick and the new (frankfurters in tomato sauce, which he really loved! He once even served them to the Stravinsky's), with Georgian and German and other influences thrown in.
But to me even more interesting than what he cooked is why? Why was food so important to him, and what, if anything, does his love of food and cooking illuminate about his life?
We could talk for hours about this, but to give just one example, if you think about Balanchine's taste for luxuries like Cristal and caviar — the more, the better! — it seems like this was an antidote to the near-starvation he endured as a student at the Imperial Theater School in Russia after the Bolsheviks came to power in 1917. The boy who had to resort to eating cats and rats to survive the revolution could later feast on roasts and aspics, and distinguish one vintage of Château Margaux from another. And it's telling that these luxury items harken back to the days of the tsar, reminders of an Imperial past Balanchine may have longed for and idealized. We see elements of this play out in some of his ballets — Ballet Imperial, Theme and Variations, and of course, The Nutcracker. The Land of Sweets reminded him of the candy shop Eliseyevsky's in St. Petersburg, which Balanchine still vividly recalled decades later.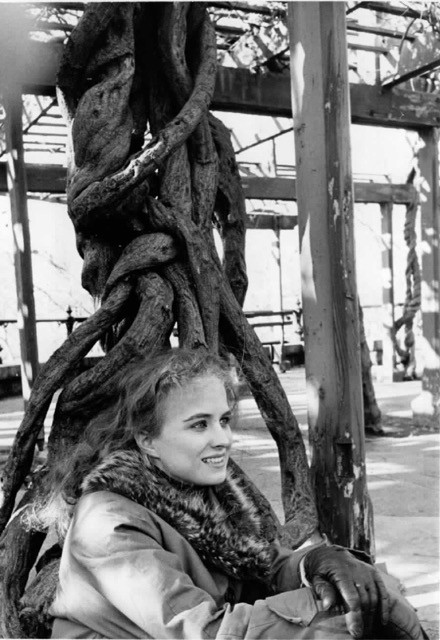 Jeanne Thomas Fuch, NYC, circa 1963. Photo by Martha Swope, courtesy of Jeanne Fuchs.
The list of special guests taking part in the program provides more reason to get enthused! They are: Former New York City Ballet principal dancer Edward Villella; Dr. Jeanne Thomas Fuchs; and NYCB's longtime company physician, Dr. William Hamilton. What will each personality bring to the table?
Meryl Rosofsky: We are so fortunate to have each of their unique perspectives! Jeanne Fuchs was not only a former dancer and a close friend of legendary dance photographer Martha Swope, she was (and still is) an excellent cook. When Tanaquil Le Clercq, Balanchine's wife and muse, was creating her Ballet Cook Book back in the 1960s, she asked Jeanne to test Mr. Balanchine's recipes with her. She's a treasure — as are my other two panelists!
Dr. William Hamilton, a renowned orthopedic surgeon specializing in foot and ankle injuries in dancers, also has marvelous stories about Balanchine, both as a creative genius and as a person who did everyday things like shop and cook and iron. Bill attended Balanchine's midnight Easter suppers a few times, so I'm hoping he'll recount what those dinners were like.
And of course, Edward Villella is Edward Villella! He's a legend. I have a cherished book from childhood, a commemorative booklet from NYCB celebrating the 50th anniversary of the collaboration between Balanchine and Stravinsky. I think it was published right before the Stravinsky Festival of 1972. In it there's this unbelievable shot of Edward Villella in Prodigal, shirtless, intense, with these rippling stomach muscles. I'm a little embarrassed to admit it, but the first time I met Mr. Villella, maybe five years ago at City Center, I sheepishly confessed to him that he had been my 'pinup guy' when I was growing up! I doubt I was the first person to tell him that.
Stylized graphic of kulich and paskha, symbolic dishes served at Russian Easter, from a vintage Russian postcard.
Tell us more about the famed Russian Orthodox Feast that Balanchine used to host!
Meryl Rosofsky: Oh, from what I can gather, Mr. Balanchine's Russian Easter feasts were incredible! He'd spend days, even weeks, preparing an array of dishes: Sturgeon in aspic; Salade Olivier made with pheasant, peas, and potatoes; baked ham en croûte; cucumber salad; braised endive; pungent mustards and grated horseradish; hardboiled dyed Easter eggs; an abundance of caviar and vodka.
Everything would be laid out on a long buffet table, covered in linen and decorated with a profusion of Easter lilies and hyacinths. Imagine the fragrance! And so many candles, practically like an altar. The meal would begin around half-past midnight, after the Easter processional at church, and guests would linger into the early hours of the morning.
For dessert, there'd always be traditional kulich (plural: kulichi), a tall, lightly sweetened yeast bread, studded with currants and drizzled with lemon icing; and paskha, a rich farmer's cheese cake made in a special wooden mold or clay flowerpot, decorated with candied fruit. You can buy plastic paskha molds now, but purists still swear by the wooden ones, their four sides forming a truncated pyramid that's said to symbolize the Church.
Some years, Mr. Balanchine would buy his kulich from a bakery, Babka, on the Upper West Side, or from the Russian Tea Room, but the paskha he always made from scratch. The ingredients include lots of eggs and dairy — rich foods people had to abstain from during the preceding Lenten fast. Balanchine's recipe calls for ten pounds of cottage cheese, an obscene amount of butter, and two dozen egg yolks!
Balanchine feeding his costumed wife Vera Zorina ice cream on the set of On Your Toes, 1939.

Some of the photographs you unearthed have altered my perception of Balanchine — what gems! I'd always seen him as 'inspiring,' surely. A 'disciplinarian' and a 'genius,' but never 'nurturing' or 'sentimental' until now. But it makes sense. He enjoyed providing nourishment — whether via dance or food.
Meryl Rosofsky: Yes! One of the themes I hope to draw out in my presentation is of 'Balanchine the nurturer.' In the early days of New York City Ballet, Balanchine would cook for his dancers as a form of culture and company-building. They were like a family. And of course, there's the tenderness and pathos of him cooking for his wife the ballerina Tanaquil Le Clercq, who was struck down by polio at the age of 27.
And while we all know the Balanchine's ethos, "There is only now, dear," he did harbor some nostalgia for the lost Russia of his youth, and for the family who essentially abandoned him at a young age when he was sent to the Imperial Theater School in St. Petersburg and they moved away to Tbilisi. He used to comment that he was not only like a father to his dancers, but also a mother. Interestingly, I just learned from Darra Goldstein, a brilliant scholar of Russian and Georgian culture and an expert on their cuisines, that the Georgian word for father is "mama"!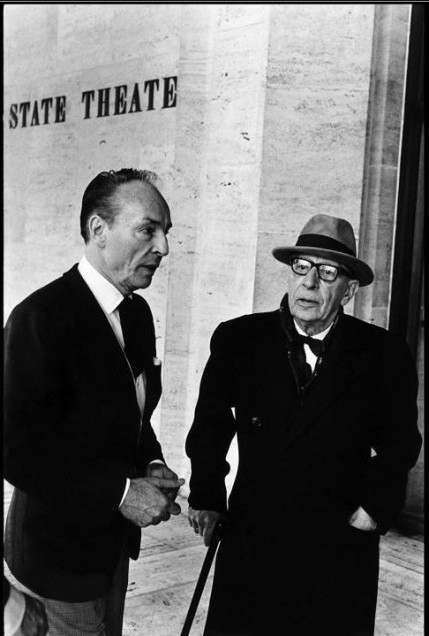 George Balanchine and Igor Stravinsky at the New York State Theater, 1965.
"Breaking Bread with Balanchine" will be capped with ballet, naturally. Which excerpts will be performed by Jared Angle, Adrian Danchig-Waring, and other NYCB dancers and what determined the choices?
Meryl Rosofsky: I'm very excited about the excerpts these incredible dancers will be performing. We'll start with an excerpt from Apollo. Originally it was going to be danced by Adrian, who's been a great inspiration and help to me, but sadly he had a late-breaking injury. We're lucky that Zachary Catazaro is able to step in for him. They're both pretty godlike! Balanchine always described Apollo as a turning point in his career (he was only 24 when he made it!), and it is the oldest Balanchine ballet in NYCB's repertory. It also epitomizes Balanchine's deep connection to composer Igor Stravinsky, a fellow Russian émigré and a father-like figure to Balanchine. They loved drinking vodka together, eating pelmeni (little Russian dumplings), talking about music, and reminiscing about their homeland.
Next up will be the Byzantine pas de deux from Prodigal Son, danced by Daniel Ulbricht and Miriam Miller. This will give a taste of Balanchine's storytelling genius, and a glimpse of his religious belief. Barbara Milberg Fisher has described the banquet table as a nod to the Passover table of the Last Supper, fitting since this program will fall (by design) on Russian Orthodox Easter. And of course, we're lucky enough to have Edward Villella, one of the quintessential Prodigals, with us on the panel!
Our final ballet excerpt will be the central pas de deux from Emeralds. The color green is an emblem of spring — time of rebirth and renewal, fitting for Easter — and calls to mind the spring green soups and herbal green sauces Mr. Balanchine used to concoct. The French theme of the ballet harkens back to his time with Diaghilev's Ballets Russes in Paris and the South of France. And the role in this "walking pas de deux" (as Jared taught me it's called!) was danced so beautifully by Karin von Aroldingen, Balanchine's late-life muse and frequent cooking companion, who sadly passed away earlier this year.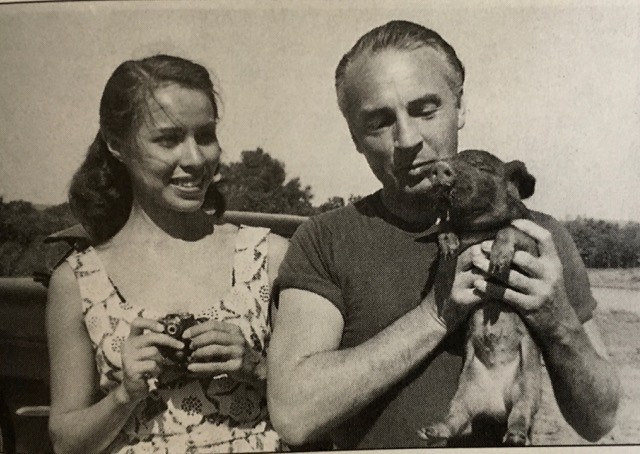 Balanchine with his wife, ballerina Maria Tallchief, and a piglet.
From the collection of Maria Tallchief, and originally published in her 1997 autobiography,
Maria Tallchief, America's Prima Ballerina, written with Larry Kaplan.
Because you arrange your programs for The Guggenheim in such a way that there is an appetizer, a main course and a dessert, I've done the same with my questions! Let's end light: Please pick one from each of the following duos and briefly say why.
Meryl Rosofsky: Well, we're both following in Mr. Balanchine's tradition here — he used to organize his ballet programs along the lines of a menu, with an appetizer, an entrée, and dessert. So sure, happy to end with these sweet questions you dished up for me!
Surf or turf (seafood or game)?
Meryl Rosofsky: Surf! I'm a mermaid at heart, and I live part-time on Shelter Island (same part of the world — eastern Long Island — where Balanchine had a summer condo.) Fresh fish is a favorite, especially local striped bass and Montauk tuna in season. This summer, I'll be sure to accompany it with Balanchine's Saratoga Green Sauce — sort of a Georgian pesto, with coriander, parsley, basil, and walnuts.
An afternoon at the museum or a local park?
Meryl Rosofsky: A museum in the park, for the best of both worlds! My friend and colleague Andrea Miller, the choreographer and artistic director of Gallim, is the artist-in-residence at the Met Museum this year. She made an incredible site-specific work in the Temple of Dendur this past fall. She wanted to have her dancers start outside the Temple, in Central Park, but the park only permits dance in proscenium spaces. Oh well!
The Firebird or Swan Lake?
Meryl Rosofsky: Firebird. I love the story my husband Stuart tells of his mother, ballerina Melissa Hayden, coming home late at night from a performance in Firebird. She'd come into his room to kiss him goodnight, still in her stage makeup, and scare the crap out of him!
That said, I'm not a story ballet person. Give me a Balanchine black-and-white ballet any day!
---
The Dance Enthusiast Asks Questions and Creates Conversation.
For more of The Dance Enthusiast Asks, click here.
This Season We are Talking to Artists about Activating Space.
Activate Your Space in the Dance World by Sharing Your Insight on Performance in an #AudienceReview.

*This feature acts as PART II to an earlier interview with Meryl Rosofsky about Tanaquil Le Clercq's "The Ballet Cook Book: A 50th Anniversary Celebration" at The Guggenheim — click HERE to view it.