From Los Angeles: The Dance Enthusiast Asks 13-year-old Sidney Fitzgerald About Her Dancewear Drive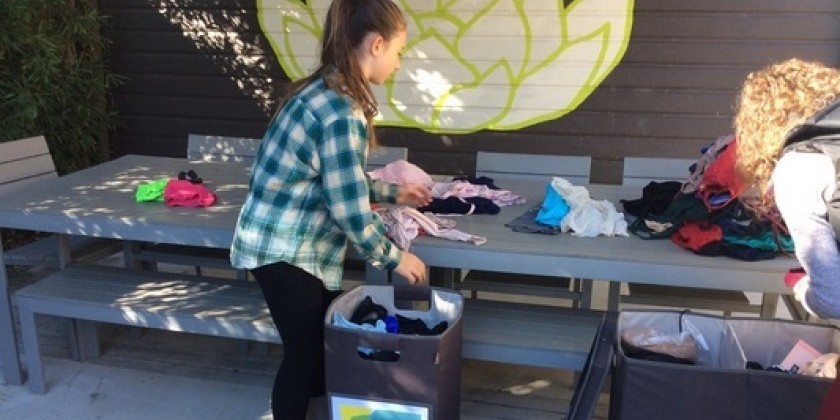 How a Young Dancer is Making a Difference/Helping "Dancers Outfitting Dancers"
"Last Fall, inspired by a discussion we had about how quickly young dancers outgrow perfectly good dancewear, (Sidney) created an organization called the Dancewear Drive to collect gently used dancewear to distribute it to underserved, aspiring young dancers in the community. Her first presentation was to The Hope Street Family Center in Downtown Los Angeles.

It was such an exciting and rewarding experience she decided to take it a step further and build a website and launch a Delegate program, so other dancers nationwide can create Dancewear Drives in their own communities benefitting other organizations looking to further the art form." - Cindy Fitzgerald, Mother of Sidney Fitzgerald
---
Q&A with Sidney Fitzgerald and her mother Cindy: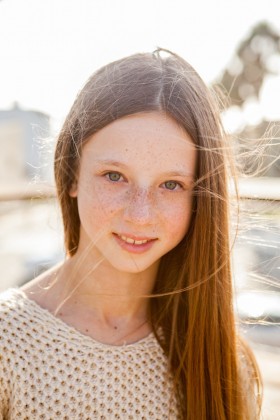 Sidney Fitzgerald, Founder of Dancewear Drive.

Sammi Lim for TDE: Hi, Sidney! How old were you when you started ballet?

Sidney Fitzgerald: My parents joke that I was always dancing as soon as I could walk. When I was 3, I took a really cute class at a community center that was just for toddlers. It was half tap and half ballet with some free dancing too. We would dance to all kinds of music wearing a lot of tutus and princess stuff, waving wands and scarves and feeling very beautiful and special. It was very sweet and I loved it. I started "serious" ballet classes at the age of 5 at West Side Ballet and then went to Los Angeles Ballet School at the age of 8, and started en pointe just before I turned 10.
---

TDE: Is there a professional dancer whom you especially admire and respect?
SF: I greatly admire Julie Kent. She retired in June 2015 after being a principal dancer with American Ballet Theatre for 22 years. She inspires me because she is, of course, such a beautiful dancer, but also because she had two children during her career, which is rare for a professional dancer. I also admire her because she retired at age 45, which is considered a very late retirement in the ballet world. In my opinion, she is the perfect example of the fact that if you treat your body well, stay healthy, and love what you do (which she clearly does), then you can keep pursuing your passion as long as you wish. I also really admire Misty Copeland, because her amazing accomplishments prove that you do not have to have to look like everyone else or have a typical "ballet body" to be an inspiring, beautiful, strong, and admired dancer.
---
TDE: What's your favorite dance outfit?
SF: I typically wear Mondor tights, and now that I can (because I'm in the older class now), I usually wear simple but unique colored leotards. After years of wearing only black, it's  fun to try new colors. I wear my hair in a neat high bun (occasionally I will put in a little bow or clip), and Suffolk pointe shoes, sometimes Freed Studios. My feet grow all the time, so I'm still finding my just right shoe. Sometimes I will wear one of my Jule Dancewear Hi-Low skirts during variations, which are the most comfortable, cutest skirts around!
TDE: What sparked the idea for Dancewear Drive?
SF: Every year, right before school starts up again, I try on everything to see what I have and what I need, and I always find that my really cute, hardly worn dancewear is already too small. In a conversation with my mom, I joked about how someone, somewhere could probably get great use out of the clothes, and that all my friends from ballet had the same issue. That's where it all started.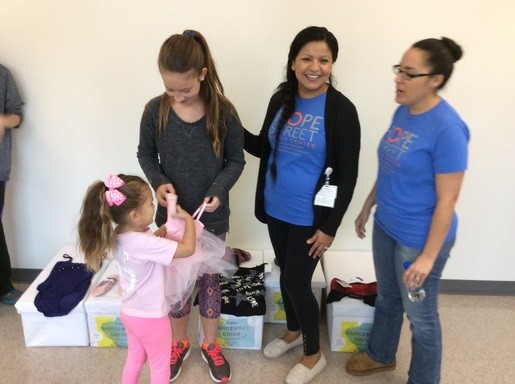 Dancewear Drive's first presentation at The Hope Street Family Center in LA.
---
TDE: What was the reaction to your first presentation at The Hope Street Family Center?
SF: They were my first beneficiary so I wasn't sure what to expect during the presentation. I had been there before, assisting in dance classes. I was familiar with the organization. I planned a little speech and when I gave it everyone was excited and enthusiastic. My favorite moment was when I was holding up a sample from the donation bins, a pink tutu-leotard combo in a really tiny size (that had been donated by Discount Dance), and a little girl ran up with a big smile on her face and took it, saying, "Is this for me?!"
Cindy Fitzgerald, Sidney's mother: The presentation day was simply amazing - way beyond our expectations. Hope Street Family Center was held a day of free dance classes for the community and everyone was in a great mood, dancing up a storm. Sidney knew all the teachers because they are dancers with Los Angeles Ballet. In fact, her mentor in launching this program, Allynne Noelle (former Principal Dancer with Los Angeles Ballet), introduced Sidney to Hope Street when she first came up with the idea of collecting dancewear for the underserved. It was pouring that day, and we had to carry these really huge cardboard boxes labeled and separated by category so the kids could easily find what they needed - Sid's idea. We got drenched and were a bit flustered. Sid was pretty nervous about what she would say when it was her turn to speak, but she could feel the excited energy and gratitude. It all came out beautifully. Hope Street was so receptive and grateful, it was really special to give to the kids at this amazing organization. We filmed the whole experience because she was in the midst of making a short film to submit to the White House Student Film Festival about the importance of children giving back.
---
TDE: How can the dance community contribute to your project?

SF: I'm so glad you ask this because the first presentation went so well, that I wanted to give other young dancers the opportunity to do what I did in other communities around the country, where I obviously can't be because I live in Los Angeles. I built my first website this summer and launched it, as well as a Facebook page so people can spread the word and apply to become Delegates and Beneficiaries of Dancewear Drive throughout the country (there are forms on the website). We also provide easy, downloadable files, customize branded flyers and instructions on how to set up a collection. It's very easy to do. I'm hoping that we as a community of young dancers can help more and more aspiring dancers around the country in an organized way.
Young dancers in a good mood at the Hope Street Family Center in LA.
---
TDE: Cindy. How often did you have to buy new dancewear for Sidney during her growth spurts?

Cindy Fitzgerald, Sidney's mother: I still do! Sidney grew more than four inches since last Fall. It's an ongoing issue that any and every mom encounters with their kids no matter what they're in to. It's one thing if things are worn out and need to be replaced, but sometimes it seems like they are out of things way before they've had a chance to really wear them.  

TDE: So do you find dancewear to be prohibitively expensive?
 
CF: When Sidney was only wearing black leotards, pink tights and flat shoes and dancing just twice a week, it was manageable. However, now that she's older, dances every day and can wear any color she chooses, she's developed a bit of a thing for leotards. She does spend 20-30 hours a week in dance clothes, so I understand wanting some variety. However, the pointe shoes - that's a whole other issue. Now that she's almost entirely en pointe, we have to buy them more and more often, which is really challenging for us financially.
---
Visit Dancewear Drive's official website at www.danceweardrive.org, 'Like' them on Facebook, spread news of Sidney's project, and help set up Dancewear Drive in your own community.