The Dance Enthusiast Asks Gisèle Vienne About Rhythmical Distortion, the Uncanny, and Black Metal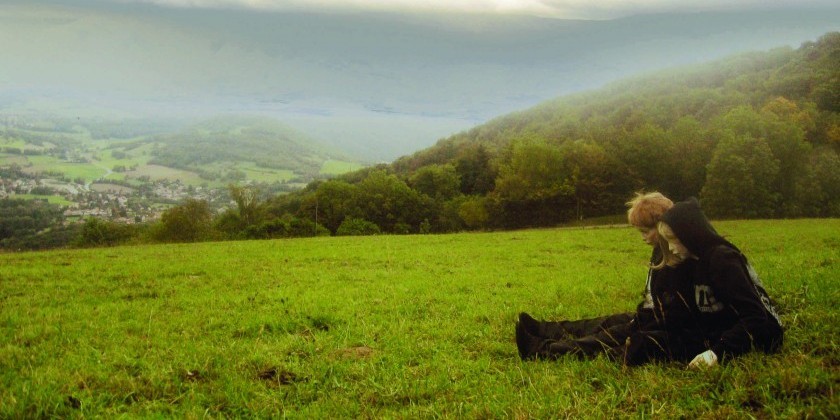 "Kindertotenlieder" marks the Artist's Debut at New York Live Arts
Oct 29-Nov 1 at 7:30pm
Ticket Prices: $30 and above; Select $15 seats available.
To purchase tickets, click New York Live Arts. 
Photo above: Kindertotenlieder © Antoine Masure et Gisèle Vienne
---
Though a newcomer at New York Live Arts, Gisèle Vienne is no tenderfoot in the art world. Vienne, who possesses degrees in music, philosophy and puppeteering, the last of which she mastered at Ecole Supérieure Nationale des Arts de la Marionnette, has staged numerous dance/theatrical productions including I Apologize (2004), Une belle enfant blonde / A young, beautiful blond girl (2005), Jerk, and This is how you will disappear (2010) to name a few.  The Franco-Austrian artist is also a multimedia visual artist, a photographer, and an author.
Vienne will make her debut at New York Live Arts with Kindertotenlieder, a collaboration with Dennis Cooper and KTL - Stephen O'Malley & Peter Rehberg.
Looking to the future, Vienne is presently invested in producing interpretations of Igor Stravinsky's The Rite of Spring (2017) and Bélà Bartok's Bluebeard's Castle (2018).
---
Sammi Lim for The Dance Enthusiast: Bonjour, Gisèle! You're not the first puppeteer or choreographer I've interviewed, though certainly the first puppeteer-choreographer! While both art forms clearly involve movement, can you think of any other similarities between the two that escape the naked eye?
Gisèle Vienne: What led me to study puppetry was my strong interest in visual art and movement. What I'd imagined, in theory, was that puppetry would be the space where both worlds intersect. I saw puppetry as a branch of theater. In reality, I find the rules of puppetry actually closer to choreography. Both have a lot to do with rhythm and music and placing bodies or objects in space.
TDE: In Kindertotenlieder, the performers will share the stage with robots and puppets. Do these figurines fulfill a larger role than serving as mere props?
GV: Although they are technically props, the audience watches human-shaped objects in a totally different way. Kindertotenlieder brings you from the object to the animated object to the unanimated body to the animated body. All the dolls are human-sized and have the same outfits as the performers, so you see them as one group. It creates a theater that is very much about distorted perception.
The dolls represent characters who could be there but they also represent missing characters — they're ambivalent. They look very much like 21st Century kids attending a Black Metal concert.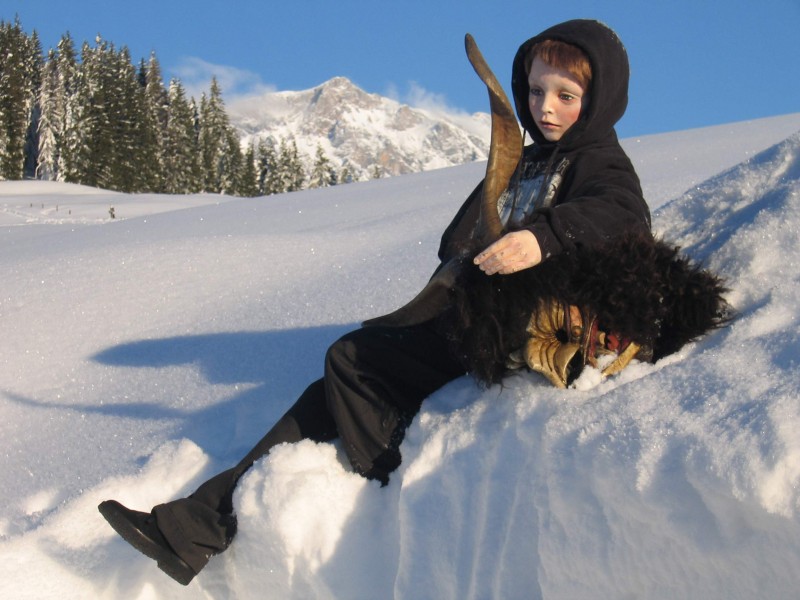 Photo: Kindertotenlieder © Antoine Masure et Gisèle Vienne
TDE: Why Black Metal?
GV: Black Metal concerts can be challenging because they are violent and loud, but people attend them because they are stimulating. It's this experience that we're trying to create. I like to stimulate the audience in a very jubilatory way. Sometimes I like to compare it to extreme sports!
I am also very touched by the type of tough clothes worn by super-emotional... romantic teenagers, which are a kind of costume saying something about their fantasies in this difficult world.
TDE: Sounds a bit goth!
GV: Totally. There is a new generation of *'Lolita'  in the West Coast - androgynous, confused, beautiful, and dark characters. (*note Lolita is a fashion subculture with early roots in Japan..check out more by clicking the 'Lolita' link)
Kindertotenlieder is about the different ways societies organize the staging of our anxieties. So I wanted to present three types of ceremonies: a pagan Austrian ceremony, a funeral, and a Black Metal concert. I thought it'd be very interesting to parallel these theatrical representations of horror, death and blood.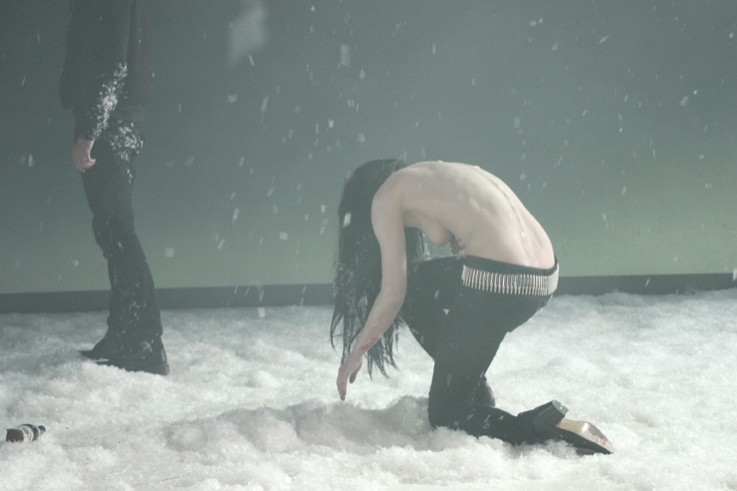 Photo: Kindertotenlieder © Mathilde Darel
TDE: The set for Kindertotenlieder is truly magnifique - beautiful and dreamy complete with falling snow. However, the underlying theme of work is somewhat maleficent. Kindertotenlieder is a study of death's representation and the associated feeling of dread. Meanwhile, the stage serves as a setting to resuscitate the dead. Is this a chilling performance?
GV: I don't think it's scary; it's more 'uncanny.' We are basically narrating the return of a ghost in dialogue with a boy. The dolls, the topic of death and life, the movements that are present yet ghostly… It's strange.
The strangest feature comes from the music. We're working with some very strong rhythmical distortions. The music puts the audience in a strange state, and that is the most confusing.
TDE: The performance draws inspiration from a pre-Christian Alpine tradition involving "perchten," spirits indebted to a pagan goddess revered in South Germanic countries. What sparked your interest in this custom?
GV: I'm half-Austrian, so it's something I've known since childhood. Almost equivalent to Halloween, it's the time for haunting. The "Perchtenlauf" or "Perchten walk" happens around New Years. I was always at my grandmother's in Austria for Christmas, so I would basically spend New Years there. As a child, I was super scared of them. So I guess I was super impressed!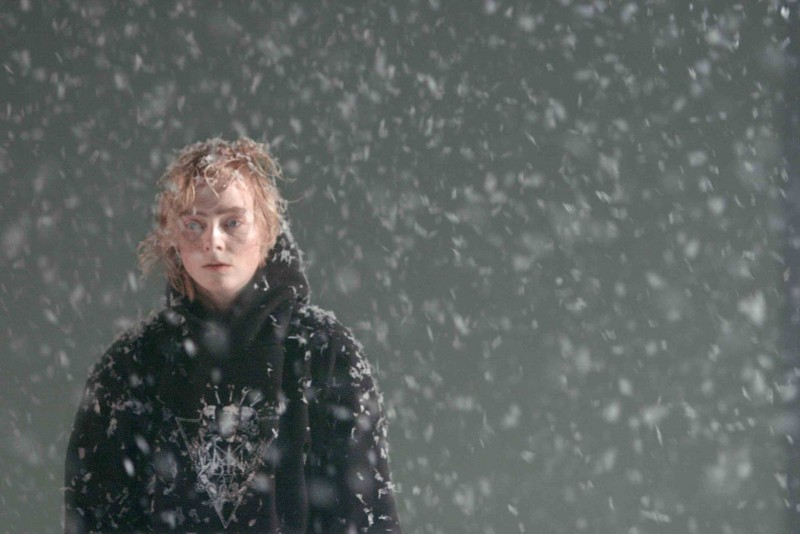 Photo: Kindertotenlieder © Mathilde Darel
TDE: Googling the "perchten" gave me nightmares! Tell me about creating the beast-like costumes and masks for your show.
GV: The "perchten" costumes are made out of sheep fur and acquired from a guy in Austria. Meanwhile, I commissioned the masks from a friend of my grandfather, a sculptor who specializes in "perchten" masks. So they are purely traditional costumes!
TDE: Describe some of the movements you choreographed for Kindertotenlieder.
GV: What's interesting about Kindertotenlieder is that you have a range of movements that go from stillness to artificial body movement such as the video effect: slow motion. It can be very robotic, but it can be very fluid too. We go to the whole range.
Related Events:
Oct 29 - Stay Late Discussion: Creating Kindertotenlieder: Choreographers Trisha Bauman and Gisèle Vienne In Dialog.
Oct 30 - Come Early Conversation: Collaborating Across Genres: Writer Dennis Cooper and Choreographer Gisèle Vienne in conversation.
More about Giséle Vienne: http://www.g-v.fr/index.htm