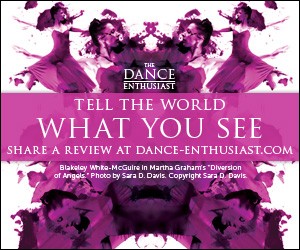 Related Features
Jody Oberfelder's "Madame Ovary," at The Flea Theater NYC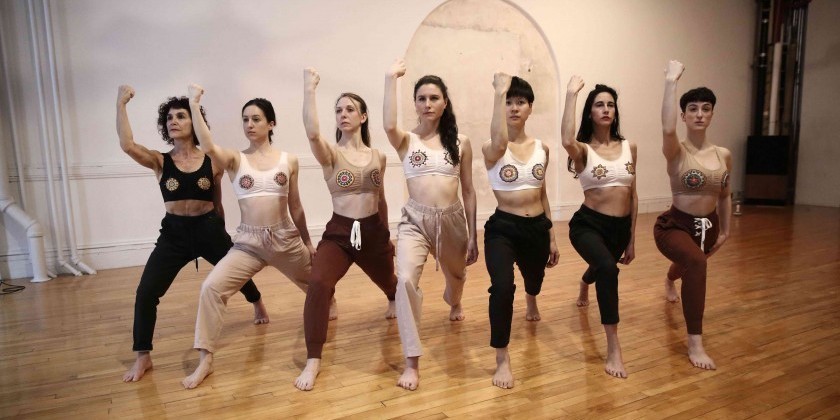 The Choreographer of the Heart and Brain Discusses the Final Installation of her 7-Year Trilogy
May 15-19, 2019
The Flea Theater NYC
Jody Oberfelder Projects presents Madame Ovary
Addressing the gender schema theories and the body as a site of institution, agency and identity, the project uses Gustave Flaubert's Madame Bovary's story of a corseted life amid 19th Century social constructions as a springboard to address and provoke conversation on today's gender revolution and the #metoo movement armed with empathy, humor,embroidered breastplates, and badass rocker panache.
---
Sammi Lim for The Dance Enthusiast: With your 7-year trilogy coming to a close, are you somewhat relieved and ready to move to the next work? Or do you feel what I like to call 'premature nostalgia'?
Jody Oberfelder: Funny you should ask this question.
I've been enjoying researching the body and making work that felt instinctual. The heart was a simple pump, the brain way more complex, and now our gut and genitals have their own complexity, especially in this climate of gender identity. All pieces have this: Own your body; identify what is you, your own heart, and mind, what is internal, and how our bodies interact with the world.
However, I am ready to move on to the next series of works. The first will be called "Object Place." I like the way these two words bump up against each other. There's space around it.  I've been working with more interactive pieces, interview pieces, where the audience or spectator is engaging in conversation; the content of the conversation becomes the actual piece. I'm all for creating pieces that people find themselves in, thinking or feeling, perceptively awake. Last summer four dancers performed in St. Pancras Station in London--a work called 'On the Move Shortly."  We focused on travel.  And in Australia the subject and title was "Things."  This piece is the seed of a work about the value of an object.  Yes, from bodies to objects and places.
Will I miss the body trilogy? The way I see it, each piece feeds the next. What do I have to discover now?
That said, premature nostalgia is a good way to define looking back. With our art form, you never have the same thing twice. I have way too many ex-costumes stored, and touching them reminds me of the bodies and people that wore them. My husband wants me to clean out our basement, which is loaded with set pieces and costumes. It's hard. Maybe I'll do the piece again? (Soldier's Tale anyone? We've got a great neon bar set ready to turn on, and a fairy cape from Zaubernacht.)
I always fall apart for a bit after a show. Someone should make a camp for post performance depression with massage, water therapy, a giant library, and cocktails.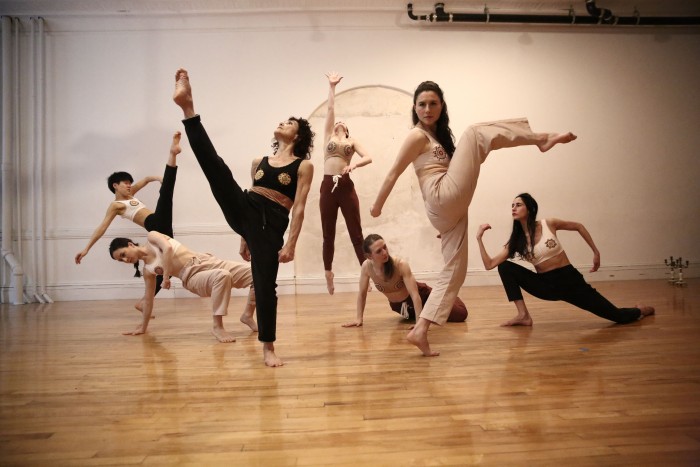 Dancers performing Jody Oberfelder's "Madame Ovary." Photo credit: Paula Court
Remember our #DanceUpClose coverage of 4Chambers in 2013? It feels a while ago, doesn't it? You started with the heart before going upstairs with The Brain Piece, which we also reviewed, in 2017. And things are culminating with the core or the body. It feels like there is no better time than now. Comments?
Jody Oberfelder: Yes, the core — below the brain and our hearts. People say our guts feel before our brain thinks; I believe this. Our gut, our intuition, and our sex organs all inform how we are deep within our bodies. The big question that has circled around this piece is, "What is your experience in your body? Do our bodies define us?"  Flaubert's Madame Bovary tells the story of societal projections onto a woman. Emma was truly dwarfed by the sex she was born into. Her unruly spirit led her on an independent path, yet she was never free.
My piece, Madame Ovary is a work of empowered bodies.
When did you first encounter the novel Madame Bovary? Were you sympathetic or perplexed by the protagonist's major decisions?
Jody Oberfelder: We were all assigned Madame Bovary in seventh grade. I felt sorry for the protagonist. I was still a tomboy then, but my breasts were budding and boys were looking at me differently. I couldn't relate to being held back as a woman. Emma Bovary was not allowed to be free. She tried via affairs and a ridiculous shopaholic tendency to fill a void of being held back by society. I was pissed at her for giving up. She was not a role model for me. I wasn't going to say this, but I will confess. The title "Madame Ovary" came to me and I though it was pretty funny.  Given this heaviness of gender issues, or perhaps the gradual shifting and opening up of gender identity, this piece is not 100 percent dead serious like the novel. I decided to go with the title and see where it would take me. Tons of research has ensued. I'm still going. Annie B. Parsons just lent me a rare book of Flaubert's diaries and letters from 1850 before he got home and wrote Madame Bovary. His writing extravagantly details his travels to Egypt. He was clearly bisexual. I see where he was coming from. He was dealing with gender and sexism.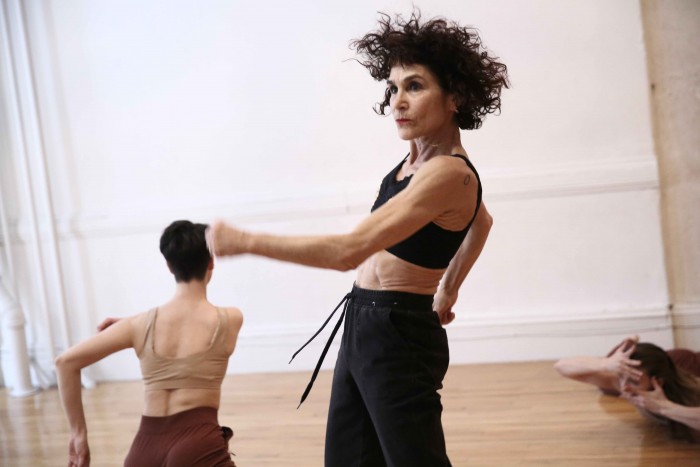 Dancers performing Jody Oberfelder's "Madame Ovary." Photo credit: Paula Court
 
Madame Ovary taps into Madame Bovary thematically, but how about aesthetically? Are the costumes informed by period pieces, for instance?
Jody Oberfelder: Aesthetically, I've divided the piece into two major layers — all the sections with Missy Mazzoli's majestic music deal with interior space, emotional trajectory, and paint a golden abstract narrative. I've sourced fashion from the mid-19th Century, and created high and low couture — a hybrid of masculine and feminine oeuvres. The more punk-rock sections layer to songs or words I've written. We are now wearing embroidered breastplates and casual pants. We present as contemporary people dealing with our bodies and celebrating our fierceness as humans. There is a strong female power, bonding and feminist perspective. Two cast members are non-binary, the others female, no men, but we are not exclusive. The piece switches between referencing Flaubert's time and who we are now — how we are identified in our bodies, or not.
How has your own relationship with your body—especially as a dancer—evolved over the past decade?
Jody Oberfelder: I'm coming to terms with the body as a temporary vessel, and encasement for all the movement of life. I enjoy being alive. As a dancer, I continually discovering. My experiences as a dancer are filtered through my dancers' bodies often. I feel what they are feeling. I use words. Conceptually I am still as expressive physically. I have not put myself in a group piece since 2009. That's a decade. But this time I decided YES.  DANCE.
Madame Ovary celebrates coming as you are, whoever you are, in your body. That includes a seasoned body: one who has lived, and being proud of my insides and outsides. Wrinkles were a subject for me when I started to get them in my film LineAge, with Martha Meyers looking back  —the young dancers (Rebekah Morin, Carlton Ward, and Elise Knudson) heroically representing a continuing lineage.
It's more then preservation — that would be boring. I love the feeling of staying out on the dance floor till you aren't even thinking of being cool, and you lose yourself in the movement and group energy. Although I don't go out clubbing all night like I did in my 20s, that zest for being 100% with my body is still there. I hate the word aging. I like — 'you've experienced more'. There is nothing blank about my approach to dance. It is present. I am present. I don't see dance as a solitary art. I seek the audience to be participants. That back and forth is interesting.  I don't stay static in my approaches. One process feeds the next.
If you want a litany of getting older tips: take care of your body; hang out with non-toxic people, especially people you love; eat well; sleep, and be active. Do body work that strengthens, supports, and opens you up. My recipe: Gyrotonics for fluidity, pilates for core, yoga for mind, ballet for feet, chi gong for spirit (this is a new practice for me). When I was in China teaching it amazed me to see people of all ages in the park doing all kinds of ancient dance and martial arts forms. All of these whole body systems, from head to toe.   
---
The Dance Enthusiast Asks Questions and Creates Conversation.
For more of The Dance Enthusiast Asks, click here.