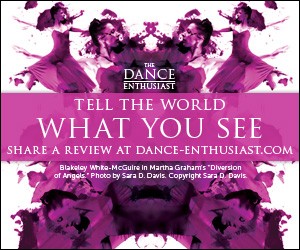 Related Features
THE DANCE ENTHUSIAST ASKS: Laura Peterson on Open Arts Studio, Pandemic Portals, and a Summer of Dance Italia with Teens
The pandemic was a portal for choreographer Laura Peterson. In 2020 she read an essay by the Indian writer Arundhati Roy, who called it a "gateway from one world to another."  Roy said people had a choice – to drag all the baggage of our civilization through the gate, or travel light and start over. 
Peterson started over. In 2021 she opened the Open Arts Studio in Dumbo, Brooklyn, offering low-cost rehearsal space and even free dance classes for artists at all levels. This summer she inaugurated the Dance Italia + Open Arts Studio Young Artists Program, a dance intensive for teens 13-17 in Lucca, Italy.  It produced a ten-minute dance work they called "Color Shift."
The Dance Enthusiast asked her how it came about.
Laura Peterson:  I was talking with my colleague Stefanie Nelson, who started Dance Italia in 2011.  This is a month-long summer training program in Italy for advanced dancers over the age of 18.  I said, "I want to start a teen dance company."  And she said, "do it at Dance Italia."  We began this collaboration in January, so we didn't have a lot of time to get ready.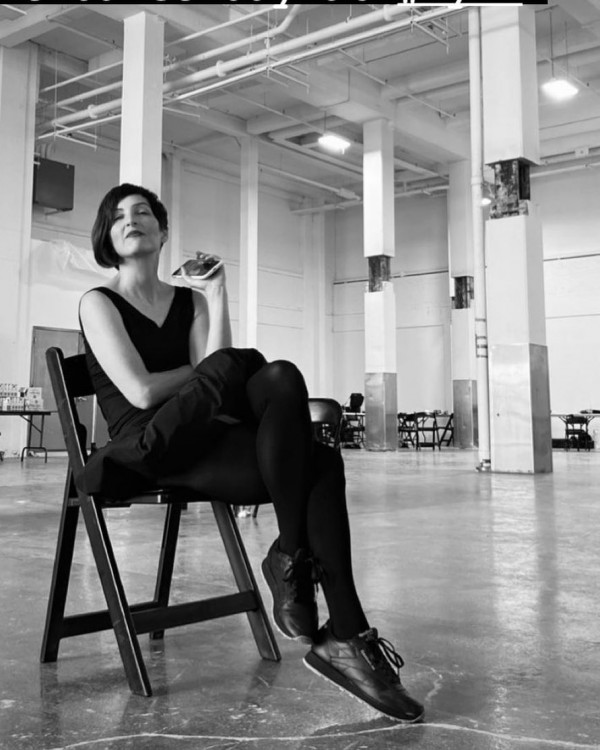 Laura Peterson, Artistic Director of Open Arts Studio;  Photo by Minami Ando 
Tom Phillips for The Dance Enthusiast:  Where did you get the dancers?
I asked everyone I knew if they knew a teenage dancer who might be interested.  They had to send an audition video, and write a paragraph about why they love dance and why they wanted to come to the Young Artists Program. Then I contacted Young Dancemakers, run by Jessica Gaynor and Alice Teirstein.  It's a summer program for youth, but you can only be in it once, so they had alumni.  Then one of my former dancers, Jennifer Sydor, contacted Sarah Weber-Gallo in New Jersey who had two dancers who wanted to join.  And my student Finnegan Mankins wanted to come.  So I pieced together a group of nine students. 
Off to Italy with nine teenagers, in July. 
It was 100 degrees every day, with no air conditioning in our studio.  But  after a while it was OK, we were just HOT.  They took two classes in the morning, and two in the afternoon, then back to the hotel to take showers.  Then we'd go out for dinner and gelato.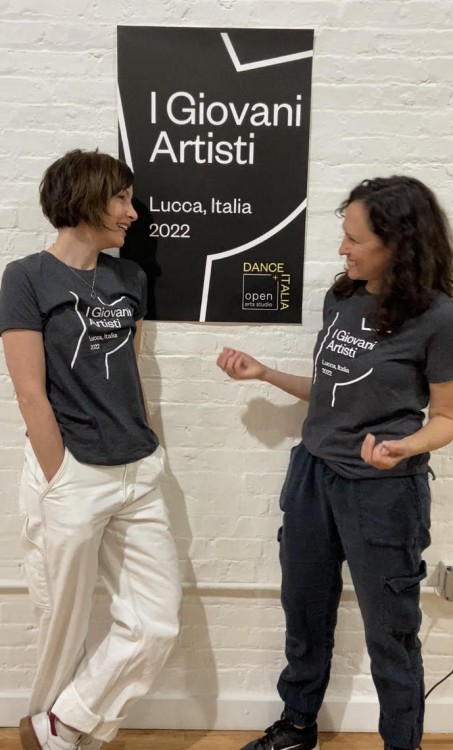 Laura Peterson and Stefanie Nelson 
When did you choreograph?
At the end of every day.  We had an hour and a half, and I had ten days to make something.  And Finn's father was there.  He's Lumberob (Rob Erickson), the composer who created the music for several of my dances.  He had a gig coming up in Toulouse, so he had all his equipment.  I told him to come to rehearsal, and he was excited to be part of it.  And Kate Martel, my long-time collaborator, was there as assistant choreographer. 
So how did Color Shift come out of it?
Teenagers have a special access to their emotions. Sixteen is not fifteen --- they're learning about relationships, they're attuned to it.  So I gave them structures, like – make a trio, or everybody face each other.  I would take advantage of interesting pairings, of opposites.   But their moves were their moves.
And Rob gave them energy.  He was watching them, playing to them.  He had this underscore going and then he would sing on top of it.  And I was standing in the back, saying "more, more," or "OK, less." We worked on the dynamics.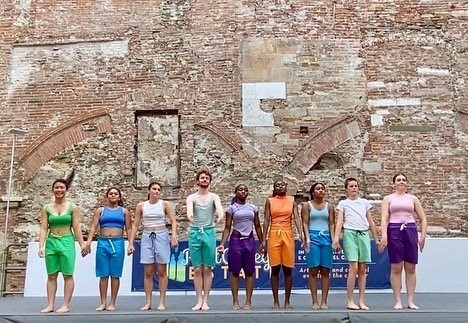 The Teen Company!( L to R) Rose Johnson, Ava Davis, Stella Emery, Brogan Donston, Dior Wright, Annia Nelson, Nevaeh Davis, Finnegan Mankins, Willa O'Connor; Photo Courtesy of Laura Peterson
You like to say "modern dance is modern art."  Here you became a colorist – each costume a different shade.   
That was not intended. They suggested wearing black, but I didn't want that. Then someone came in wearing light green cut-off sweatpants they got at a local store. They were 50 percent off!  So I said let's go there, right now, and get them in all different colors.  And we mixed and matched them with the tops.  They were wearing each other's clothes – we all worked together and it felt very natural. They were so game, up for anything!
So -- what did you accomplish?
I did something I've never done before, which is to take human beings to another country.  It was scary.  I like to take risks, but here I was taking risks during Covid, with other people's children.
Annia Nelson Photo by the Young Artists
A lot of the kids were on scholarship, thanks to our donors. And this gave them access to other cultures, other food, other sounds, other weather.  Dancing is almost secondary to the chance they had to think about something besides their neighborhood, their school, their shoes, their friends.  And every family was supportive of that.  
Providing those tiny moments meant more to me than any of the classes. We went to Pisa one day, and there was a Keith Haring mural, and they flipped out.  They had a whole different attachment to Keith Haring than I did. They were more excited about Keith Haring than the Leaning Tower.  They did a fantastic photo shoot with the mural.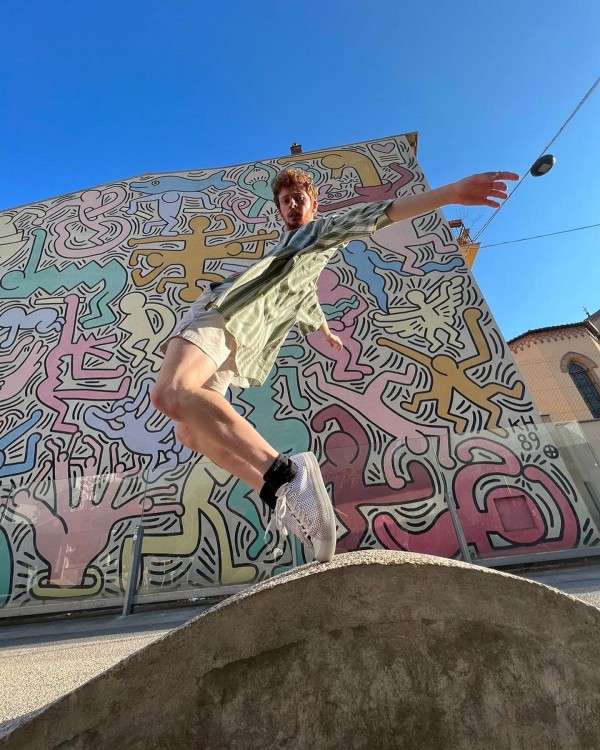 Brogan Donston Photo by the Young Artists
Also there was a Dance Italia teacher – Omari Wiles – who gave a Vogue Femme class, and they knew who he was and were super excited.  Stefanie Nelson and I re-arranged a whole day so they took his class, and loved it. 
They found a new part of themselves in Italy.  They found they existed not just in their neighborhoods or their towns, but around the world, and they loved it. We all loved it. I am so proud.
The Young Artists Program will be back in 2023. Look for it at OpenArtsStudio.org. 
---
The Dance Enthusiast Asks questions and creates conversation.
For more of The Dance Enthusiast Asks, click here.
---
The Dance Enthusiast - News, Reviews, Interviews and an Open Invitation for YOU to join the Dance Conversation.