Ranardo-Domeico Grays, Artistic Director of VISIONS Contemporary Ballet on Finding Clarity After Cancer and the Healing Power of Dance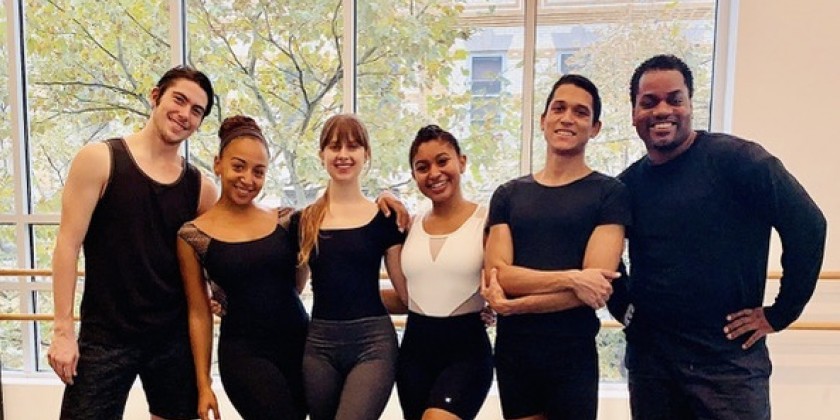 Catch The Company In "Traces" At The Riverside Theatre On Saturday, November 9, 2019
VISIONS Contemporary Ballet's artistic director/choreographer, Ranardo-Domeico Grays, a five-year brain cancer survivor, will be presenting the company in "Traces (of what makes us who we are)" at The Riverside Theatre on 91 Claremont Ave, New York, NY this Saturday, November 9, 2019 at 7.30pm. 
The company will premiere "Still Healing," inspired by stories of those who experience pain and suffering through no fault of their own, yet persevere. Also on the program is "Dash – Between," which is about living life in the dash between 'born' and 'died,' "Through the Valley," which explores facing obstacles in the fight for health/life; and "Roots," which is about self-growth and rooted in prayer. Dancers include: Alexandria Amstutz, Asia Bonilla, Lilly Ann Comstock, Mathew Ortiz, and Nick Sartori.
GET YOUR TICKETS: trtnyc.org/upcoming-shows
---
Sammi Lim for The Dance Enthusiast: Did you know that Henning Rübsam is one of The Dance Enthusiast's long-term contributors? What was it like dancing with Sensedance?
Yes, I was aware, but it's great to know that he's a long-term contributor. We both attended The Juilliard School—that's actually how we met. Dancing with him was a blast. He was always very fun and very invested in his art.
Photo courtesy of Ranardo Domeico Grays.
You're the proud parent of VISIONS Contemporary Ballet, which is more than a decade old. In what ways are you strict with your dancers? And in what areas do you allow unconstrained freedom?
When I first established the company I was not sure exactly what was driving me. But as my work began to get new breath with each performance by each dancer, I began to feel there was a need for my point of view and that what I was doing as a contemporary ballet choreographer was bigger than me. My dancers are extremely disciplined. They must be in order to accomplish everything that has to be done within the short amount of rehearsal time that we have. Having too many constraints can slow down the creative process. It is important to always be aware of what is going on with each dancer "mind, body and soul." I like to have open communication and be as transparent with them as possible.
As someone who dances, teaches, choreographs, acts and does voice overs, you're quite the Renaissance Man! What makes you jump out of bed each morning?
You mean I forgot to mention that I was a violinist? Ha! Well, that was a ways back.
The one thread to doing all of those things for me has always been self-expression, presentation and sharing everything I've got to give artistically! As a teacher I invested in my students as much as I can and encourage them not to compromise, but to keep growing. Since returning to the dance world in 2016, I have focused my talents on choreographing and being artistic director of VISIONS.
As a five-year brain cancer survivor, so much inspiration from all of the experiences around me has gone into my work. Knowing that the Lord has made a way for me, simply doing what I am meant to do, and presenting stories about human life gives meaning to each day for me. 
VISIONS Contemporary Ballet. Photo courtesy of the company.
But it must have been impossibly harder to leap out of bed when you were ill; how and when did you find out about the brain cancer and how did it affect creating art? 
Ironically enough, the company had been performing at the Making Strides Against Breast Cancer in Central Park annually since 2011. I was diagnosed with brain cancer in November 2014, just one month after The American Cancer Society scheduled the company to perform. I was preparing my body for the performance and rehearsing on this particular day when I passed out in the gym. This led to ongoing tests for one month and lots of prayers with my friend, Leajato Robinson, who attended Juilliard and Interlochen Arts Academy with me. With prayer, I stayed driven, but brain cancer gave me the unexpected space I needed to organize what I had already been doing for years: to create dance about people's lives, those moments that we all share in some way. So much clarity came to me during my healing process and helped sharpen my craft of storytelling through dance. My time in bed as well as the time I spent relearning how to walk straight and regain my balance and memory allowed me to organize years' worth of work. I premiered three fully completed works in 2017 for our 10-year anniversary performance.
Are there any myths or misunderstandings about brain cancer that you'd like to debunk?
There is always some truth to be found in the myths that people tell; it simply depends on how we choose to perceive them.
I would rather engage by adding to the story or sharing it from my own point of view, and lean away from attempting to discredit others. Some survivors say they gained "a new lease on life." I feel differently about that. I was already in fighting mode before the diagnosis. I knew I wanted to establish myself as a choreographer, take VISIONS Contemporary Ballet to a more visible platform, employ dance artists full time, and present meaningful work for people of various communities. I already had my mind made up that there was a lot of work to do to get to that point. So when I was diagnosed, by all means there was no way I would have considered letting go. I never felt as though I started over; I simply continued on the path that I was meant to travel—a challenging path that was not new, just very different.
Alexandria Amstutz of VISIONS Contemporary Ballet. Photo © Mikhail Torich.
Your company's upcoming program at The Riverside Theatre touches on themes such as healing, faith and chance, which seem to come from a very personal place.
I want people to engage in positive conversation when they see my work, to start thinking and asking questions. That is when the healing begins to take place. Since returning to the dance world in 2016 after being diagnosed with brain cancer in 2014, I've found recovery, choreographing and setting new works incredibly healing. I have presented four ballets and am currently working on my newest titled "Still Healing," inspired by people who through no fault of their own suffered but persevered. "Still Healing" will premiere in our annual concert, Traces (of what makes us who we are).
What is your take on audience reviews? Would you rather receive a negative critique or none at all?
It is important that the audience have an experience. If a critique is thought of as negative then it has not been received now, has it? We either take in the observations of others or we may choose not to receive them. When people tell me what they see in my work it motivates me to continue to create the types of stories that elicit constructive reactions.
---
The Dance Enthusiast Asks questions and creates conversation.
For more of The Dance Enthusiast Asks, click here.
---
The Dance Enthusiast - News, Reviews, Interviews and an Open Invitation for YOU to join the Dance Conversation.