The Dance Enthusiast Asks: BODYTRAFFIC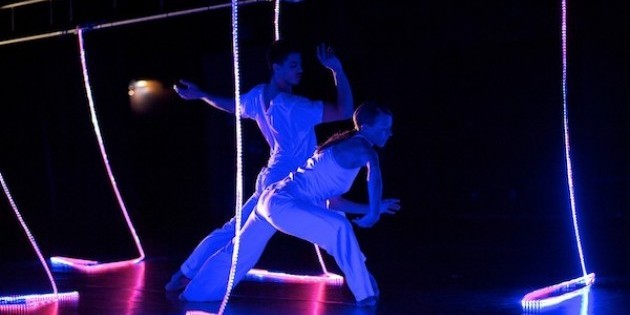 Watch out New York Dance Scene, The Angelinos Are Coming.
written by Brittany Beyer, Associate Editor of The Dance Enthusiast
---
BODYTRAFFIC performs as part of the Gotham Dance Festival at the Joyce Theater on June 6th and 7th, 2012 for tickets click here.
Choreography by Barak Marshall, Richard Siegal, and Stijn Celis.
 
The story goes: people move to Los Angeles to make it in Hollywood. But Tina Finkelman Berkett and Lillian Barbeito, the co-directors of BODYTRAFFIC, a five- year old contemporary dance repertory company in LA, found that their new home has the capacity to attract more than celluloid dreamers. They see The City of Angels as the next hotbed of contemporary dance in the United States.
Barbeito and Berkett are professional dancers with impressive east coast training and company affiliations. Barbieto is a Juilliard graduate who has worked with Metropolitan Opera and Zvi Gotheiner among others. Berkett is a Barnard graduate who danced for Azure Barton and Mikhail Baryshnikov's Hell's Kitchen Dance. The duo found themselves unexpectedly living in LA in the early 2000s; not to pursue movie or TV industry gigs, but as lifestyle choices to support relationships with their partners. Barbietto's, then fiance, a filmmaker, led the pair to try their luck in the city soon after 9/11. Berkett's partner originally from LA, and more of a natural left coaster, wanted to go back home after studying in New York: Berkett decided to try the move.
 
Richard Siegal Working With BODYTRAFFIC on his premiere for Gotham Dance.
While San Francisco is known for its thriving ballet and modern dance community, Los Angeles and contemporary dance are not considered synonymous. A dancer leaving New York's experimental concert scene to work in Los Angeles naturally would be nervous.
Feeling a bit like fish out of water in their new home, the two women journeyed to familiar ground - ballet class. "One of my first weeks here, I was in class," recalls Berkett "and this woman (Lillian Barbieto) approaches me immediately recognizing, 'You're not from here.' We got to talking, we were both trying to figure out how to keep our careers going."
The two became fast friends and in 2007 and BODYTRAFFIC was born.
Fragile Dwellings, choreography by Stijn Celis; Dancers: Melissa Bourkas and Andrew Cowan; Photo by Grant Barbeito
What the duo has accomplished in only five years is impressive. Berkett points to BODYTRAFFIC's core values. "We are truly committed to the quality of work…And we want the work place to be enjoyable. We won't commission a choreographer unless we hear they are great people to work for, and the same goes for our dancers."
A breeding ground for a high quality contemporary dance, a positive attitude and community mindedness ,in an unprecedented step, BODYTRAFFIC opens every company class to the general public for free, and people have a real appetite to be part of this movement force.
Indeed there is a latent concert dance audience residing in the Los Angeles environs and Berkett and Barbieto are discovering and growing it. The company took off when they premiered Club Guy and Roni's  - the husband and wife choreographic team,
Guy Weizman and Roni Haver's
-
Transfigured Night
in 2008.
Transfigured Night
opened rather unassumingly in Berkett's synagogue's catering hall, which was draped with fabric to create a black box theater effect. "We had almost 700 people there, and the response was just wild!" Berkett beams.
Then In January of 2011,
Barak Marshall
, an Israeli -American choreographer, affiliated with Batsheva and known for his innovative voice, won
RedCat's first A.W.A.R.D.S
. show with his piece,
Rooster
, performed by the company.
Today, BODYTRAFFIC continues to grow and draw audience as well as critical attention. The Joyce Theater Foundation recently awarded the company a commissioning grant of 25,000 dollars to create a new work by Marshall entitled
Monger. Monger
will premiere this week at The Gotham Dance Festival, joined by a
Richard Siegal
premiere and
Stijn Celis'
Fragile Dwellings
.  
Fragile Dwellings, choreography by Stijn Celis; Dancers: Hai Cohen and Lillian Barbeito; Photo by Grant Barbeito
Berkett says, "We see the support and how much people want this kind of work to exist here. It is no longer just something for us to do. We have a responsibility to the people living in Los Angeles who are interested in dance."
This is only the beginning .The co-directors of the company continue to build their lives in LA (both are now mothers) as they build their company and contribute to a vibrant, new American dance scene.
---
---
The Dance Enthusiast Asks questions and creates conversation.
For more of The Dance Enthusiast Asks, click here.
---
The Dance Enthusiast - News, Reviews, Interviews and an Open Invitation for YOU to join the Dance Conversation.