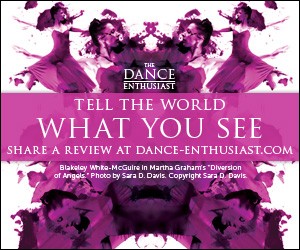 Related Features
The Dance Enthusiast Asks Choreographer Anabella Lenzu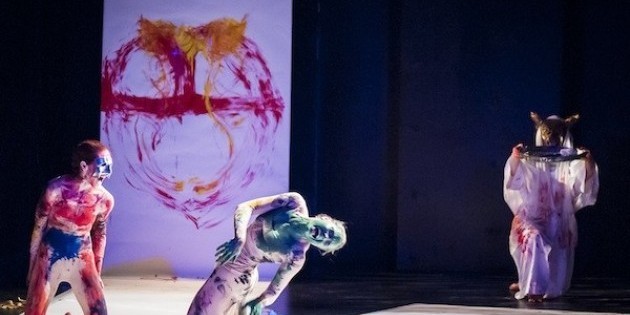 About Primal Impulses, Masks and Culture...
Exploring Masks of Identity: Anabella Lenzu/Dance Drama
October 5, 2012
Veronica Hackethal for The Dance Enthusiast
---
Anabella Lenzu is a whirlwind of energy, ideas, and dynamism. Originally from Argentina, Lenzu has worked in dance for over 20 years in Argentina, Chile, Italy, and the United States. Classically trained at the Teatro Colon in Buenos Aires, Lenzu also studied the modern dance techniques of Humphrey/Limon, Martha Graham, tango and the folk dances of Argentina, Spain, and Italy, techniques which contribute to her historically conscious dance-theater company
Annabella Lenzu/Dance Drama
.
Lenzu's choreography has been commissioned for opera, television, theater, and dance companies such as Anna Sokolow Theatre/Dance Ensemble (New York). She teaches dance at Peridance Center, Wagner College, and Lehman College. She is also the author of
Unveiling Motion and Emotion
, a book about dance, community, choreography, and dance pedagogy, written in English and Spanish.  
This October Anabella Lenzu/Dance Drama will present two distinct works of choreography in two distinct settings. The first,
Ilusiones de Percantas
(Women's Dramas) will be performed as part of the
Art in Odd Places Festival
. Set to tango music, 
Ilusiones de Percantas
 is a humorous piece in which the dancers, each representing a female prototype, deconstruct their roles to reveal their true selves.
Ilusiones de Percantas
will be performed outside in Union Square Park on Friday, October 5 from 12-2PM, and Friday October 12, from 12-2PM.  
The second piece,
Sangre y Arena
(Blood & Sand)
¸
is the polar opposite. Performed as part of the
Wave Rising Series
,
Sangre y Arena
reenacts the ancient sacrifices of Roman Mithraism, and explores primal impulses, ritual, and human sophistication.
Sangre y Arena
will be performed at White Wave John Ryan, 25 Jay Street, Suite 100, Brooklyn, on Wed., Oct. 24 at 7:30 PM, Friday Oct. 26 at 7:30 PM, Saturday Oct. 27 at 4PM, and Sunday Oct. 28 at 7:30 PM. 
I recently spoke with Lenzu about her upcoming shows.
---
Veronica Hackethal for The Dance Enthusiast: How did you become interested in portraying the female protoytpe in Ilusiones de Percantas. What is your vision of the female prototype?
 
Anabella Lenzu:
The premier was in 2003 in Argentina. The lyrics have so much spice and they always have a double meaning because we're Latinos.  Until 1960 the tango lyrics were written by men. So the women characters are the man's projection. They are grotesque. Either you are the prostitute or you are the saint, the pure mother or the wife-to-be that is cheating on him and that has stolen all his money. I'm playing with an image that men are projecting on women, and I reverse it. It's like, "You want me to be your saint, your prostitute. OK, I can play that, but then I'm not myself." So I'm playing with these three different masks, or layers. First, it's the character mask. For example, the woman who is waiting for a date in Union Square. She is very pretty, she's 25 years old and she wants to find a husband, to clean and cook, this image. The character is oh so feminine, but then she has another mask. For example, she is very aggressive and she smokes, and she's very masculine, but she covers that. And then there is the dancer's mask. You can see the interpreter who is the dancer, then you see the character, and then you see the mask of these characters. All this is inspired by the tango lyrics because they are so rich. So I play with these images. It's kind of my social commentary on
machismo
.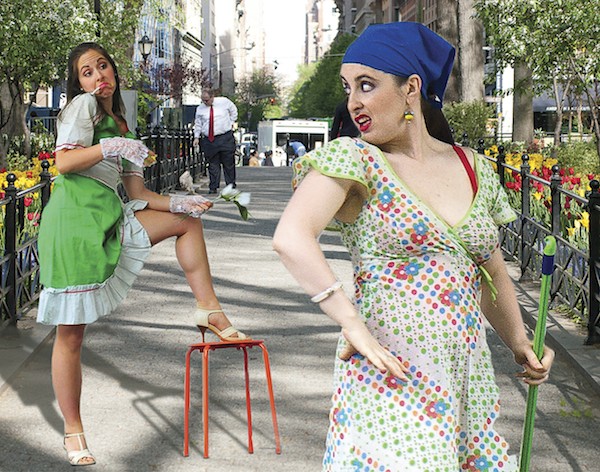 Lauren Ohmer and Anabella Lenzu in Ilusiones de Percantas ;Choreography by Lenzu; Photo © Todd Carroll
TDE: And there will also be interaction with the audience?
 
Lenzu: There is a lot of interaction. We're going to do a loop of two hours performing nonstop. These characters are waiting in Union Square for some guy, or husband, or lover. We are all females waiting for these men. We have established choreography, and we do gestures that interact. Originally these solos were always for a man. When we do it, we suit this choreography for whoever is there, man or woman, and involve them in our situation.

We know that we cannot improvise so the choreography is set. This is much more difficult for the dancer. Because you need to know your character very well to know how you will reply, how you will transform the choreography without going out of the music. It's very psychological for the performers. And at the same time it's really fun.
TDE:
You are also presenting Sangre y Arena in October?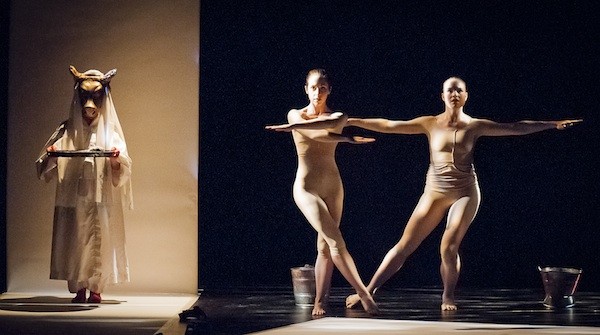 Lauren Ohmer, Julia Lindpaintner and Anabella Lenzu in Sangre y Arena ;Choroegraphy by Lenzu; Photo © Todd Carroll

Lenzu:I think these are the duality, the yin and the yang, the two sides of the coin. One is site specific outside in Union Square and the other is in the theater at night. So we have the comedy and the drama, which are the two sides of my work.

TDE:Could you explain the ritual in Sangre y Arena?
Lenzu: In
Sangre y Arena,
I explore Mithraism. Mithras was a pagan god during the second and third centuries of the Roman Empire and Mithraism was in direct competition with Christianity. I took this to be parallel to the initiation of a dancer for a performance. In Mithraism initiates used sounds and masks to transform themselves in different layers. There are seven different stages. What they do is basically kill their seven different egos. This is parallel to a dancer. When you are a dancer you need to kill your ego in order to know that you are not the end, that you are the medium. We use painting and a lot of text and breath. We have a vocal coach who coaches us how to use the breath and the text. This is the result of five months intense research while I was artist in residence at DUO theater. It's very intense.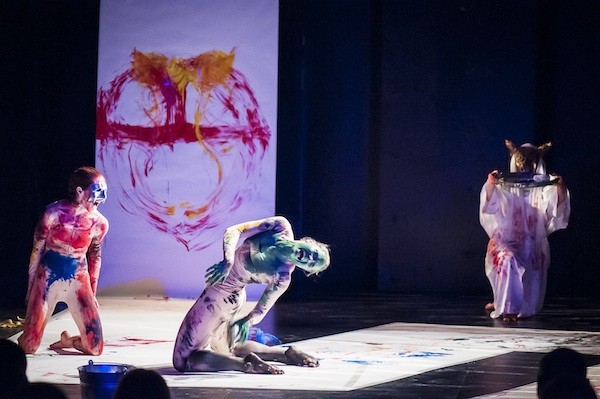 Lauren Ohmer, Julia Lindpaintner and Anabella Lenzu in Sangre y Arena;Choroegraphy by Lenzu; Photo © Todd Carroll
TDE: Could you talk about the idea of primal impulses in art and creation in Sangre y Arena?

Lenzu:Sangre y Arena really explores what it means to be a performer, to open yourself. The first layer is the raven. You need to eat yourself. And these are the impulses, "Why am I alive? Why am I on the stage?" I say to the dancers, "If you perform once without knowing why you are alive, if I don't see it when you perform, this doesn't make sense to you, to me, to the audience, to everybody." It's tough to dance for me because I require that dancers be present and have their own private motivations. So the dancers are scared. I see them wander around, like they don't want to start to rehearse because it's so intense. 
 
One of the dancers fell in rehearsal. She stood up and kept going, and it was like she was in a trance. This is Sangre y Arena. It's a blurred line between performance and ritual. What is really intimate and what is public. And this is what I'm interested in with dance drama. It's much more than a show, and I'm pretty confident that it's very honest. And people feel it.
 
TDE: Regarding both performances in October, you mentioned the idea of wearing a mask?
Lauren Ohmer in Sangre y Arena;Choroegraphy by Anabella  Lenzu; Photo © Todd Carroll

Lenzu: I'm interested in exploring the relationship between the individual and society. To live in a society we have masks. I'm interested in this exploration of masks. To find your identity. Who you are. Did someone tell you who you are? Your teachers? Your mother? Your father? They give you labels: shy, smart, ugly, nice, pretty. How does this influence who you really are? Each artist has a theme, and definitely this is a theme that interests me. The dancer has a mask of character that is protective. The audience has  a catharsis but the dancer also has a  catharsis. That's why people go see dance, and that's why we make dance. To understand. It's a tool for self knowledge.

TDE: You've lived on three continents. Has that influenced your art?
 
Lenzu: Yes, absolutely. I lived in these different countries, I speak these languages that I never studied in school. It's made me adapt. That's why I'm a dancer, because I like flexibility of mind, body and experience. You need to adapt in order to live. And I think being able to adapt is the best thing that we can have. So this shapes my art a lot. I'm not fully Argentinian, fully Italian, or fully American. I'm a mix. When I go to different cultures, I'm part but I'm not. There are so many layers, but in the end we are all people. You find a common base because we are all human.
---
The Dance Enthusiast Asks questions and creates conversation.
For more of The Dance Enthusiast Asks, click here.
---
The Dance Enthusiast - News, Reviews, Interviews and an Open Invitation for YOU to join the Dance Conversation.