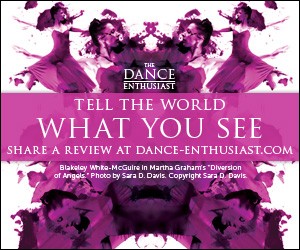 Related Features
The Dance Enthusiast's Social Distance Dance Video Series: Choreographer Nai-Ni Chen says, You Are "Not Alone"
Nai-Ni Shares An Excerpt of her Choreography and Talks About How She is Handling Life During Our Time of Isolation
The Video Above is an Excerpt from       
  Not Alone
Music: Chen Yi
Lighting Design: Yi-Chung Chen
Costumes: Anna-Alisa Belous
Musicians: PRISM Quartet - Zachary Shemon, soprano saxophone;
Robert Young, alto saxophone; Matthew Levy, tenor saxophone;
Taimur Sullivan, baritone saxophone
Dancers: Greta Campo, Ekaterina Chernikhova, Justin Dominic,
Eunkyung Hong, Daniel Johnson, Yoosik Kim, Kristen Lau
---
The original inspiration for this work, for  both the choreographer and the composer, came from the Tang Dynasty poem ,  Drinking Alone Under the Moon by Li Bai.
The poem describes the poet being alone in a garden.  The moon and his shadow become his companions.
The choreographer brings this idea to modern life in an urban setting.  She created a series of "mindscapes" which are the result of the exploration of the different mental and physical states of being alone.
Through self-examination, Nai-Ni Chen, wonders, "Are we ever really alone?
Our physical being may be standing by itself, but what about our introspective being? "
When we are still, we let our thoughts pass by like flowing water.   If we could engage with our shadows, what would it be like?
---
The Dance Enthusiast:  Nai- Ni, how are you? How is your family? And how are you handling staying at home? 
Choreographer Nai-Ni Chen: So far my family and I are fine.  We worry about our dancers more. 
All of the sudden the world has changed.  All our performances and teaching projects got cancelled. And the scary part is that we do not know when it will end.   
Human interaction is important for our kind of work.  It has been one week since we worked in the studio last with a purpose.  Now, we have to shape ourselves, support each other, find a new purpose.  
The Dance Enthusiast: How are you communicating with friends /family and those not in your home? 
Nai-Ni Chen:  We have done a lot of phone calls and  video conferencing. 
The Dance Enthusiast: What are you doing  about "moving"  at home?  How do you stay in dance shape?
Nai-Ni Chen: Some dancers have been taking  lessons through video streaming.  I do my own work out in the morning and take a hike in the woods in my neighborhood where there are very few people around.  My company is starting today with a company class online,  so we can spend time together and keep connecting with each other as best we can. 
---
Interview with Nai Ni Chen Part of The Dance Enthusiast's  2014 Dance Up Close Series
To Read the Original  Dance Up Close article talking about the creation of  "Not Alone"written by A. Nia Austin-Edwards ,click here
---
The Dance Enthusiast:  What keeps your spirit up right now?
Nai-Ni Chen: Reading, cleaning, organizing files, and videos,  going through our photos, and costumes.  There is a lot  of work that I did not have time to do in the past which I have a chance to do  now. 
Spring is here.  Listen to the birds, watch the new bud growing on the tree and  popping out of the ground.  The sun is still shining on us.  This virus is temporary.  We just have to be patient.  
The Dance Enthusiast: What are you eating?
Nai-Ni Chen: Bread, rice,noodles, vegge, egg, cheese, yogurt, milk, coffee, tea, chicken, shrimp, fish, fruits.  
The Dance Enthusiast: What are you most looking forward to when this is over?
Nai-Ni Chen: Traveling  to see my family on the west coast.  Taking a vacation together.
The Dance Enthusiast:  What would you like to say to your colleagues,your audiences. and our readers?
Nai Ni Chen: Stay positive.  You are not alone. This is just a temporary situation.  This virus is under control in Asian countries right now.  And gradually people over there are getting back to work.  We will get there too.  It just takes time.  We need to be patient.  Nothing can replace live performance. 
I hope that soon we will be able to get back on the stage, back to the studios, back to schools and resume human interaction to create magic in dance together.  
---
---
The Dance Enthusiast is delighted to hear from you. Share your story with our enthusiastic audiences and be part of the conversation. Send a digital POSTCARD to The Dance Enthusiast at info@dance-enthusiast.com. Include your text (not a press release) and three to five properly credited pictures, or links to short video. If you have any questions, let us know.
---
The Dance Enthusiast - News, Reviews, Interviews and an Open Invitation for YOU to join the Dance Conversation.