SOCIAL DISTANCE DANCE VIDEO: Bhavana Reddy Kuchipudi Dance is Resplendent in "Ganapati Vandana"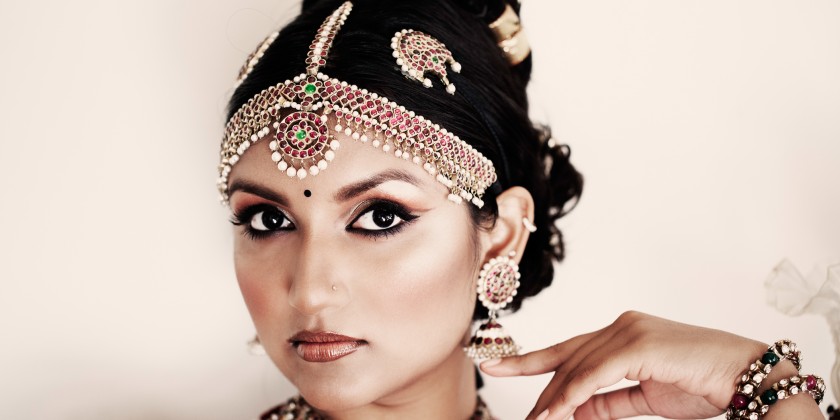 About the Artist: Said by some to share similarities with Western musicals, Kuchipudi is a dance drama tradition that has evolved into a solo dance tradition. Reddy is one of the most sought-after Kuchipudi dancers of her time, carrying the family legacy of internationally celebrated dancers Raja, Radha and Kaushalya Reddy. She divides her time between the USA (Los Angeles) and India (New Delhi). 
Some of Reddy's most recent and notable performances include a Kuchipudi collaboration with the LA Philharmonic Orchestra to Stravinsky's Rite of Spring, which was performed at Disney Hall, Los Angeles; plus a show for the Crown Prince of Denmark at the National Museum, Copenhagen during a tour of Scandinavia in March 2020. 
---
Sammi Lim for The Dance Enthusiast: Dear Ms Reddy, how is 2021 treating you so far? Are you optimistic about it being a better year? 
Bhavana Reddy: 2021 has been very refreshing so far! Yes, it started with the new strain and a bit of change in plans. But I have been recognized by India for an award: I am in an interaction regarding the role of a Rehearsal Director with Mavin Khoo of the Akram Khan Dance Company for the eminent Indian dance school Drishtikon and the British Council; I may still be going to Europe.
Aside from these external commitments, I have had a wonderful inward journey during the pandemic and am able to maintain a daily ritual that often gets changed in the mad schedule of touring. I have enjoyed my oneness with dancing and it has been my best friend in this time.
You were invited by the Indian Embassy of the USA (based in Washington DC) to teach virtual classes with disciples of Kuchipudi dance. How's that going?
Bhavana Reddy: Yes, in fact it was for anyone and everyone with little to no experience in Kuchipudi. I had a wonderful new experience, as demonstrating live on Facebook was not something I was accustomed to. In ancient classical dance traditions like Kuchipudi, the guru-shishya parampara (tradition) was passed on primarily through a very in-depth and intimate relationship fostered in the home school environment of a guru. The internet and the current situation has given me a new experience of teaching virtually that I am very thoroughly enjoying. Now our bedrooms or living rooms are re-imagined as the temple of learning and the knowledge is imparted to those yearning to learn and otherwise didnt have the opportunity to do so.
Perhaps you could help us Western audiences differentiate Kuchipudi from other South Indian dances.
Bhavana Reddy: I can definitely share a little about my dance form Kuchipudi and its uniqueness. 
Kuchipudi is one of eight classical dance forms in India that hails from the southern region of India, Andhra Pradesh and Telangana. It finds its roots in the temple dances as well as in the street plays of Yakshaganams, Veedhinatakams and Bhagavatams, where traveling bards would perform mythological stories on Shiva and Vishnu during different periods of times. In this form of drama, the performers would sing, deliver dialogues and play characters to tell a story (as musicals do in the west). This form soon evolved into the present day Kuchipudi, which can be done in solo or group format. It is very unique for its role playing nature, singing and dialogues, and dancing on the rim of a brass plate, among other things. 
How does it feel to be continuing your family legacy of dancing? Who was it in your family who jumpstarted the tradition? 
Bhavana Reddy: I feel proud and it feels like my sacred duty. My father Raja Reddy was the first enthusiast in the family. He was mad about dance before he even married my mother Radha Reddy. He hails from a small village in South India where he would skip all activities to attend street plays and folk dances performed by the traveling bards passing through the village. Occasionally, he would even lend musical support to them while enjoying it like a crazed fan boy. Later on, he married my mother, then ran away from home to learn from the traditional and revered gurus of Kuchipudi. After many a rejection, the great Vedantam Prahlada Sarma took them in and trained them in the sacred art form of Kuchipudi Dance. On a choreography scholarship with Maya Rao, who worked and trained under the Bolshoi Russia, they arrived in New Delhi. Here, eventually, they were noticed as outstanding performers and were personally promoted by then Prime Minister of India Smt. Indira Gandhi.
They performed for the Cuban President Fidel Castro, for the opening of the Durban Theatre after the Apartheid, for the All Star Ballet Gala Festival Japan alongside greats like Rudolf Nureyev, and even President Ford at the Mississipi River. My father Raja Reddy was offered a teaching position at the Julliard School of Dance, which he turned down to continue his performance tours and this was then taken up by his senior contemporary Smt. Indrani Rehman. After this, my entire family—my father, my two mothers, my sister and I—were accorded with many awards and tours throughout the globe. 25 years and counting and I am proud to be continuing this legacy. 
Do you practice any other movement-based exercises to complement your dancing? 
Bhavana Reddy: Occasionally Yoga, but training for the dance form is structured. We have exercises and stretching incorporated in our training that are very effective for the well being, development and maintenance of the body. On a tired day, I enjoy yoga too; it seems to do the trick and is also a great exercise to compliment the fast paced execution of pure dance repertoire in Kuchipudi style.
Tell us about some essentials in any Kuchipudi dancer's wardrobe. You look wonderful dressed chin to foot in your traditional garb.
Bhavana Reddy: Costumes reveal the distinct identity of the region where the dance form originated. Kuchipudi originates from Andhra Pradesh and Telangana states in Southern India. Being a dance-drama, Kuchipudi tends to have some productions like musicals. Costuming is super important to the role. In ancient Kuchipudi Yakshaganam, the costume for the character of a king was heavy, consisting of a rich silk dhoti, a long coat and an angavastram (shawl) and jewellery. The costume for a female character used a nine yard saree and so on.
The jewellery worn by a Kuchipudi dancer also has great significance. For instance, the elaborate head ornaments include a circular plate 1 /1/2" in diameter symbolizing the sun, another symbolizing the crescent moon. The full tika (head ornament) represents the 27 asterisms of Indian astronomy. An ornament that is very special in this dance form is the nose ring (mukeera) and the braid ornament, which is the Symbol of the Universe.

Last but not least, a very important adornment of Indian Classical dance are dance bells or gajjellu. These bells jingle in accordance with the foot movements of the dancer. Worn around the ankles, they lend rhythmic expression to the music.
Is Kuchipudi dance more about keeping ancient dance works alive or does it also involve the creation of new works? In other words, do you also direct and choreograph pieces? 
Bhavana Reddy: It is about both. The old items have a charm that every one yearns to experience every once in a while. However, I have choreographed to my own songs from my album, "Tangled In Emotions," which features contemporary music with English lyrics based on contemporary themes of self-expression. I have also choreographed to classical western music such as "Stravinsky's Rite of Spring" for the Los Angeles Philharmonic Orchestra under the artistic directorship of Kitty Mcnamee; George Harrisson's "My Sweet Lord"; pieces in English, Hindi and Urdu other than the traditional languages of Telugu and Sanskrit.
Where were you dancing in this video? And how important is location to your art form? 
Bhavana Reddy: In this particular video I was performing in my backyard for the Indian Raga's intiative of "Why I Dance" and for the Consulate General of India in San Francisco during the pandemic. Location is very important in our dance forms. It was originally performed in temples and then in Sabha's for the public and now in auditoriums. But during the pandemic we have suspended all beliefs to keep the art continued.