More Audience Reviews
Contribute
Your support helps us cover dance in New York City and beyond! Donate now.
AUDIENCE REVIEW: 2016 Choreographer's Canvas: N.Y. dance showcase of entertaining diversity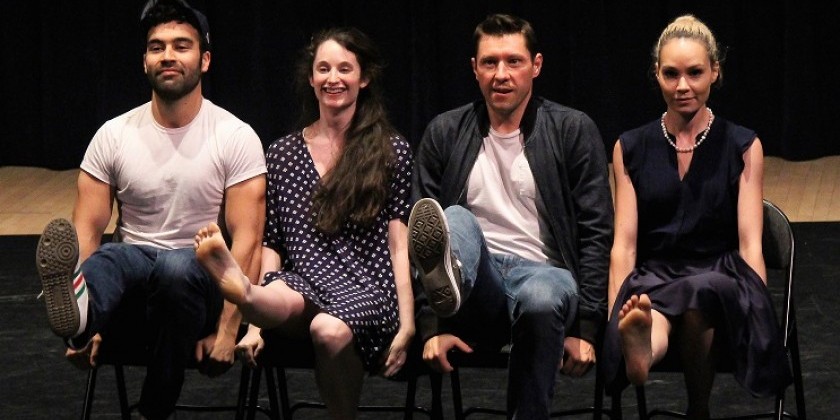 Company:
Group Theater Too: The Choreographer's Canvas 2016
Performance Date:
Saturday, July 17, 2016
Freeform Review:
On July 16, after performing in his robust, "Pan Handle Funk", Executive Producer Justin Boccitto welcomed the Buttenweiser Hall audience to the Choreographer's Canvas, explaining the show's purpose was to "offer a platform for choreographers of all genres of dance an opportunity to experiment and entertain. "Boccitto's "Funk", which combined tap and breakdancing with a rhythm mix of Saxophone, guitar, beatbox and drums resulting in a beautiful mash up of diverse dance and sound, was only the beginning of the evenings successful dance experiments.
Celebrating its ninth season, Group Theatre Too's 2016 'Canvas' comes to a new venue: Harkness Dance Center at the 92nd street YMCA. "Megan Doyle and the Y have been very gracious to us", explains Boccitto "and we are excited about this new partnership." This year's performance remained true to its intent, showcasing a variety of dance styles, while continuing to offer something new and entertaining in movement and sound.
Madisyn Maniff's contemporary/lyrical "Paradis Perdus" provided a unique juxtaposition, powerfully ending her piece in musical silence with just the sound of the dancers breathing. Choreographic newcomer Amy Connerley successfully combined Hip Hop with the burlesque dance style to add a level of texture in her rendition of Chicago's "Cell Block".  Tap was repeatedly showcased with increased versatility this year: from colorfully classic fun in Germaine Salsberg's "Mockingbirds", as a vehicle for romantic storytelling in Shelby Kaufman's "Show Me Love", and in the hard hitting tap dance in hoodies finale "Move to the Ocean," choreographed by Mark Albrecht.
"I like when the dance tells a story," says Boccitto, and those that did on Saturday night were the evening entertainment stand-outs. Kendra Slack's "Taxi" (pictured above, Courtesy of Jessica Fallon Gordon Photography) beautifully offered a modern dance interpretation of the classic Harry Chapin song, showing the bitter sweetness in the memory of past innocence. An excerpt from Devin Richey's "Vietnam", was a chilling contemporary jazz tour de force depicting the complexity of the era and the impact of the experience. Pace University Commercial Dance senior Jordan Marie Hayes offered a very intriguing creative interpretation through movement of the layered thoughts that run through the mind of a groom in "Alone With His Thoughts" as he walks with the wedding party to take his position to wait for his bride's entrance.
What's next for the Canvas? "As it will be our 10th year, I want to do something special, perhaps a 'Canvas All-Stars' to showcases the favorite pieces from previous years," says Boccitto. Additionally, he is currently working with artist Anelena Frollini to create an expanded version of Canvas to Brazil in 2017.  Explains Bocitto, "this would extend the Canvas into a week-long experience that would include bringing dance teachers and offering classes." Exciting stuff!