More Audience Reviews
Contribute
Your support helps us cover dance in New York City and beyond! Donate now.
AUDIENCE REVIEW: Axons Dance Theatre presents Inaugural Theatre Performance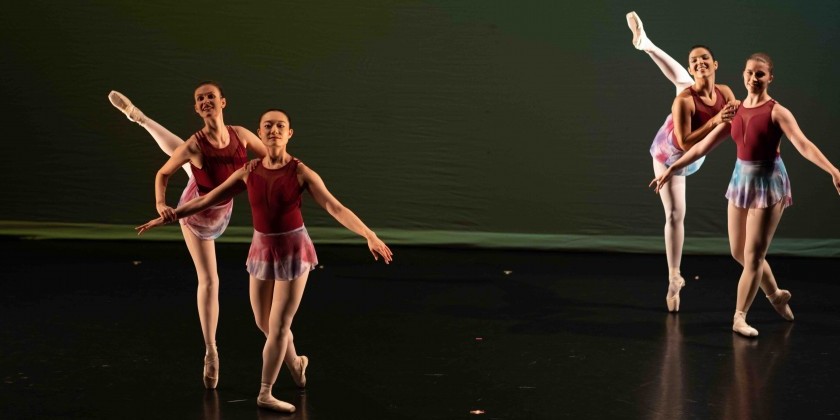 Company:
Axons Dance Theatre
Performance Date:
June 25, 2022
Freeform Review:
     On Saturday June 25th, Axons Dance Theatre made its "formal debut" at Manhattan Movement and Arts Center. I've watched Axons perform a number of times already as I've been following artistic director Joan Liu's choreography from before there was Axons. I knew this one's especially special because it's the first time all of Axons dancers are performing in the same show.
     The show started with "Really? Really!" We were greeted with some Degas-like dancers that came to life and had some fun with each other. It brings me back to childhood days where we picked little arguments with our friends but at the end of the day we were still friends. Then we had a total change of mood for "Spy". Lucia Elledge came on stage with her blazer, sun glasses and white gloves along with the dark red lighting. It really set the scene. The solo was short and sweet performed tactfully by Elledge. "Casual Times" followed with music to Beethoven. This was one of the new works that premiered that day (interestingly, both of the long works making full premiers have music by Beethoven. I wonder if Liu had an affinity to music of that era). This piece is in three movements and featured each dancer of the company. It was fun, and the most classical piece of the evening. "Spook" followed danced and choreographed by associate director Saeko (Rio) Hayashi. Hayashi was a stand out of the dancers having extreme flexibility and a confident presence. "Soar. Glide. Flap." ended the first half of the show. I've watched "Soar. Glide. Flap." several times now and it remains my favorite. The lighting (by Shannon Clarke) was spectacular and gave more life to the piece. I wonder if Liu had the lighting in mind when she choreographed. I can only imagine how breathtaking it'll be at a grander venue.
     Second act opened with "Dinolates", another longer piece making its premier that day. This piece was heavily featured on Axons' social media account and it did not disappoint. It was, quirky, humorous, imaginative, and true to Axons' mission, provoked emotions from the audience. There were a few moments where the dancers came together to become one gigantic dinosaur that reminded me of Pilobolus. Liu, of course, made use of Pilates as the title suggests. There were hundreds, teasers, plank, and I am sure some other Pilates exercises that I didn't recognize. "Escapement" take inspiration from mechanical watches (danced by Jessica Frazier and Lilli Wang). The evening ended with "Belong-ing" which depicts the immigration journey. The beginning of "Belong-ing" had dancers walking in their own patterns, seemingly unaware of each other. It was very simple yet very powerful. The dancers then went into some gorgeous partnering that made me feel they were sailing on boats. Then the piece changed into Broadway style happy dancing when Raquel Beauchamp entered the stage and gathered the crowd. It was the perfect ending to the evening.
     Apart from being in awe of Liu's choreography, I have to compliment the dancers for their artistry and stamina! Liu did not take it easy on the dancers. It was an almost 2-hour show with only seven dancers. There were a few solos and duets here and there, but the majority of the time, almost all the dancers are on stage dancing, not posing. There must've been lots of work put in to remember all the choreography. It was clear everyone worked together as a team to make it possible.
     I overheard some audience saying they've never seen anything like it. Liu's ability to make classical ballet light hearted and fun with her knack for geometric shapes makes her unique. It was a well-deserved standing ovation for sure. Bravo Axons Dance Theatre! Congratulations on your inaugural season!
Author:
Xuan Yi
Website:
http://axonsdancetheatre.com/
Photo Credit:
Alice Chacon