More Audience Reviews
Contribute
Your support helps us cover dance in New York City and beyond! Donate now.
AUDIENCE REVIEW: Columbia Ballet Collaborative Fall Performances 2019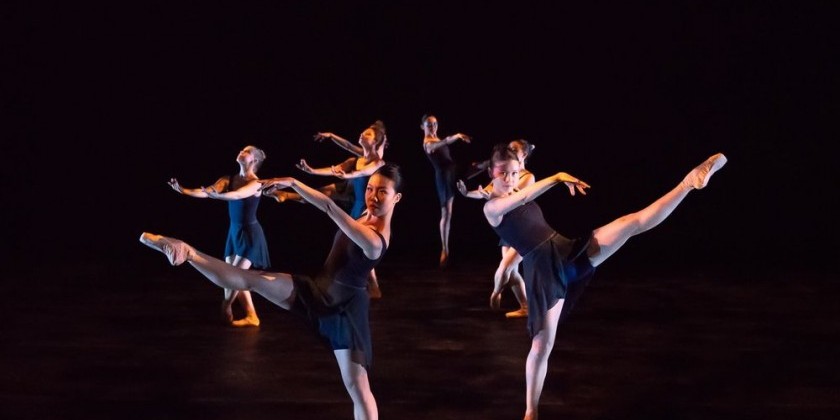 Company:
Columbia Ballet Collaborative
Performance Date:
November 24, 2019
Freeform Review:

On Sunday, November 24th, I was invited to the Columbia Ballet Collaborative's Fall 2019 Performances on behalf of a friend in the show. The show was held at Ailey Citigroup Theater and featured works by New York City Ballet company members, Alvin Ailey faculty, and a student at Barnard College of Columbia University. The Columbia Ballet Collaborative is a unique entity in that it is much more than a "ballet club," but not quite as rigorous as a conservatory or BFA setting. Despite the lack of a formal dance major that so often accompanies college dance programs, the performers of CBC were just as impressive and the show just as moving.
The program started with a thrilling pointe piece by Emily Kikta titled Waiting in the Rain for Snow. Kikta's work began with a solo by Kristina Hadjipetkov, who captivated from the start. Her ability to combine classical technique with contemporary movement was stunning, and thankfully she had a lead role throughout the piece. Full of swift pique arabesques, precise port de bras, and costumes reminiscent of Serenade, this piece screamed Balanchine -- so it was no surprise when I discovered Emily Kikta has been dancing with NYCB since 2010. Her work culminated in a grid formation, where repeated movement was canonized down each line. I personally love canons, and the fast and detailed footwork made everything even more exciting. The dancers all had beautiful technique, and the artistry of Hadjipetkov and the other soloists really brought the piece to life.
The fourth piece in the line-up was another showstopper. Impossible Mirror by Eve Jacobs was the first modern piece of the show, and my personal favorite. As a Juilliard graduate and former Jessica Lang Dance company member, Jacobs knew how to keep the stage alive and the audience captivated. The piece had an all female cast, clothed in various dresses -- the type of dresses you might actually find in the real world, not too costume-y. Joni Mitchell's "Twisted" started to play as the performers danced a gesture phrase in unison. Occasionally a soloist would step out of formation and almost mime the lyrics that were being sung by Mitchell. The contrast of gesture versus aerobic movement, literal versus symbolic choreography, and casual dresses on top versus ballet shoes on the bottom gave the piece a depth that can sometimes be missing from traditional ballet. As the sound of Joni Mitchell faded, "Chopinesque" by Jon Batiste took its place. A haunting, bluesy rendition of Nocturne op. 9 No. 2 by Chopin, Batiste's creation is full of beautiful riffs and scales, which the dancers mimicked with spindly movements. Jacobs's work ended as the dancers approached the front of the stage in a single horizontal line, simply looking out at the audience with power and determination. Overall, I was very impressed with the work of CBC and their ability to shine in classical ballet works, as well as more contemporary pieces. The versatility of the dancers kept the program interesting and entertaining, congrats to the performers on a great show!
Author:
Amy Bernardo
Photo Credit:
Kyle Froman