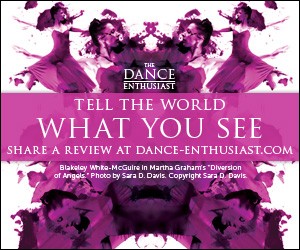 More Audience Reviews
AUDIENCE REVIEW: Doug Varone and Dancers
Company:
Doug Varone and Dancers
Performance Date:
02/22/2013
Company / Show / Event
Doug Varone and Dancers
Performance Date
02/22/2013
Venue / Location
Harkness Dance Festival 92nd ST Y
A bit about you:
(your occupation, your website, etc.)
Professor of Dance
What was the last time you moved your body?
February
Why did you go to the show? What did you expect to see?
love Doug Varone's work
Freeform Review:
Mouth Above Water (2013 premiere)
Doug Varone and Dancers
February 22-24, 2013
Harkness Dance Festival: Stripped/Dressed
92nd Street Y, NY, NY


In the first of five weekends of performance for the 2013 Harkness Dance Festival, 92nd Street Y Artist in Residence Doug Varone presented his company in a Stripped/Dressed format: Varone introduces the company members, talks briefly about the larger themes and hallmarks of his choreography and then shows a bare-bones version of a repertory work (in this case, Rise from 1993) that complements or contrasts with the fully produced "dressed" work to be shown last. Varone explains his choreographic process and has dancers demonstrate the work's movement vocabulary building blocks as solo phrases, in various groupings, and in conjunction with different music. Noting that everything begins as a dialogue with the dancers, Varone shows how he intermingles the phrases to create new material and demonstrates a few of the choreographic games that he uses to play with the phrases.


Doug Varone and Dancers Photo by Bill Hebert
Stating that although the creative process for each dance feels unique at the time, Varone described common threads in his choreographic process. Drawing an analogy to making a stew, Varone explains that he throws in ideas, phrases, music until at some point something happens: there's a key in the door, an energy that propels him to move forward in a particular direction. After establishing individual phrases for Julia Burrer and Hollis Bartlett, the next transition in the development of Mouth Above Water came as the company spent a week at the University of Buffalo for a residency and partnership with a Health Care and the Arts initiative. Working with patients in two hospitals, company members responded in dance to the stories and dreams of cancer patients aged 3 to 80. These sessions were videotaped, and Varone later shaped the gestures and movements into phrases that were set in duets and trios, as in the duet for Erin Owen and Alex Springer, which originated in a young cancer patient's use of action figure dolls, who first placed his dolls in positions while telling stories, then physically manipulated Owen and Springer into shapes and positions. Back in New York, Varone explored all the movement material in conjunction with different pieces of music until finding in Julia Wolfe's composition "Cruel Sister" a visceral quality that resonated with the dance vocabulary and invigorated it with a continual building and shifting of tension. The final piece of the composition puzzle entailed connecting the score's narrative line with images in the dance; rather than literally dancing the story, Varone chose to highlight particular ideas and capture the essence of those images in architectural groupings, gestures, and movement qualities.
Presented at the first weekend of the five week Harkness Dance Festival, Doug Varone's new work Mouth Above Water is a stunning piece in four sections to a visceral and haunting score for string quartet by contemporary composer Julia Wolfe. As the 92nd Street Y Artist in Residence, Varone took advantage of his home-space familiarity to produce a site-specific premiere, utilizing both the Buttenweiser's small proscenium stage and the expansive studio floor to create an intimate environment through light, proximity, and breath-taking choreography. Mouth Above Water travels from the far upstage proscenium stage to the studio floor at the audience's feet. Wolfe's disturbing score alternately whispers and assails the listener, its visceral energy matched and compounded by the beautiful and violent movement of the dancers. Julia Burrer gives a tour de force performance, swept up in a tumult of antagonistic forces; she appears both quietly heroic and poignantly tragic. Colin Stilwell is remarkable as well—the clarity, lyricism and profound commitment to his movement was compelling; Erin Owen's ferocious dancing also was riveting within an ensemble of powerfully beautiful dancers. The evocative lighting design is by Ben Stanton; Liz Prince designed the timelessly elegant and strikingly simple costumes.


Doug Varone and Dancers Image from Harkness Dance Center
The first section is a trio for Xan Burley, Colin Stilwell and Hsiao-Jou Tang upstage in the proscenium stage. Lit in golden light, they stay in close proximity to each other, sometimes directly interacting, sometimes moving without visual or physical contact. The wood-paneled walls behind frame them like a shadow-box. The music crescendos and quiets; deep lower strings of the cello sound a single, repeated bow stroke leading into a chaotic wall of sound. Fragments of movement include a momentary hand to shoulder, and a frantic hand gesture that appears to ward off further contact. Elbows connected, they grapple with each other; mysterious and sometimes pedestrian gestures are interspersed with leggy turns and balances. The music becomes unbearably loud; ascending notes, fast bowing and tangled sound predominate. Stilwell is trapped between the two women; one puts her hand to his face in an eerie caress and the lights black out.
Julia Burrer faces downstage left in a solitary pool of light at the beginning of the second section. Moving calmly, her arms trace arcs through space; she travels on shallow diagonals, constantly turning back on herself. A deep forward lunge position is repeated in stuttering pulses, other movement motifs include a crossing twist of the torso and gestures that reach from spine to fingers to touch end points in space. There are moments of stillness, as if listening to inner voices, moments of urgency. Shards of light create a shadowy surface on the floor as Hollis Bartlett, Erin Owen, Alex Springer, and Eddie Taketa enter from stage left in a tidal flow. The music is high-pitched and aggressive; notes on the violin soar over the throbbing, rocking, ostinato bow strokes of the cello. The quartet abandons their individual patterns: they actively pull at Burrer, lifting and tossing her like flotsam. A crack the whip pull line threatens to dismember her; rolling, running, catching and pushing, the four seize and discard her, only to entangle her again. They all fall suddenly. Burrer scrambles to pull herself across their prone bodies as they slowly regroup; striated lights create an underwater look as they rise, lean forward, and all fall again. Burrer crawls through them and lies down momentarily, only to be caught again in their disturbing undertow. The tension in the music is intense and visceral: Burrer is tossed over someone's shoulder, caught by another, pulled by opposing forces and disappears in swirling darkness.


Rise Choreography by Doug Varone; Photo © Bill Hebert; Dancers: Hsiao-Jou Tang and Alex Springer
The third section introduces Erin Owen and Alex Springer. Moving like plastic action figures come to life, Owen turns Springer's head with her hands, forcing him to look away and down. They bump elbows, sit side by side then stand facing apart. Stiff-legged sideways pogo-stick hops provide locomotor transport; body parts move in isolated segments from shoulder, elbow, hip, or knee. They interact rigidly: hand to shoulder, palm to palm, usually not looking at each other. The music is sparse, eerie and foreboding. Springer crumbles to the ground, Owen topples and lands in an awkwardly bent position on her side. They stand, fall, and stand again. She raises one arm vertically overhead: a salute? A menacing gesture? They head butt, chin butt. She inclines her torso towards him. He raises one arm. More jittery, stiff-legged hops while sizing each other up. He lies down, feet flexed, arms bent at the elbows. His chest arcs upward. He stands. Her fingers handprint his chest. The two are back to back. Front to front. Small hug. Fidgety contact; no one can get comfortable. Hands clawed, she struggles to climb his standing frame.
Section four: the original trio of Burley, Stilwell and Tang are dimly visible on the proscenium stage, clustered against stage left wall. Moving in tight tangles they lift and manipulate each other, lunging sideways, pushing and pulling with agitation. Earlier movement phrases gain new meaning in this context: Stilwell is bound between them, wrists joined. He falls and rolls off the downstage edge of the stage, where he reaches, writhes and subsides into darkness. In unison the two women stand impassively, gesture violently, back up, kneel, arch back, scramble to the back wall and collapse against it. Lights out.
Mouth Above Water takes us on an emotional journey of haunting images: Burrer, buffeted and pulled in opposite directions by the incessant quartet; the trio, inextricably linked until casting off Stilwell; the awkward desperation of Owen and Springer in their action-figure poses, both stoic and vulnerable. The ending comes as a shock—we realize we have been holding our breath and are uncertain as to what we have witnessed…There is a cathartic beauty in the aftermath.
Doug Varone and Xan Burley Reflect - ( before the company's Fall 2012 Season at The JOYCE)