More Audience Reviews
Contribute
Your support helps us cover dance in New York City and beyond! Donate now.
AUDIENCE REVIEW: Douglas Dunn and Dancers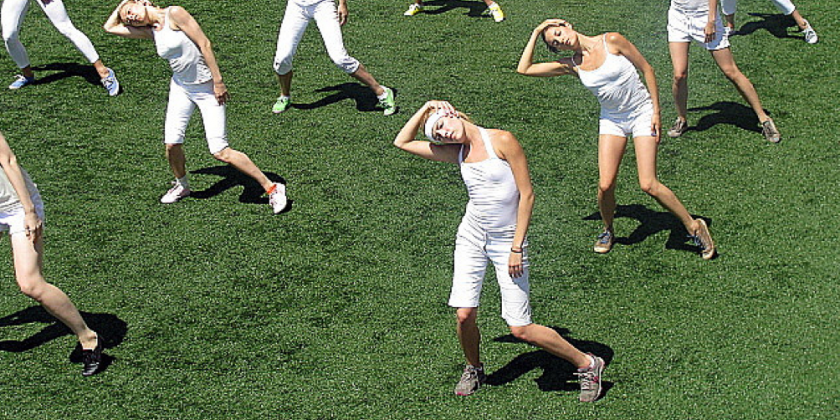 Company:
Douglas Dunn and Dancers
Performance Date:
Aug 20, 2008
Photo © Paolo Mastrangelo
Company
Douglas Dunn & dancers
Show / Event Name
In Formations
Performance Date
Aug. 20, 2008
Venue / Location
On the elevated acre, Grass rectangle, 55 Water st
Your Occupation:
dancer/choreographer
Last time you moved your body:
yesterday
Have you ever seen this company/ before?
Tell us a bit about your history with this group/performer?
No I have not. Before I went to the performance, I did a bit of internet sleuthing and found out that Dunn had performed with Yvonne Rainer and Merce Cunningham. Two choreographers who's work I'm more familiar with.
Why did you go to the show? What did you expect to see?
An unexpected location, 20+ dancers, and a site specific performance was enticing. I was expecting gestural/pedestrian movement combined with Cunningham inspired movement. I was also expecting the use of the unexpected space as a wonderful backdrop for the performance.
What was your favorite moment(s)? What inspired you?
There was a lot of childlike movements like skipping, running, hopping, and playful partnering between the dancers. I was very touched by the innocence and honesty in the movement.
Describe as plainly and as specifically as you can what you actually saw. We are going for description without judgement.
There is no need for complete sentences, phrases and word lists are fine. You can describe these elements or anything you can think of: the artists, the kinds of movement, the qualities of the movement, the use of the stage/space, the musicality/timing...
Solo by Douglas Dunn in the corner
Unison
Statuesque poses
Small clusters of groups
Childlike
Skipping, running, hopping
Partnering
Group movement vs. Solo statues
Symmetry vs. Asymmetry
Rolling, sitting, standing
Angular vs. Curved
Running in a circle --> small circle group clump -->plank-->roll up
Do any images, colors or feelings pop into your head when you think about this show?
Groups of children running through a field during recess that would break up the running when the gong was sounded and the dancers would go into a different statuesque phrase.
A "teacher" in the corner watching and dictating movement sometimes.
Describe any or all of these elements: music, lighting, the venue. - How did they contribute (or not) to your enjoyment of this performance?
Music: The gong would come in very sparingly
Venue: I wish there was more use of the space other than just the green lawn.
The weather was perfect, very bright and not humid.
There were a lot of people eating lunch on the tables near the lawn. It was a little distracting.
Would you like to see this performance / company again? Would you recommend it to a friend?
Why or why not?
Lizards
floor pattern
grafitti backdrop
precise movement initiating from one body part
colorful socks
trios, duets, unison
Solo vs. uniform
What would you like to have seen more of? Less of?
I would like the work to develop to use the structures of the unique venue. The dancers also have very blank faces, that aesthetic is probably what the intent was but after a while it was difficult to concentrate b/c I couldn't connect with the performers.
If you could, what would you ask the choreographer / dancers?
If you were given a venue that had more level changes like a large staircase how would you set up the movement differently?