More Audience Reviews
Contribute
Your support helps us cover dance in New York City and beyond! Donate now.
AUDIENCE REVIEW: Fall For Dance (Program 1): New dance in the time of pandemic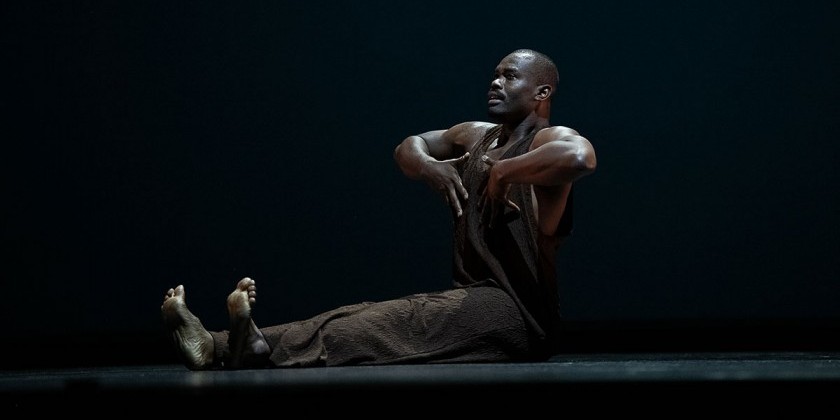 Company:
Inspired by New York City Center presents "Program 1" of the 2020 Fall for Dance Festival
Performance Date:
October 21, 2020 – November 1, 2020 (watched Sunday, November 1)
Freeform Review:
Sat in the living room of my fluorescently lit dormitory clad in sweats one rainy Sunday night, I settled in to watch the digital 2020 Fall for Dance Festival. Of the two programs made available to the public for the set ticket price of fifteen dollars, I chose to watch "Program 1" which featured four works— including a premier of two City Center commissions— starring leading dancers from Ballet Hispánico, Alvin Ailey American Dance Theater (AAADT), Martha Graham Dance Company, American Ballet Theatre and New York City Ballet. The program capped at one hour and presented casts of three persons and under to comply with safety guidelines implemented in combat against threat of the global outbreak of coronavirus.
The opening work featured excerpts from 18 + 1 by Gustavo Ramírez Sansano. The Ballet Hispánico dancers Shelby Colona, Dandara Viega, and Lenai Wilkerson starred. The music leapt dramatically from genre to genre in going from excerpt to excerpt and the choreography manifest itself as a clear physical representation of the musical genres: percussive movement characterized sections with drumming, steady and shapely movement characterized moments of silence, and playful and lyrical movement characterized the songs "Mama Teach Me To Dance" and "Ida, Sweet as Apple Cider" by the King of Mambo— Pérerz Prado. 
The following solo work, Morani/Mungu (Black Warrior/Black God), choreographed and performed by resident dancer and choreographer with AAADT, Jamar Roberts, quickly upstaged the aforementioned performance.  Roberts danced in this premier of his City Center commission to the songs "Black is" by The Last Poets, "The Drum Thing" by John Coltrane (recorded by Jonathan Black, Dezron Douglas, and Jaleel Shaw), and "You'll Never Walk Alone" by Nina Simone. The work was politically charged, exclusively set to music by black artists and marked by lyrics such as "Black is a thousand black faces/ And a million white faces asking, 'Oh my God, what do they want?'"  Yet, in no way was Roberts' movement aggressive or out of control; rather, it seemed more like a release. He expressed to viewers through subtle gestures and movements mostly initiated by his arms. Roberts filled the stage; there was nothing lacking about his performance. Another of his works, Ode, premiered to similar critical acclaim at City Center earlier this year. Roberts undoubtedly excels on the City Center stage. 
The dancer Natasha M. Diamond-Walker performed Martha Graham's Lamentation as the third work in the program. Stanford Makishi, vice president of programming for City Center, introduced the work, remarking that "the costume which encases the performed is essential to the emotional message of the pieces as we witness a dancer struggling, perhaps inside her own skin. It has been said that Lamentation is not just about a grieving woman, but it is the essence of grief itself." The work was well-suited to "Program 1" as a corporeal representation of the grief assciated with our pertinent national struggle against civil disorder and the devastation of the coronavirus. However, this performance, like that of 18 + 1, lacked in comparison to the premier of the two City Center commissions .
The other premier closed "Program 1" of the 2020 Fall for Dance Festival. Christopher Wheeldon's The Two of Us brought together for the first time the forces of ballet dancers Sara Mearns and David Hallberg. Wheeldon exclusively set his choreography to music by Joni Mitchell, specifically the songs "I Don't Know Where I Stand," "Urge for Going," "You Turn Me On, I'm a Radio," and "Both Sides Now." Mearns opened the work with a section of floorwork while fitted in pointe shoes and the two dancers continued throughout the duration of the work in an exchange of solo moments and duets. The movement was lyrical and organic. The dancers appeared to be just as thrilled to be on the City Center stage as I was to see it once again.
It is obvious to me from watching "Program 1" that this new normal digital platform now relies largely on videography as an essential part of performance. It is critical that dance be captured and presented in a way that honors and maintains the integrity of the choreography in the digital setting. City Center achieved something tremendous in this 2020 Fall for Dance Festival. The videography simply recorded the dancers and did not overdue stage design and effects; the dancers still displayed their ability, facility and artistry through the screen. Although the digital performance was limited to performers only within the New York area, I applaud City center for reopening safely in cooperation with Nel Shelby Productions, after "six months of darkness," to make possible this year's festival. I am grateful to resume the role of audience member.
Author:
M. Dwyer
Photo Credit:
Christopher Duggan