AUDIENCE REVIEW: Kun-Yang Lin and Dancers: "Santuario"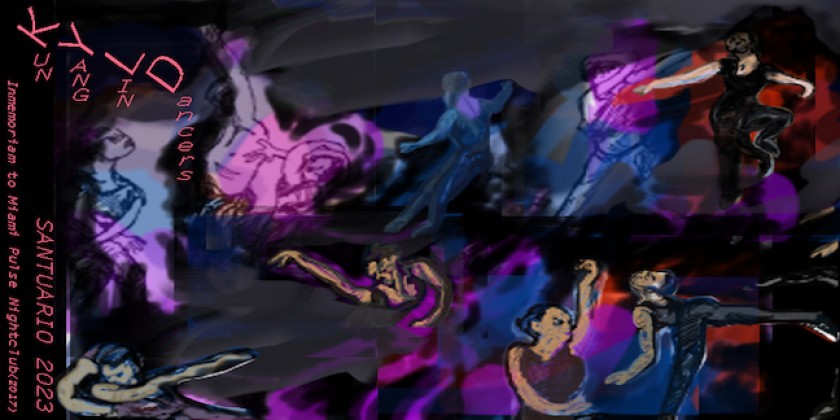 Company:
Kun-Yang Lin and Dancers
Performance Date:
April 22, 2023
Freeform Review:
Kun-Yang Lin and Dancers April 22nd at Esperanza Art Center
Featuring the 2017, "Santuario" in memoriam to the Miami Pulse NightClub Shooting.
In discussion the focus of freedom, to move the self, free from outside forces, and being in isolation were prominent. The Kun-Yang Lin and Dancers brought together, in a workshop, the Esperanza community. It is where education is integrated through the arts to address opportunities in place for higher learning. This Latin cultural center creates an opportunity to take students out into the world for participatory learning. With dance, and other art forms that give the students' voice power in political forums, as well as social awareness on other platforms. The mix of creative outlets, and interfaith exchanged between cultural traditions and organizations makes EAC an important place for the culmination of Kun-Yang Lin's 25th Home Season.
The question of how to create an inner world, which the dance artists bring to the choreography of Kun-Yang Lin, was energetically positioned afterwards. Sophie Malin, explained the necessary point of reservation of energy to be able to implode on greater movement, faster or harder, and being present with the breath. 
The comfort that comes with a body which is relaxed has an ease to move, and until that is taken away or lost in faster or slower moments do we realize the room for improvisation. This reserve of energy, is a daily determination for most that underpins some fundamentals to the teaching of Chi awareness. The artists and choreographer expand on the separation of mind and being, and at the same time moving in unison. This idea of freedom, interested us with how the universal and individual, are completely free to move from isolation to fully being in relation to one another.
The featured repertoire from 2017, "Sanuario" was dedicated to the victims of the Miami Nightclub Shooting. The club scene intersected with an aural element conformed to the stage lights, and body language which would be expected of night life. It shared with it the importance of conformity, but specifically conforming to LGBTQ's values for love. These same values transfer onto the music, and share the space for indifference of sex or race. This stream of consciousness became haunted by a scream, laughter, and dissonance where the house music halted, most abruptly to the rate of a heartbeat. 
The moment of suspense fell on the dancers looking, and searching for the cause of dissonance. What stopped the natural flow of music, dance, and ritualistic baseline? The composition changes more than once, and the series of duets and full company moved through a cycle of destruction and rebirth.
Design and elegance connect with each dancer, and from the beginning a spotlight on the body and face of the dancers carries much of the feeling of inclusion. When all sanity was lost, and the site became a crime scene where the facility is meant to bring out all sexual beings to a safe place, anybody that is proxy to self-identify with it permits this terror everywhere.
"Santuario" demonstrated how constraining one's free movement can quickly send a person back into isolation, and that is precisely the injustice here. In this isolation, dancers are constricted, look strangely to one another, and uncomfortably immobilized by this change of tempo. The sideways looking glance from each of their faces warned us of something under the surface, but by keeping with the rhythm, holding on for dear life. They were limited yet, stoic in a state of determination. The motion to survive sends the message of guarding what was at stake, our own empowered body.
A news commentator speaks for the record of what has happened with poetry, "Two men kissing, there must have been two men kissing last night. And Two women too. Two men kissing for the last time, and they must have been brown too, because we live in a Racist country, gun country…" 
As sudden and tumultuous as this seems, it occurred, how could anything beautiful come out of this? The next set of duets expanded on the elements of identifying with a vulnerability. Opening up one's self to universal values of humility and being, parts of a whole we all share together as a society. The visuals of body awareness, an invisible sense of being and loss, entrenched in a lasting layer of transfiguration which rendered a sense of peace, beautifully.
Author:
Chuck Schultz
Website:
whyseeart.com
Photo Credit:
Chuck Schultz