AUDIENCE REVIEW: "Nutcracker Dream" by Carole Alexis & Ballet des Amériques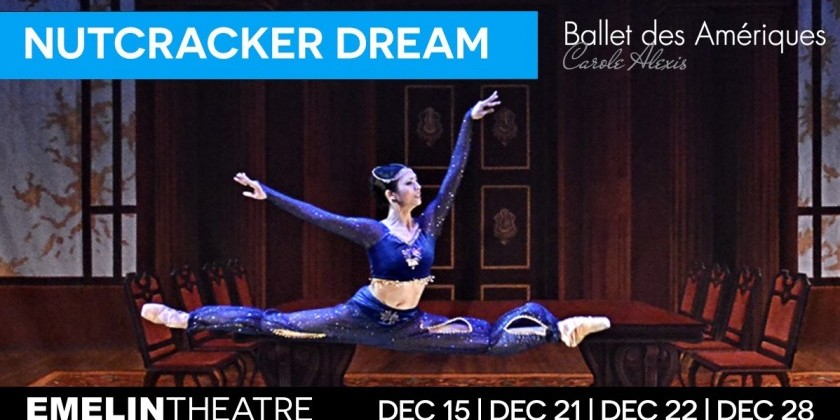 Company:
Ballet des Amériques
Performance Date:
December 22, 2019
Freeform Review:
The most important message you can glean from this review is that there are still two performances of Ballet des Amériques' The Nutcracker Dream this coming Saturday, December 28th, at 2 pm and 5 pm at the Emelin Theater in Mamaroneck. 
My advice is that you put this review aside for the moment, I'll wait.  (Follow this link to purchase tickets: https://emelin.org/nutcracker-dream/) I'm whistling some Tchaikovsky to pass the time. If you succeeded, you are in for one of the best treats you can enjoy this holiday season.
Isodale Alexis as Marie is brilliant. She dances exquisitely. There are moments of such beauty you will find it hard to breathe at times. You will wish that time would stand still. Irene Przywara is so seductive and splendid in the Arabian Dance that it is hard to believe how superbly she dances the Sugar Plum Fairy as well. Corey Mangum has become a fine bravura soloist and an excellent partner and Garett McCann is lithe and dances with aplomb. Tanner Huseman makes a handsome Prince and Victoria Kress is outstanding as the lead in the Spanish Dance and lovely in the Waltz of the Flowers.
The company is uniformly excellent and the choreography is constantly surprising, subtle and winning. Madame Alexis has such a deep understanding of her students and her professionals, of the essence of this glorious Tchaikovsky score and the storied history of the dance, and she brings it all to the stage. Every gesture is right. Every movement touches us exactly as it should.
The staging and lighting are first rate.
This is the right Nutcracker for today, this Nutcracker Dream as performed by Ballet des Amériques under the direction of Madame Carole Alexis.  And this season, this is the one you should see, if you have not already.
— Frank De Ligio
Author:
Frank De Ligio
Website:
https://emelin.org/nutcracker-dream/
Photo Credit:
Amy Kerwin