More Audience Reviews
Contribute
Your support helps us cover dance in New York City and beyond! Donate now.
AUDIENCE REVIEW: "Pasta," An Original Full-Length Ballet by American Liberty Ballet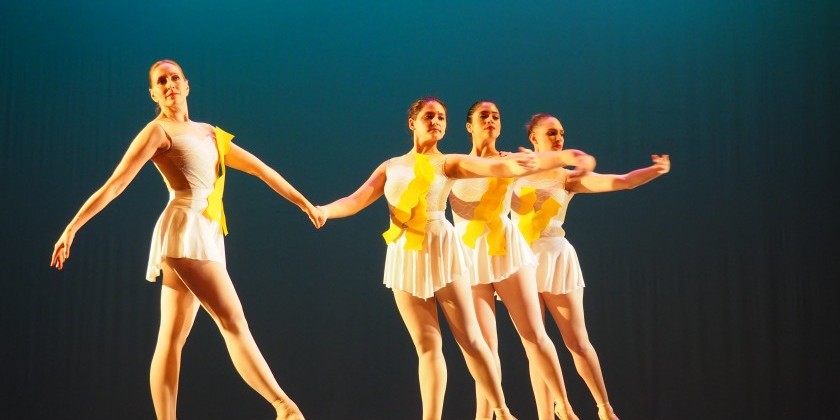 Company:
American Liberty Ballet
Performance Date:
June 23, 2019
Freeform Review:
This full-length ballet was filled with humor, knowledge, and artistry! I've been a long-time audience of American Liberty Ballet and have come to respect the diversity of this company, but this is the first time I not only felt the respect but was thoroughly impressed by the diversity. It almost felt like the company went out of its way to recruit dancers with various skills to join for this show. I've compared the cast with previous programs and noticed there's only a few new dancers, which means I have to give the choreographer, Joan Liu, big applause for bringing such a fresh look!
We were introduced to the leads "salt" (Raquel Beauchamp) and "mouse" (Allan McCormick) during overture, which cleverly took place in front of the curtains. The curtains opened to reveal "water". It might be the lighting or the costume or the number of dancers on stage (around 12), this curtain revealing moment had a transforming effect that sucked the audience into the ballet. "Water" was a lyrical, adagio piece that had a resemblance of George Balanchine's Serenade. The serene mood was interrupted by "salt" jumping into the dancers' arms, another hint that this ballet would be filled with humor. Then, we were introduced to "egg", an energetic technical solo, danced by Allie Hutchins and "flour" danced by Mako Ijichi. Little kids made an appearance as "little flour" which, with the help of "salt", molded "egg" and "flour" together to bring out "dough". By this point, we knew the ballet was going literal. "Dough" was a gooey trio (Amy Miller, Erin Quarles, and Caroline O'Connor) that exhibited flexibility and partnering. The mood changed when "knife", danced by Erika Keller, came running in holding a human size prop knife! The dancing was energetic and played with contemporary movements such as off-balance, parallel, and flexed feet. This is a theme that keeps coming back – the choreographer would give us a few pieces of classical ballet, only to be broken up with neo-classical, jazz, and sometimes even break dance-like floor work. Then comes the crowd pleaser: mouse. The sneaky "mouse" incorporated circus level tricks such as handstands and various flips while telling the story. The first act went on with "salt" picking out ingredients: mushroom, tomato, and veggies; each ingredient danced and the first act ended with "boiling", another group piece that showcased the technical ability of this company. This arrangement echoed the beginning "water" so the audience was led to believe this whole time we were waiting for the water to boil.
Second act opened to four dancers on stage, each representing one type of pasta with its signature move but also dance together. While this piece felt more like a jazz dance in pointe shoes, props to Joan for playing with pointe shoe maneuvers, something that is seriously lacking in most male choreographers. The second act went on "Nutcracker style" with each pasta dancing their own variation. Notable were fettuccini (Natalia Sheptalova), and the super fun spaghetti (Alexandra Bryhanova, Allie Hutchins, and Amy Miller). Even though there were about 10 variations in a row, it all went together seamlessly that there wasn't a dull moment. Finale was also well choreographed and thought out, another thing that's usually missed in less-experienced choreographers.
It was a joyful experience! To be honest, by the end of "water" I was worried that's how the whole ballet is going to be, beautiful but boring after a while. I was pleasantly surprised at the amount of thought and care that went into programing. ALB has upped a level in my books and I will definite be following Joan Liu as a choreographer.
Author:
Xuan Yi
Website:
https://www.americanlibertyballet.com/
Photo Credit:
Becky Ying Zhang