AUDIENCE REVIEW: Review of Savion Glover's "Om"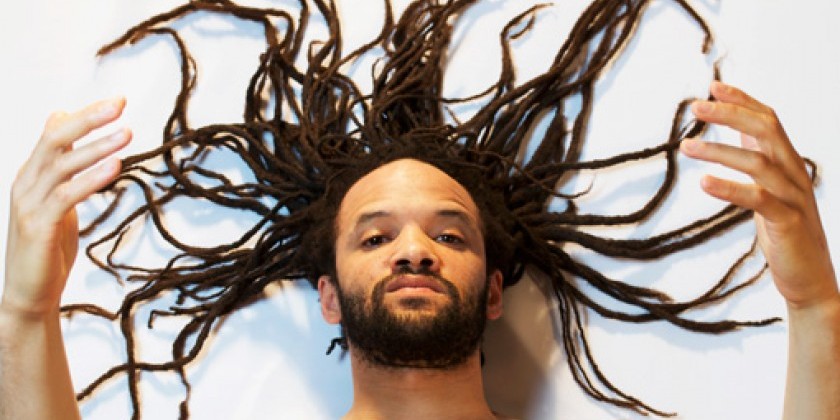 Company:
Savion Glover
Performance Date:
7/8/2014
Freeform Review:
Abigail Ripin, Dance in the City (Barnard Pre-College Program)
The curtains open. Savion Glover improvises exquisitely in the middle of what appears as a sanctuary. Candles and pictures of Glover's role models in both tap and life are set in a fascinating arrangement on the floor around tap platforms. With the title 'Om,' the sanctuary setting is extraordinarily appropriate. In addition to being beautiful, the candles and photos are shrine-like. The atmosphere is spiritual. Meditation music helps the audience find a sacred mindset. The performance is a memorial as well as a prayer, which demands privacy, intimacy – both of which the set achieves - and a certain level of humbleness, which the choreography lacks.
The dance's theme of prayer necessitates modesty; however, as four company members join the stage, the dance remains highly centered around Glover, who performs the majority of the choreography. The company members serve as warm bodies on stage, even including people on stage merely watching. Even though Savion Glover is an international tap professional, he does not need to neglect the other obviously talented dancers. Rather than humble, the show turns egotistical due to Glover monopolizing the solos. 'Om' would benefit from more group choreography, remedying the absence of humility.
In the spirit of constructive criticism, 'Om' would also benefit from working on the dancers' unison. I am used to the precision of the Radio City Rockettes and the sharp lines of classical ballet, so the choreography of 'Om' appears somewhat raw from my perspective. Despite achieving the same tap sounds, the five dancers' upper bodies have choreography which each person hits on their own accord, creating a dizzying effect.
Aside from the dizzying choreographic bit, Glover and Marshall Davis Jr. work together impressively on joint improvisation, feeding off each other's sounds and energy to create music that intertwines itself perfectly. Their dance astounds the eye, but even more so, the ear. Both dancers' feet tap so quickly that they appear to float. The ear hears more sound than the eye can fully absorb. This phenomenon tempted me to close my eyes – which I did various times - to experience the sound independently from the visual. I could hear the sound beg for forgiveness as well as strive to accomplish work that honors the tribute artists. Just as soon as I closed my eyes, I had to peel them open to assure myself that only one person was tapping (or two) and not seven for the sounds came so quickly and seamlessly.
Despite mind-bogglingly marvelous footwork from Glover and Marshall Davis Jr, the absence of the other dancer's talents was a disappointment. The opportunity to witness their footwork would have been thrilling.