More Audience Reviews
Contribute
Your support helps us cover dance in New York City and beyond! Donate now.
AUDIENCE REVIEW: Robbins and Peck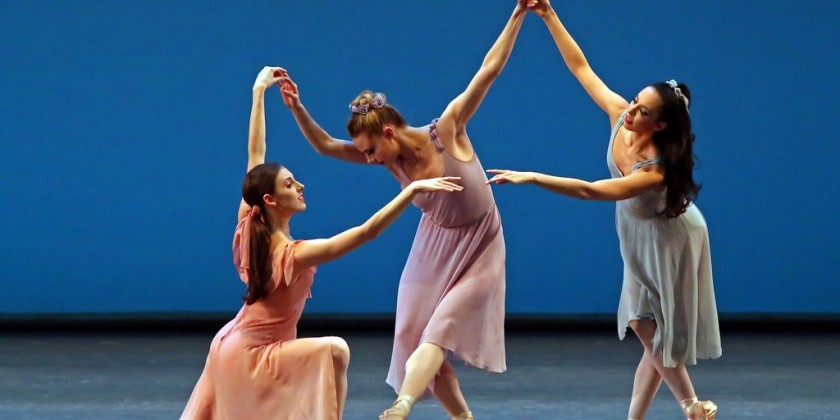 Company:
New York City Ballet
Performance Date:
October 11th, 2019 8pm
Freeform Review:

On October 11th I was fortunate enough to see New York City Ballet for an evening of Jerome Robbins' "Dances at a Gathering" and Justin Peck's "Everywhere We Go." I had never seen NYCB live before (only in clips on their Instagram account), so I was eager to see what the company had to offer. Robbins' "Dances at a Gathering" filled me with joy from beginning to end. By utilizing 18 of Frederic Chopin's pieces, Robbins created a lovely work that follows the story of ten men and women as they interact with one another. The music was bright and the footwork was brighter. There were little steps, big jumps, and more than once a flirtatious act between two dancers that made the whole audience chuckle. Some characters were best friends, others lovers, others just flirting. One woman flirted a bit but decided that she was happy alone and continued to joyfully dance on her own. I was pulled into the piece from beginning to end and wanted to see where the story went long after the curtain came down.
Peck's "Everywhere We Go" provided a contrast to the bright innocence of "Dances at a Gathering." That is not to say that the choreography was dark, in fact both pieces were very uplifting. But where Robbins evoked a feeling of joyful innocence, Peck evoked a feeling of power and of joy in that power. The power came from the choreography, the volume of dancers on stage, and the music composed by Sufjan Stevens. On the first note of the piece, the first six men on stage began intricate gestures and steps, something mirrored throughout the piece as 25 dancers filled the stage. Everyone was working together in this piece, performing in unison or call and response. The solos and duets that came out of those group sections were a welcome respite from the energy and power of so many dancers on stage, and made the ensemble's return that much more exciting. The geometric shapes on the backdrop reflected the geometric shapes made by the dancers on stage. Both shifted every few sections in a way that was often unexpected and left the audience asking where the piece might go next. The whole cast worked together by lifting each other up and dancing as one, and it was a pleasure to watch. Altogether, both pieces contributed to a night of joy and unity and I look forward to seeing more work by NYCB.
Author:
MaryBeth Rodgers