More Audience Reviews
Contribute
Your support helps us cover dance in New York City and beyond! Donate now.
AUDIENCE REVIEW: Sawtooth Dancers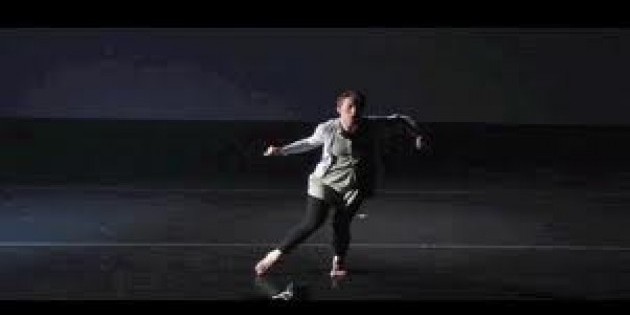 Company:
Sawtooth Dancers
Performance Date:
May 16th
Company
Sawtooth Dancers
Show / Event Name
Air Drop Pop
Performance Date
May 16th
Venue / Location
The Tank, NYC
Your Occupation:
in process, graduate student
Last time you moved your body:
today! biked all over brooklyn!
Have you ever seen this company/ before?
Tell us a bit about your history with this group/performer?
A fellow Sarah Lawrence College Alum and friend
Why did you go to the show? What did you expect to see?
I went to check out Christina Jasen's choreography and to get to know her as an artist and dancer.
What was your favorite moment(s)? What inspired you?
The opening piece, "Did You Hear That Bird? No, No, No You Didn't" was stunning and brought me to the edge of the seat. Christina began center stage, and another dancer put a loud speaker in her hands. She wore a colorful layered dress, stomping and singing. The other dancer came back on stage at one point and undressed her, sliding kneepads on her and removing the loudspeaker. I wish this piece had been twice as long.
Describe as plainly and as specifically as you can what you actually saw. We are going for description without judgement.
There is no need for complete sentences, phrases and word lists are fine. You can describe these elements or anything you can think of: the artists, the kinds of movement, the qualities of the movement, the use of the stage/space, the musicality/timing...
I wish I had taken some notes while I was there - but there was a lot of intense relationship play - leaning and dropping work. Especially in the second piece, one of the dancers long thick braid was part of the movement itself.

The third piece, "Les Yeux Bleus" was another duet - but with more copy and repeat functions. Ariel Pierce as a dancer was captivating - there was a confidence there unmatched by the other dancers. The piece began with each dancer with a net on their face, which progressed into each dancer responding to the blows of a whistle from the audience. The piece ended with a large net, connecting to the earlier theme of smaller nets.

During intermission Christina invited audience members to actually participate in the show by blowing up balloons for the finale' - a choice that was effective and fun - breaking that 3rd wall down in a creative way.

Upon return from intermission, the piece "Chelsea" began with a flashlight inspection of Chelsea Rodriguez the dancer. Like a medical check-up, Chelsea's eyes/ears/throat were shined upon. Chelsea then moved on stage solo and danced.

The finale piece, "21 Balloon Salute" - a trio danced - a lot of intense exchange, and again the sudden drops. The first balloon popped was unexpected and especially memorable. It concluded with 3 dancers kneeling and popping 21 balloons in succession and then a kind of tuck/roll to the left with every pop.
Do any images, colors or feelings pop into your head when you think about this show?
there were a few repeated images that stand out - the nets, the whistle, the flashlight and of course, the balloons. A feeling of tension and a struggle for space resonate with me, as well as the use of strong spotlight.
Describe any or all of these elements: music, lighting, the venue. - How did they contribute (or not) to your enjoyment of this performance?
the venue was great - seemed to work really well with the piece. music was varied but seemed to connect to each other - nothing was utterly out of place. one improvement would be costumes - I felt like it was an element missing (with the exception of the first piece) that would have added to pushing the theme just a bit more and maybe provided a color palate to the overall presentation of work.
Would you like to see this performance / company again? Would you recommend it to a friend?
Why or why not?
Definitely would recommend it, as a dance crew that experiments with props and breaths new life into them, using them for movement in innovative ways. I also really encourage Christina to play more with the aspects of the first piece (singing/rhythm with body parts etc.)
What would you like to have seen more of? Less of?
These have been scattered throughout this review - but to wrap up, more tightness in theme and costume. Maybe even a statement in the program of the thematic purpose would have helped - if there was some. This is a personal preferance, but I like to have an idea of what a piece is trying to get at. I'm actually not sure what I would have liked to see less of - each prop element was repeated just enough to get the jest but not overdone or cliched.
If you could, what would you ask the choreographer / dancers?
-what they see as the connecting thread between the pieces on a whole?

-if hellium with the play of air was a consideration

-if Christina plans on incorporating more sound/singing into her future work