AUDIENCE REVIEW: The Bang Group's Nut/Cracked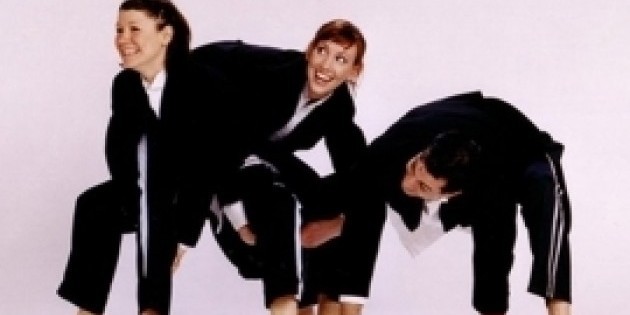 Company:
The Bang Group's Nut/Cracked
Performance Date:
12/21/2012
Company / Show / Event
The Bang Group's Nut/Cracked
Performance Date
12/21/2012
Venue / Location
New York Live Arts
A bit about you:
(your occupation, the last time you moved, your website, etc.)
Please visit me at erinbomboy.blogspot.com
Freeform Review:

David Parker and the Bang Group's Nut/Cracked acts as a bulging stocking bursting with an array of holiday novelties. Some are zany gag gifts, which elicit a chuckle, while others briefly amuse before being set aside and forgotten. All are chock-full of heart, designed to make you smile and ignore about your holiday to-do list.


Forget the traditional Nutcracker. There's no Clara, no narrative featuring a malevolent Rat King whose demise is caused by a tossed slipper, and no Grand Pas de Deux featuring virtuosic lifts, multiple pirouettes, and ceiling brushing jumps. There are, however, kids and Tchaikovsky's magnificent composition. Rendered here in jazz and classical iterations, Tchaikovsky's score proves to be marvelously flexible, accommodating tap routines, hand jiving, swing dancing, and a whole host of noisy stomps, slaps, and shuffles.

Rhythm is of particular interest to Parker. Opening the show clad in black track pants, a white t-shirt, Santa hat, and shaving cream beard, Parker—who resembles a supersized baby with his large head, twinkling eyes, and round stomach—sings a festive drinking song while performing jazzy tap dancing. Joined by Jeff Kazin, the two embark on a convivial tap-off with Parker prevailing.
The program, which unfolds like a sweets sampler, contains almost two-dozen vignettes. Many take their inspiration from a prop like bubble wrap, sunglasses, or a long stemmed red rose; each possesses a comic slant. There's no methodology to their order beyond Parker's whimsy, save for a general halving of the music; the first ten or so pieces groove to big band and jazz versions of The Nutcracker while the last portion is performed to Tchaikovsky's standard score.
Flashlight delightfully pokes fun at ambitious ballerinas. To the crystalline tones of the Westminster Handbell Choir's "Dance of the Sugar Plum Fairy", a pair of feet belonging to Dylan Baker, outfitted in pointe shoes, clumsily bourrées (a rapid drilling of feet into the floor) scrambling to catch up to his projected spotlight.
Tree—a wickedly brilliant take on the Nutcracker scene in which Herr Drosselmeyer conjures a Christmas tree to grow to impressive heights—begins with Aaron Mattocks laying prone, curled in the fetal position. As the music swells, a tiny Christmas tree appears by his side. Mattocks slowly erects the tree until it is atop his pelvis, then rises to a standing position on the tips of his toes, the tree held triumphantly aloft.
About halfway through the concert you realize why most of the audience is present. It's not to see Parker suck down a solo noodle in a hilariously nifty interpretation of "Chinese Tea." It's to watch their adorable kids from Brooklyn Arts Exchange perform two numbers. In their best interpretation of John Travolta, the grinning youngsters swivel their hips and jab the air with their finger to "Dance of the Reed Flutes" and "Russian Trepak" as their families fervently applaud.
After a while, certain jests go stale. In Snow, eleven cast members simulate dancing on an ice rink. They merrily whiz around, trace snow angels onto the stage, and perform small jump combinations straight from an academic ballet class in between plopping, falling, and sliding to the floor. The first time someone plunges, you laugh. As it goes on (and on), the gimmick becomes distracting, and then incredibly annoying.
The Grand Pas de Deux, usually the pinnacle of the second act, reduces two men to continually sucking their own and each other's thumbs, which obscures clever partnering and lifts.
While not every scenario goes down with the ease of perfectly spiked eggnog, The Bang Group's Nut/Cracked is a hunk of fruitcake you can look forward to once a year. Laden with nuttiness, its all-around sweetness makes up for the unappetizing bits.