AUDIENCE REVIEW: "Tilt" by Racoco Productions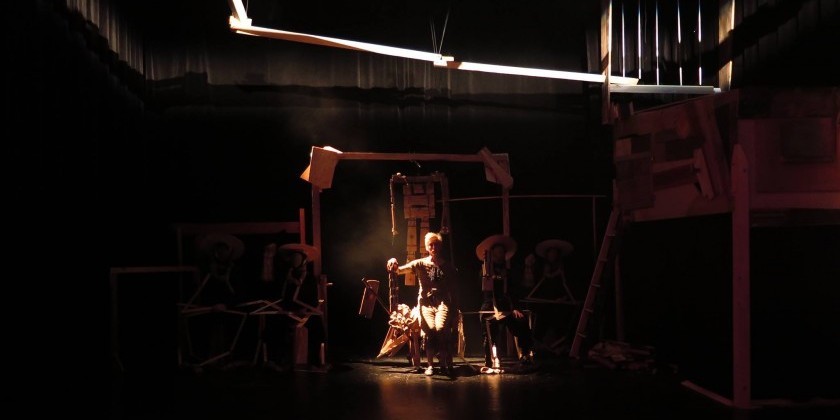 Company:
Racoco Productions
Performance Date:
March 29th, 2019
Freeform Review:
I enjoyed being inside this magical world (and Rachel Cohen's genius mind) so much that I did not want this show to end. The mysterious universe Rachel and her team has created is joyful, humorous, dark, surprising, human, and surreal all at once. I never felt I was a mere observer, instead I felt I was actually immersed in their world with them. Like reading a great novel. Even though the corps of dancers had their faces covered by gorgeous costumes, it seemed to me they were communicating directly with me and I felt they needed me to be a part of their crazy scheme in order to accomplish what they had set out to do. 
I don't know the story of Don Quixote overly well but I know it enough to appreciate the wit, intelligence, and ingenuity with which the story was interpreted. As the piece went on and little bits of Cervantes' masterpiece were revealed through Cohen's choreography, I gasped, laughed, and even cried at how clever the interpretation was. It was satisfying to understand familiar aspects of the story in this otherwise completely insane (much like Quixote) world. 
Tilt had many moving parts and complicated sequences involving intricately maneuvering heavy wooden props while dancing. Nothing in this world was possible without excruciatingly precise and perfectly timed movement.  It was as though I was part of the inner-workings of a complex and beautiful grandfather clock. The dancers delivered superb performances with the precision required to keep this fantasy world afloat. What also drove the success of this piece was the live music which had a personality of its own. There was surprise in each section and I never knew what was coming next. The world, of course, couldn't exist without Rachel Cohen' Quixote. Cohen is a master performer with obvious mime and clowning skills. Her performance is nuanced and subtle. Just one small movement of her eye or a spontaneous gesture of the hand deliver potent and touching human moments throughout. 
This work is a feat of engineering, organization, artistry, and great story telling. It's the whole package and a must-see. 
 
Author:
Rebecca Ketchum
Photo Credit:
Julie Chetaille