More Audience Reviews
Contribute
Your support helps us cover dance in New York City and beyond! Donate now.
AUDIENCE REVIEW: WE BELONG HERE: AAPI Festival (Program A)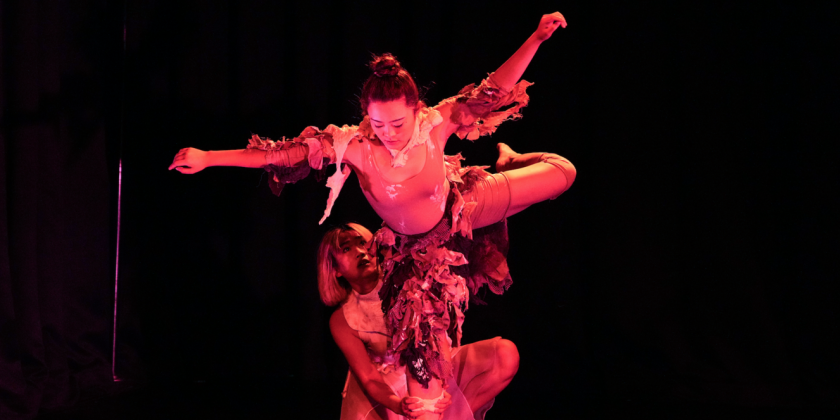 Company:
J CHEN PROJECT, Axons Dance Theatre, Audrey Thao Berger/Noah Wang, and Hsin-Ping Chang
Performance Date:
August 20, 2022
Freeform Review:

On Saturday, August 20th 2022 at Arts on Site, I attended WE BELONG HERE: AAPI Festival, presented by Jessica Chen/J CHEN PROJECT and Arts on Site. This festival is a fully presented opportunity for choreographers who identify with the Asian American Pacific Islander (AAPI) communities; though, as emphasized in Jessica Chen's statement, "While we use AAPI, we recognize it is imperfect. We use AAPI to encompass all who identify as part of the Asian diaspora."
The August 20th Program A featured four pieces, including the premiere of Jessica Chen's newest contemporary dance work titled NuWa (女媧).
The program opened with Refractions by Joan Liu/Axons Dance Theatre, danced by Raquel Beauchamp and Jessica Frazier. This abstract duet showcased the recognition and love for the many different sides to one's self. The dancers wore teal and magenta leotards, black fitted shorts, and pink pointe shoes. Like the refraction of light bouncing in different directions, the two dancers literally bounced around each other, dancing to Viscid's pulsing score, Vector. The music reminded me of an eighties arcade game; it was mechanical and devoid of emotion, which Raquel and Jessica instead brought with their expressions. Their expressions were focused and alert. Both of them seemed to be focused on something in front of them rather than on each other, which made me wonder whether their relationship was human, or if they were simply acting as rays of light bouncing off of one another. They interacted a great deal physically and spatially, yet rarely with their focuses. Raquel and Jessica often walked around each other in a circular pattern in between movement phrases, and as they did this, they kept the stage symmetrically balanced, standing equidistant from each other. Their movements were full of ballet vocabulary such as arabesques and pirouettes, but they also ran, walked, and hopped in parallel.
Second was All That We Hold, choreographed and performed by Audrey Thao Berger and Noah Wang. This dance investigated the history of the dancers' ancestors – such as the story of Aunt Sue, the "undisputed matriarch of the family," who immigrated to California from China – and how this history informs the complexities of their lives today. This research was evident especially in the latter half of the dance, when a recording of an interview could be heard as the pair danced. The audience learned how Aunt Sue "was not born a matriarch… [but that] having to care and love in all directions made her so." Audrey's and Noah's movements were large, often bringing a recurring motif of wide, outstretched arms in a T position. Both Audrey and Noah beautifully stretched to the limits of their limbs while they danced. The pair wore black and red; they each had a loose robe that they would later remove, and a fitted tank top and long pants. This duet felt like a quartet, because Audrey and Noah were each intertwined with a chair throughout the majority of the dance. The chairs created a fuller atmosphere in the space, creating an architecture for the dancers to move within. Each of them had solo moments where one would dance between the chairs, while the other was seated and facing upstage. I felt like they each had equal space to share their family's histories, as well as when they danced in conversation with one another. Audrey and Noah invited the audience to partake in their own personal research; before the performance, each audience member was given a sheet of paper with three questions that the choreographers asked themselves and their loved ones when creating All That We Hold:
Do you remember a particular past time when you experienced a profound shift or disruption of the everyday?
How did this impact your relationships with others and yourself?
What would you say to your younger self, who is going through times of crisis or change?
Next was Hsin-Ping Chang's Vacate and Return, which was performed by Ya-Ju Lin. The solo, according to the program, "expresses processing and gaining awareness of identity and cultural confusion and essence for an immigrant." Ya-Ju Lin commanded the space. She danced with a golden yellow fan, which was a bright contrast to her long, black fitted dress. She created a striking opening image; the audience could hear the clatter of her fan on the floor before the lights came up, allowing her silhouette to be seen gazing at the dropped fan. She – extremely slowly – picked up the fan with utmost respect and precision, before kneeling in a bow and offering the fan towards stage right. She repeated this offering twice more, before abruptly flipping her facing towards stage left and opening the fan for the audience to see its golden yellow color for the first time. Soon afterwards, Ya-Ju Lin held the fan to cover all of her face below her eyes, and she peered at the audience. All of this took place in silence. After her slow, sustained movements, she broke out into quick traveling patterns which brought a new, equally strong energy to the stage. Every movement had such specificity, it was astounding.
Closing the program was the premiere of Jessica Chen's NuWa (女媧), danced by Chieh Hsiung and Sumire Ishige. Jessica shared with me that NuWa (女媧) is the first installation of her larger project called Lost Legacy – a project with the vision to bring Chinese dance and culture into the American contemporary dance scene. NuWa (女媧) is inspired by the mother goddess Nüwa in Chinese mythology who, after experiencing an indescribable loneliness, created the first human, inspired by her own image reflected in water.
Chieh Hsiung danced as the goddess Nüwa. I was struck by how gorgeous her dress was; it was a white dress with an elegant, waving fabric that hung on her back, designed by Lui Konno. Chieh's movements were articulate, graceful, and specific. The audience never saw her eyes in the beginning of the dance; Chieh danced either with her back to the audience, or intentionally covered her eyes when facing downstage. This created a huge epiphany when Chieh stood downstage and slowly uncovered her hands from her eyes. At this moment, Sumire emerged from upstage left, wearing a blue version of Chieh's white dress – Sumire was Nüwa's reflection in the water. Chieh and Sumire danced together in a mirror image, circling one another as Nüwa examined her reflection with fascination.
Throughout the piece, I noticed the dancers curling and uncurling their fingers, as if water was dripping down their hands. Their movement quality was free, yet specific; there were technical dance elements interwoven throughout their phrase work, but they had a beautiful sense of abandon.
Sumire ultimately exited the space, and Chieh covered her eyes. She then recreates some of their previous movement by herself, as if reliving their experience. At times, it appears as if Chieh is flicking water droplets off of her body. The music, which is by PaprTape, sounds melancholy. I could hear sounds of water within the music, as well.
When Sumire emerges again from upstage right, she is connected to Chieh's back – in this moment, I took Sumire to be dancing as the first human that the goddess created. Sumire is dressed in a dress in shades of cream, brown and tan, the skirt of her dress more tattered and textured. Eventually they separate from one another, and begin mirroring one another – then, as Sumire dances, I notice Chieh take dough, which was hidden within Sumire's costume, and wrap the dough around one of Sumire's ankles. Chieh also rips smaller pieces of dough and places them delicately on the stage floor, creating a diagonal line from downstage left to upstage right. I wondered if this diagonal line was a pathway that Nüwa's character was creating for her newly created human, or a boundary. Their duet was a gorgeous inspiration of the goddess Nüwa, and left the audience to wonder how the world would progress after the creation of this first human in their world.
Arts on Site will present Program B of WE BELONG HERE: AAPI Festival on August 26-27, 2022, each evening with a 6:30pm and an 8:30pm show. Jessica Chen's NuWa (女媧) will be performed at each performance, along with three other works by early career AAPI-identifying choreographers.
Author:
Kristen Hedberg
Website:
kristenhedberg.org
Photo Credit:
Steven Pisano