A Dance Enthusiast's A to Z: Q is for Wanyue Qiao and Shirlene Quigley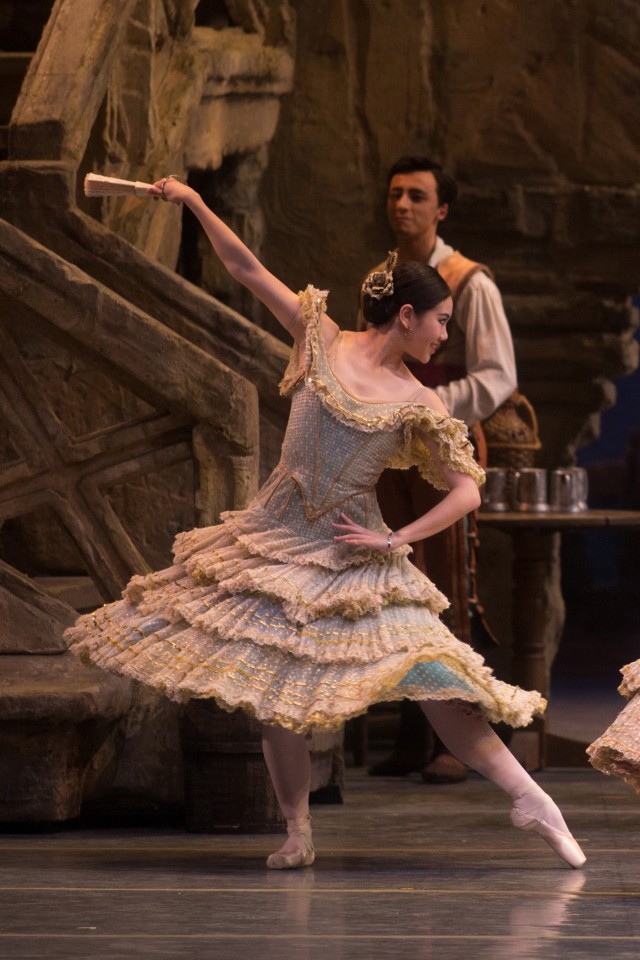 Wanyue Qiao
Biography
Wanyue Qiao, of Handan, China, began her ballet training at age 12 in the Secondary School of Beijing Dance Academy. After placing in the top 12 of the 2013 Youth America Grand Prix New York Finals, she was offered a full scholarship to the Joffrey Ballet Academy for 2014. During her time with the Joffrey Ballet Academy, Qiao's repertoire included Ballerinas, Swans and Can-Can in Christopher Wheeldon's Swan Lake, as well as party parents, Snow and Flowers in Robert Joffrey's The Nutcracker. Her repertoire also includes the lead dancer in George Balanchine's Serenade, which she performed in 2011. Qiao joined the ABT Studio Company in January 2015, the main Company as an apprentice in December 2015, and became a member of the corps de ballet in January 2016.
Dance Image: Wan Yue Qiao in Don Quixote; Photo: Rosalie O'Connor. / Headshot: Eddie Eng
Shirlene Quigley
Biography
Shirlene Quigley was born and raised in Los Angeles, California, and now lives and works in New York City. She is best known for her work as a professional dancer and international heels instructor. Shirlene's dance career began at 18 years old, when she danced as one of the original "uhh ohh girls" on Beyonce's "Crazy In Love" music video. Since then she has performed around the world with Beyonce, Rihanna, Missy Elliot, Jamie Foxx, Chris Brown, Destiny's Child, Mary J Blige, and many more. 
Shirlene has also performed on The Grammy's, VMA's, Teen Choice Awards, BET Awards,  All My Children, Diva's Live, America's Got Talent, Oprah, The View, Top of the Pops, Jimmy Kimmel Live, TRL, Craig Fergeson, David Letterman, Saturday Night Live, a national Super Bowl commercial for Pepsi, and more. 
She currently teaches heels classes in New York City at Broadway Dance Center, Ailey Extension and Peridance. Shirlene also conducts workshops around the world in Europe, Asia, North America, South America, Central America, Canada, and the Middle East. 
In addition to dancing and teaching, she directs the high heel dance crew Queendom, which has been featured on the social media platform, DanceOn, including their debut Youtube video "Mi Gente", which has over one million hit views. She has also coached and choreographed for Latin artists, Lisenny "Bad to Buena", Loli Blanco, and Vanessa Verduga and the R&B/Pop girl group, Rawyals. 
Outside of the dance world, she has acted in four plays, including in her equity Off-Broadway debut of "In the Wine Time" as the lead actress, "Lou". http://www.shirlenequigley.com/ / Photos courtesy of the artist
1
My earliest memory of dancing : _______________
Quigley:
was at summer camp, when I was about 5 years old. We had a talent show every summer.
2
What was the light bulb moment when you realized you were going to be a dancer?
Qiao:
 The first day I came to Beijing Dance Academy. 
Quigley:
I actually took my first real dance class when I was 16 years old at Millennium Dance Complex. I fell in love with it right away, went home, and asked my dad for unlimited classes. From that day, I took four-six classes every day (even Sundays!). When I was 17, I heard a girl saying she made $2,800 a week dancing for Mýa. I asked, "Excuse me, you can make money as a dancer? It's a real job? Not just something we do for fun?" She looked at me funny and said, "yes." From that moment, I knew I had to do this forever!
Qiao:
The stage and the audience.
Quigley:
The joy I have the moment the music comes on, and my body starts to move.
4
A perfect day includes____________
Qiao:
sleeping until I wake up naturally, warmth and sun, and traveling with my parents.
Quigley:
My daily devotional time with Jesus, the gym, and anything pertaining to dance… creative rehearsals, teaching, taking class (I love to take class), and my daily prayer time and meditation time.
5
What event (dance-related or not) has transformed you?
Qiao:
Youth America Grand Prix (YAGP)
Quigley:
The moment I gave my life to Christ I felt invincible and even more fearless then I was when I began this dance journey.
6
What is/are your favorite dance move(s)?
Qiao:
Port de bras in the center
Quigley:
I love hip hop! Anything that pertains to hip hop and a groove [then] I'm in my favorite place.
7
The most expressive part of the body is _________
Quigley:
the heart. I think dance comes from the inside out.
8
What do you consider your greatest achievement thus far?
Quigley:
Being able to make dance my "9-5" since I was 18.
9
What is your life's motto?
Qiao:
Follow your passion, and stay true to yourself.
Quigley:
You do the work, and God will do the rest.
10
What is your most treasured possession?
Qiao:
Everything I have been through
11
What is your favorite post-performance meal?
Quigley:
Something light and filling, like a salad with avocado and quinoa
12
If you could travel anywhere in the world where would you like to go?
Quigley:
I have always wanted to go to Brazil and Israel. [Those are] two places that I have not been yet, and really want to go.
Qiao:
which type of dance can inspire [audiences] the most — contemporary dance or classical ballet?
Quigley:
Why do "24 hour open" places have locks on them? :)
14
_____________ is overrated.
Qiao:
That some people [believe the stereotype that] dancers never eat 
Quigley:
Watching yourself dance in the mirror
15
My greatest influence(s) is/are______.
Qiao:
American Ballet Theatre. ABT has inspired me since I started ballet. The first ballet video I watched was ABT's Le Corsaire.
Quigley:
I am so inspired by Oprah and my dad. He's literally my best friend.
16
If I could switch careers I would be a _______.
Quigley:
Don't laugh. A pastor...I want to step into ministry one day.
17
I would like to learn to ____________.
Quigley:
build a ministry.
18
One of the jobs/projects I most enjoyed was _______ because______.
Quigley:
[working with] Beyoncé, because it was the yes that opened the door to so many more yes's.
19
One of my favorite artists (dead or alive) dance or otherwise is ________
20
I am looking forward to ________
Qiao:
continuing to improve and to inspire people.
Quigley:
the blessings God has in store for me.
The Dance Enthusiast's A to Z Celebrates 11 Years of Dance Enthusiasm by Highlighting People Who Power The Dance World.
Stay Tuned for More Installments!
Share YOUR Power with the Dance Enthusiast's Audience. Here's How.
 
Share Your Insight on Performance by Submitting an #AudienceReview

Support Dance Writing in New York! 

Place an Ad on The Dance Enthusiast! Take a look at the specs and prices  here and contact info@dance-enthusiast.com for further information.
Related Features
More from this Author