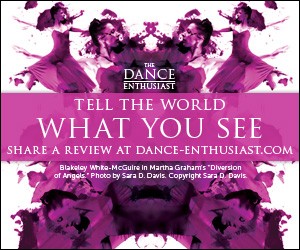 Related Features
Things I am Learning (and listening to) About The Dance Enthusiast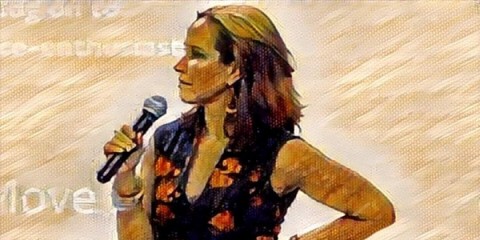 Comments and Call Outs - Our Most Controversial Article in 12 Years
The IMPRESSION of Dance Now NYC's  opening night at Joe's Pub ( published September 7, 2019) by Robert Johnson, one of our contributors, and a highly regarded professional in the field of dance journalism, has been the subject of great controversy and anger in our dance world. Indeed there has been  more controversy and anger over this piece than any other article on the site in the history of The Dance Enthusiast.
Two artists who were in the opening night show at Joe's Pub were not named.  I understand that they were the only artists not called out by name in this article.  The two artists are Melanie Greene, (also a  valuable contributor to The Dance Enthusiast for three- and- a -half  years,  a Bessie Award Winner for the skeleton architecture, and  one of the faces behind a new- to- the-scene podcast called The Dance Union) and Sarah Chien.
These women are emerging artists, Women of Color, whose solo work I've heard many good things about, but have not had the good fortune to see personally.  I wish them the best in this difficult field, and future good notices of their work here and on other arts journalism entities.
The Dance Enthusiast, subsequent to this IMPRESSION, was called out on social media for erasure of Women of Color and Black Identifying People of Color. There were other accusations and calls for our boycott.
This has been sad time for an organization built on an idea of inclusion, and respect for our large, diverse moving community.  We are working behind-the-scenes to create more productive discussions on dance writing, the art of dance, who is left out and who is not.  As the editor-in-chief, I would like to contribute to and create positive discussion. There is a lot of talking at today instead of speaking to.  Maybe The Dance Enthusiast can help to change that.  I hope so.
Words That Are Part of The Dance Enthusiast Mission Statement
Anyone familiar with the body of work of The Dance Enthusiast over its 12 years of existence knows that to erase Women of Color, or Black Identifying People of Color, or any person at all is NOT what The Dance Enthusiast stands for.  Anyone who happens to know me personally, my history, or my identity, knows this is not what I stand for.
We stand up for our community - dance artists, dance journalists, and beyond. We respect passionate differences of opinion. It is part of my job description  to listen to people who want to speak about their feelings regarding this journalistic forum. There are a myriad of ways to do  begin this conversation - emails, phone calls (my contacts are listed on the site), letters to the editor, posting alternative audience reviews, or posting comments under the articles themselves.
We - myself and all the contributors here - invite  EVERY   BODY to share their opinions on our site, and to share their alternate reviews of any performance they've seen - especially if they  passionately disagree about what is said by our writers.  It is important that our community's thoughts are  part of our permanent archive, not to be erased.
We welcome conversation, and critique, supporting freedom of expression. freedom of speech, the flourishing of our art form, and its artists.
Sincerely,
Christine
Christine Jowers, Editor-in-Chief and Founder of The Dance Enthusiast
---
if you have a minute check out WHAT WE STAND FOR on The Dance Enthusiast
---
---
The Dance Enthusiast Enthusiast shares opinions, observations, and calls to action from our editors and special guests in BAREFOOTNOTES. For more BAREFOOTNOTES click here.
Interested in writing a guest editorial? For consideration, contact info@dance-enthusiast.com.
---
The Dance Enthusiast - News, Reviews, Interviews and an Open Invitation for YOU to join the Dance Conversation.