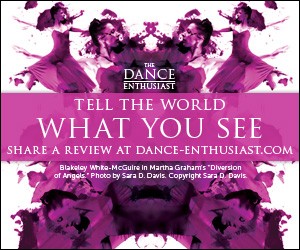 Related Features

Letter from the Editor: The Resilience of Dancers, The State of Enthusiasm, and a New Initiative: Moving Visions
I remember it was just February when I was sitting in a crowded cafe (aah, crowds) with Alison Clancy. We were at the Bleecker Street Le Pain Quotidien (now closed because of COVID-19). Alison was preparing to open the brand-new production of Wagner's Der Fliegende Holländer at the Metropolitan Opera (closed till September 2021) with a dancing solo — an honor for her and a historic moment for dance in opera.
Sharing the anticipation of the premiere and indulging in a little bite to eat was a joy. How energizing, I thought. I miss talking to artists in person about their work — I have to do more of that — must get away from my darn computer.
Alison Clancy in Wagner's Der Fliegende Holländer at the Metropolitan Opera; photo by Ken Howard
 Nothing like a global pandemic to muck up your plans.
Add political strife, racial injustice, protests, riots, and it's a wonder we're still standing. (Perhaps we can all breathe for a moment now that we have a new President?)
I've marveled at how quickly and creatively the dance world has responded to this tense time.
---
Even as iconic entities like the New York City Ballet and Broadway theaters shut seasons down, groups of courageous dancers, companies, studios, and presenters have continued to offer live work allowing audiences to enjoy movement from a distance or to amble through art in surprising places.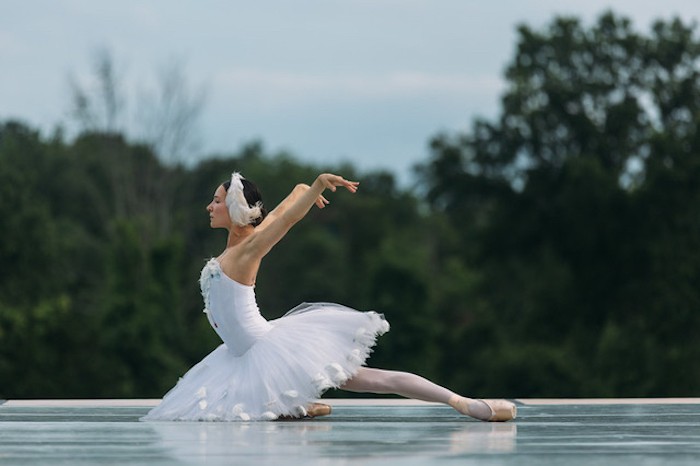 Christine Shevchenko in The Dying Swan at Kaatsbaan Cultural Park; Photo by Quinn Wharton
mignolo dance brings performance to Nexus Parking Systems in Metuchen, New Jersey, for a drive-in show this weekend. Troy Schumacher's Ballet Collective is creating the first full-length ballet of the pandemic, a Covid-19 compliant, immersive Nutcracker at The Wethersfield Estate in Amenia, NY. Almost two-dozen dancers from New York City Ballet, where Troy also dances, will perform. Organizations like Kaatsbaan Cultural Park, Arts On Site, BAAD! in the Bronx, The Bang Group, New York Theatre Ballet, Alpha Omega Theatrical Dance Company, Bated Breath Theatre Company, and the artists and administrators of the bourgeoning collective, Dance Rising, remind us that the in-person exchange of energy from dance is healing, invigorating, and essential.
Many of us have been depressed, in fact, gutted from the upheaval, but struggling dancers seemingly never allow negativity to cancel plans. They flow, shift, and reshape to move with the times. Up pop YouTube channels, online journals, Zoom classes of all sorts, virtual matinees, dancing protests, premieres, retrospectives, panels, festivals, films, and galas.
Jacqulyn Buglisi'sTable of Silence; photo by Terri Gold
Jacqulyn Buglisi's annual pageant for peace, Table of Silence, went from a ritual including hundreds of dancers to ten. But those ten moved with mountains of force, and artists and audiences world-wide virtually came to the Table to breathe as one on the anniversary of September 11th.  Historic Jacob's Pillow and the Kaatsbaan Cultural Park opened their bucolic spaces for companies to quarantine and choreograph. The Joyce gave its stage to Molissa Fenley and seven solo stars to revive her iconic 1988 solo to Stravinsky's "Rite of Spring," State of Darkness. Kat Wildish, Alison Cook Beatty, and Cameron McKinney are among the movers who took to Central Park for classes and rehearsals — all socially distanced and responsibly masked, never allowing circumstances to get the best of their practice.
Charmaine Warren, artist and critic, created a Vodcast to celebrate contemporary Black dance stories. The Martha Graham Dance Company, Stephen Petronio Company, American Dance Guild, Gibney Dance, Clark Center NYC, Sokolow Theatre/Dance Ensemble, Dance Theatre of Harlem, and Alvin Ailey American Dance Theater (among others) have treated us to a combination of inventive online premieres, conversations, as well as dives into their archives. It's a great time to get to know a dance company or brush up on your dance history.
Kat Wildish teaches in Central Park; from Kat Wildish's Instagram
---
As we at The Dance Enthusiast address the challenges of a pandemic, taking care of our lives and families outside of the performance world and in it, we deeply feel the need for uplift and community connection. Live dance performance gave that to us so generously. We miss it, and we miss so many of you who we are accustomed to running into before, during, and after performances and rehearsals, or in crowded cafes in our once bustling city.
Your approach to the times has inspired us. So, in the spirit of flowing, shifting, and reshaping energy, and because we miss the exhilaration of working closely with artists, The Dance Enthusiast is excited to introduce a new initiative to our site called Moving Visions. With this program, we welcome artists and enthusiasts to guide our coverage as guest editors, asking that they share their passion, expertise, and curiosity with us while we celebrate their accomplishments and viewpoints.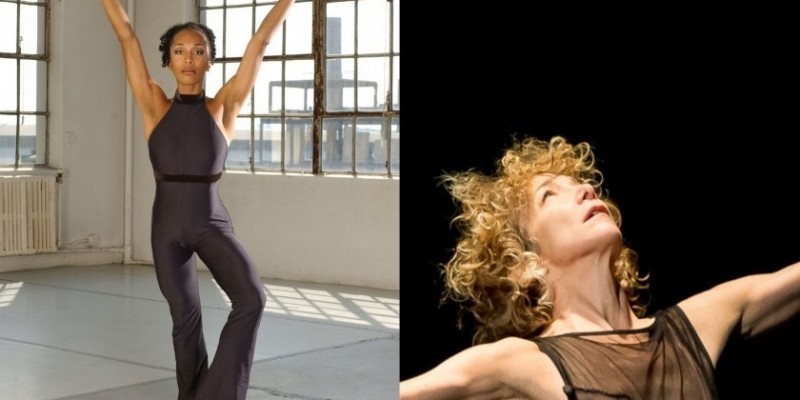 Left: Francesca Harper; photo courtesy the artist // Right: Heidi Latsky; photo by Darial Sneed
This season two stellar women, both noted choreographers and community leaders — Heidi Latsky of Heidi Latsky Dance and Francesca Harper of the Francesca Harper Project, are our Moving Visions Guest Editors. Heidi, famous for her glorious dancing with the Bill T. Jones/Arnie Zane Company and an influential leader in the physically integrated dance field, has with her own creations "disrupted space, dismantled normal, and redefined beauty and virtuosity" for over 20 years. Francesca, acclaimed for her work as a ballerina, concert modern dancer, triple-threat Broadway performer, recording artist,  choreographer and playwright, defies genres as she deconstructs classic forms and melds them with cutting-edge music, text, film, and video.
I am looking forward to working with each of these women and to the discoveries we make.
---
The 2020 Moving Visions Initiative welcomes artists and enthusiasts to guide The Dance Enthusiast's coverage as guest editors. Our guests share their passion, expertise, and curiosity with us while we celebrate their accomplishments and viewpoints.
---
The Dance Enthusiast Enthusiast shares opinions, observations, and calls to action from our editors and special guests in BAREFOOTNOTES. For more BAREFOOTNOTES click here.
Interested in writing a guest editorial? For consideration, contact info@dance-enthusiast.com.
---
The Dance Enthusiast - News, Reviews, Interviews and an Open Invitation for YOU to join the Dance Conversation.