The Bessies Announce the Recipients of the 2015 New York Dance and Performance Awards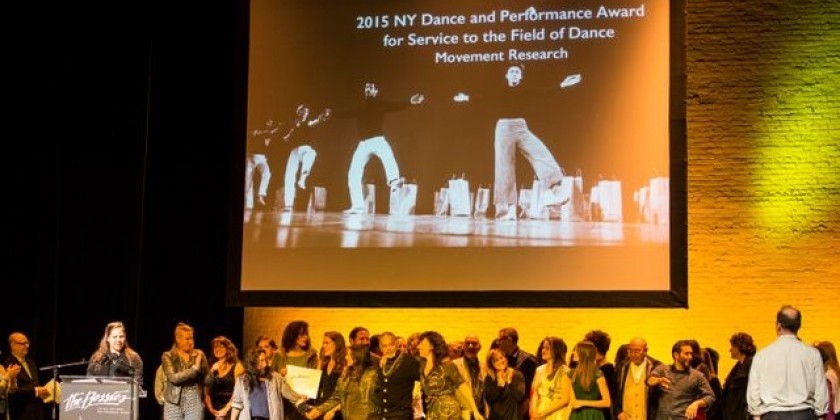 The NY Dance and Performance Awards, The Bessies, New York City's premier dance awards honoring outstanding creative work in the field, announced the complete list of 2015 award recipients tonight at the 31st Annual Bessie Awards ceremony. Twelve awards were presented in categories of Outstanding Production, Outstanding Revival, Outstanding Performer, Outstanding Music Composition/Sound Design, and Outstanding Visual Design. Performance artist and playwright Carmelita Tropicana and former New York City Ballet principal Jock Soto hosted the evening. The Bessies, produced in partnership with Dance/NYC, were held at the legendary Apollo Theater at 7:30pm, following red carpet interviews and photographs. The full list of Bessie Award recipients follows.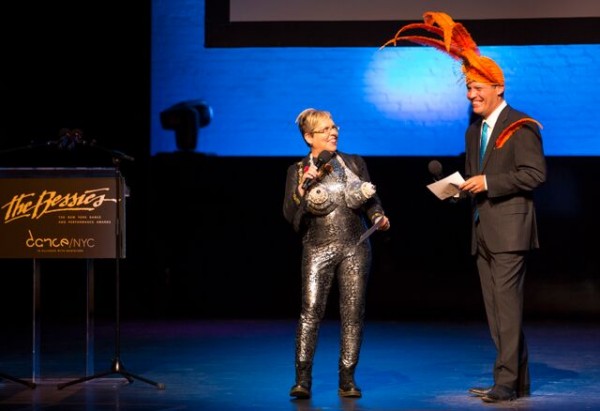 Bessies Hosts Carmelita Tropicana and Jock Soto.
 
The evening included performances by Flex star Storyboard P, recipient of the 2015 Outstanding Emerging Choreographer Award, choreographer/dancer and 2014 Bessie winner Camille A. Brown, and improviser/dance-maker and 1987 Bessie recipient Lisa Nelson.
 
Nancy Stark Smith, dancer, teacher, and cofounder of Contact Quarterly, presented Steve Paxton with the 2015 Bessie for Lifetime Achievement in Dance. Ella Baff, Senior Program Manager for Arts and Cultural Heritage, Andrew W. Mellon Foundation, Sam Miller, President, Lower Manhattan Cultural Council, and Jan Schmidt, former Curator, The Jerome Robbins Dance Division of the New YorkPublic Library for the Performing Arts presented Movement Research with the 2015 Bessie for Outstanding Service to the Field of Dance. Other presenters included Kyle Abraham, Ivy Baldwin, Ping Chong, Robin Dunn, Marcelo Gomes, Rennie Harris, Cynthia Hopkins, Jennifer Monson, Liz Prince, and Linda Celeste Sims.
 
The 2015 NY Dance and Performance Awards presented at the Apollo Theater are as follows:
 
Lifetime Achievement in Dance
Steve Paxton
For a relentless curiosity into the possibility of movement, from the redefinition of modern dance with the movers who gathered at Judson Church in the 1960s, to the development of contact improvisation now practiced around the world, and for his ongoing rigorous and surprising choreographic investigations.
Movement Research Gala 2012. Photo by Ian Douglas.

Outstanding Service to the Field of Dance
Movement Research
For nearly four decades as a creative incubator for innovation, enquiry, and dialogue. For providing a range of platforms to disseminate ideas about dance, art, and civic life via its classes, publications and weekly performance gatherings. For championing the importance of artistic process.
 
Outstanding Production
Dorrance Dance with Toshi Reagon and BIGLovely for The Blues Project at The Joyce Theater
For a symphonic dialogue between a stellar company of tap artists and a groundbreaking blues band; a true fusion of dance and music, expanding the boundaries of two great American traditions.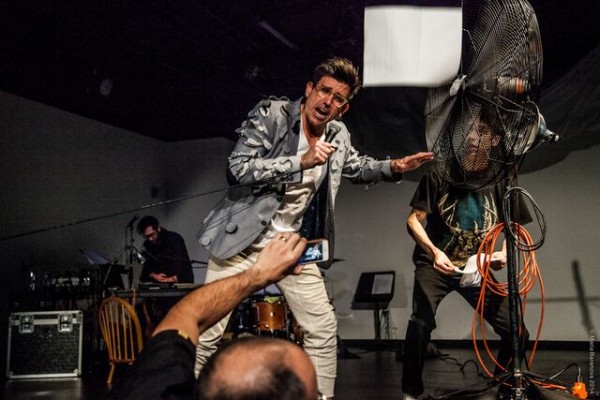 David Neuman's I Understand Everything Better. Photo by Maria Baranova.

Outstanding Production
David Neumann/Advanced Beginner Group for I Understand Everything Better, Abrons Arts Center and The Chocolate Factory
For creating a mysterious and whimsical world in which to explore the dual devastations of personal loss and public destruction, taking the audience on a visceral journey through internal and external storms.
 
Outstanding Production
Justin Peck for Rodeo, Four Dance Episodes, New York City Ballet
For a bracing new interpretation of a well-known score, wiping it clean of prior associations and using it as the springboard for an entirely new ballet marked by wit, surprise, poignant intimacy, and robust ensemble energy.
 
Outstanding Production
Roger Guenveur Smith for Rodney King at BRIC Arts Media
For a powerful and timely performance using gesture, voice, and historical document to link the personal tragedy of Rodney King's life to our national tragedies of racism and police brutality.
For extending that conversation into the street in an improvised post-show town hall that evolved into a peaceful demonstration in reaction to the Eric Garner case unfolding in New York City.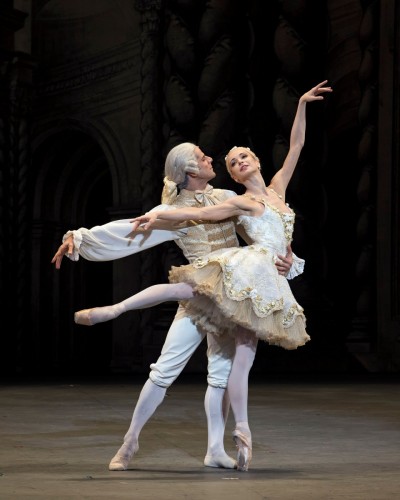 Diana Vishneva and Marcelo Gomes in Alexei Ratmansky's The Sleeping Beauty. Photo by Gene Schiavone.

Outstanding Revival
Alexei Ratmansky for The Sleeping Beauty, American Ballet Theatre
For recapturing the spirit and style of Petipa from 19th-century ballet notation starting with simple steps to reconstruct that world's ideas about movement, musicality, aesthetics, and storytelling in dance.
 
Sustained Achievement in Performance (posthumous)
Lawrence Cassella for his work with Ivy Baldwin
For the ability to be smooth, strong, fast, fearless, dangerously sexy, and bizarrely hilarious. For more than a decade of creation in a richly intertwined collaboration with choreographer Ivy Baldwin.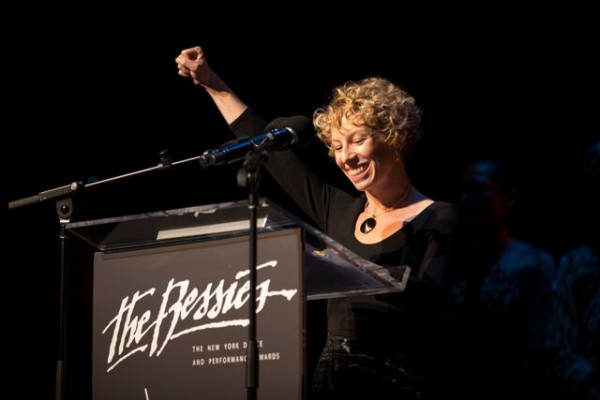 Lauren Grant, Winner of Sustained Achievement in Performance. Photo by Yi Chun Wu.

Sustained Achievement in Performance
Lauren Grant for her work with the Mark Morris Dance Group
For nearly two decades' work gracing Mark Morris' choreography with invigorating spontaneity, expansive phrasing, and robust musicality. For bringing to life an extensive and varied repertory, embodying the essence and individual tone of each work.
 
Sustained Achievement in Performance
Amar Ramasar for his work with New York City Ballet
For his natural ease and contemporary presence on the classical stage. For his ongoing contributions to a wide range of new ballet work, and for his sensitivity and skill in the demanding and sometimes unseen art of partnering. 
 
Outstanding Performance
Ryoji Sasamoto in OQ by Kota Yamazaki at Japan Society
For his mastery and presence in a dance palace filled with extraordinary movers. For a never-ending flow of movement merging an ingrained sense of lock and pop with a contemporary sense of fluid release.
Melissa Toogood and husband Kenneth Parris III. Photo by Yi Chun Wu.

Outstanding Performance
Melissa Toogood for her work in the 2014−15 season with Pam Tanowitz, Kimberly Bartosik, Merce Cunningham, Rashaun Mitchell, Stephen Petronio, and Sally Silvers
For dancing so precise and fluid, elegant and electric, it captivates the viewer in each work in which she appears. For committing herself so completely to enhancing and transforming the vision of an astounding number of unique choreographers.
 
Outstanding Sound Design
Tei Blow for I Understand Everything Better by David Neumann/Advanced Beginner Group, Abrons Arts Center and The Chocolate Factory
For a virtuosic live audio performance mixing recorded sounds, percussive rhythms, a live mic, and spinning vinyl to transport the audience from the mountains of Japan to the hurricane-ravaged shores of New York.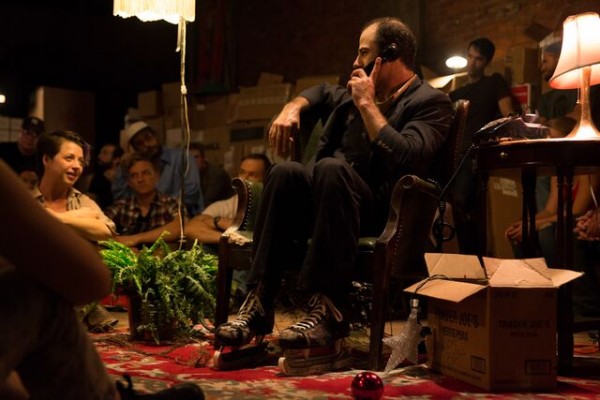 Geoff Sobelle's The Object Lesson. Photo by Lars Jan.

Outstanding Visual Design
Geoff Sobelle, Steven Dufala, Christopher Kuhl, Nick Kourtides, Jamie Boyle, and Rachel McIntosh for The Object Lesson by Geoff Sobelle at BAM Fisher
For creating an immersive environment built from the material debris of an individual life. For sparking curiosity in the audience about the need, meaning, and weight of their own lives' objects.
 
As previously announced, the 2015 Emerging Choreographer Award was given to Storyboard P for fusing various styles of hip-hop with elements of modern and jazz dance, creating a cinematic choreographic vision for new dance narratives and abstract movement-based works. The 2015 Juried Bessie Award was given to Pavel Zuštiak for his poetic layering of movement and visual imagery, and conceiving of the stage space as a decentralized world in which the corporeal body is the focus and canvas for a wide range of human expression.
 
The full list of nominees can be found at: http://bessies.org/2015-nominees-announced/.