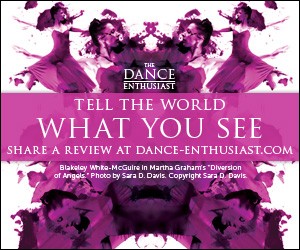 Related Features
Day in the Life of Dance: Behind the Byline — Sammi Lim on Writing Dance for The Dance Enthusiast
Behind the Byline highlights one our most important assets — our contributors. Get to know the person behind your favorite articles.
---
TDE: How did you start working for The Dance Enthusiast?
Sammi Lim: I joined the team via Pentacle's internship program and am so grateful for it! Most internships are a 3-month stint whereas my enthusiasm for dance kept growing and growing; it's been 7 years now I remember meeting Christine at a rendezvous arranged by Clarissa Soto Josephs, Director of Programming at Pentacle, and thinking, "I like her face!"
TDE: How long have you been working for The Dance Enthusiast?
Sammi Lim: 7 years! Whoop whoop.
TDE: What do like about writing for The Dance Enthusiast?
Sammi Lim: Coming from a fine arts background, I had limited exposure to dance, but continue to learn about the body and its limitless capabilities through The Dance Enthusiast . It's enhanced my own awareness of 'being' during any sort of physical activity. I also experience a rush of pleasure when dancers and companies express gratitude for helping to promote their performances.
TDE: What are your favorite stories?
Sammi Lim: Our A to Z series is ingenious; I love reading about 2 completely different dance personalities side by side. Sadly, it is coming to a close, as we're already at the letter W! Two stories I particularly enjoyed working on were my interviews with food historian Meryl Rosofsky about the Tanaquil Leclerq and Balanchine programs at the Guggenheim, as my other day job revolves around Food and Beverage. 
TDE: What's on the horizon for you?
Sammi Lim: Though I didn't know it at the time, NYC was the catalyst for my present job as a restaurant reviewer in Malaysia. But I've been and continue to be many things: a body painter, a sous chef, a curator, a hula hooper, a journalist, etc.
Read features by Sammi Lim HERE. 
---
If it's happening in New York dance, then it's happening on The Dance Enthusiast.  
Join the conversation!
Submit an #AudienceReview
Send us a POSTCARD to info@dance-enthusiast.com and let us know what you are up to.
List Your Events With us for FREE.
Support Dance Writing in New York! Place an Ad on The Dance Enthusiast! Take a look at the specs here and contact info@dance-enthusiast.com for further information.