Related Features
Contribute
Your support helps us cover dance in New York City and beyond! Donate now.
Chris Schlichting Unveils "Stripe Tease" at Danspace Project
Carrying a Piece of Minneapolis to New York
Danspace Project, 131 E 10th St, October 22-24, 2015 at 8:00pm
Choreographed by Chris Schlichting
Music by Jeremy Ylvisaker and Alpha Consumer
Visual art by Jennifer Davis/Lighting by Joe Levasseur
---
When asked about the benefits of being a contemporary dancemaker outside New York City, Minneapolis-based choreographer Chris Schlichting rightfully points out the bias inherent in my question, then asks instead, "What are the benefits of being a choreographer in Minneapolis?"
"It's very fertile ground for a lot of artists," he continues. "There's new energy coming up from young artists who are really pushing into the form, and there are veterans here too, who continue to challenge conventions and ideas. So many things in my city excite me -- the cultural landscape, and what a liveable space it is, the green space, the arts community -- It feels like really rich ground for dialogue and inspiration."
But Schlichting understands the New York-centricity that pervades the dance world. "I love New York, and I love so many of its artists, and the density of really smart people that are brought together there. I benefit directly from New York's dance artists," he says.
GenePittman/Courtesy of Walker Art Center
From October 22 through 24, this out of town choreographer will carry a piece of the Minneapolis dance scene to New York, presenting his latest work Stripe Tease at Danspace Project. Stripe Tease premiered at the Walker Art Center in Minneapolis, and comes to New York after touring to Austin's Fusebox Festival and the American Dance Institute (ADI). Schlichting was the 2014 recipient of ADI's Solange MacArthur Award for New Choreography, which provided him with commissioning funds and other support. The Washington Post described the performance of Stripe Tease at ADI as "like supercharged Merce Cunningham, with a beat," praising Schlichting's precision and imagination.
The dance was deeply influenced by Schlichting's collaborators, guitarist Jeremy Ylvisaker with his band Alpha Consumer and visual artist Jennifer Davis. Ylvisaker is well known for his own work as well as for playing in Andrew Bird's touring band. Davis is lauded for her paintings of unusual, whimsical creatures and her use of color and pattern. The three artists first worked together when Schlichting was invited by the Walker Art Center to create a dance in celebration of the Minneapolis Sculpture Garden's 25th anniversary. That piece was performed outdoors in the sculpture garden, an 11-acre site featuring over 40 works of art, and it was the basis for Stripe Tease.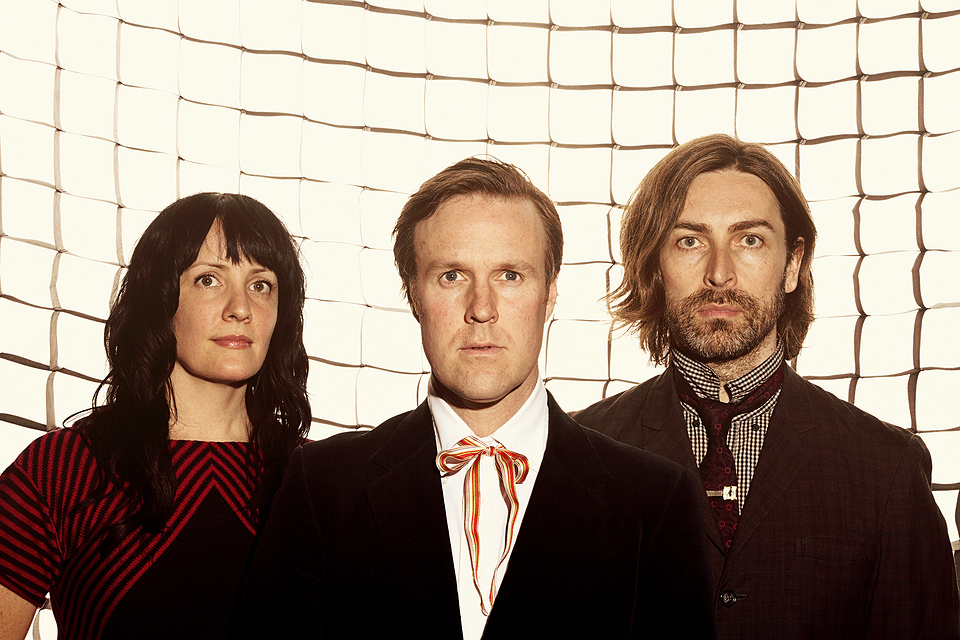 Jennifer Davis, Chris Schlichting, and Jeremy Ylvisaker; Photo: Walker Art Center
"The collaborators that I picked were people who had this language that felt really parallel to how I work," comments Schlichting. "I was working with movement and also thinking about repetition and transformation, change and accumulation. Both of those artists had elements in their work that spoke to those ideas." Artists tend to fall into jargon when speaking about their own forms, and Schlichting said it was refreshing to delve underneath that coded language and find commonalities.
Schlichting begins every dance by working alone, experimenting with movement impulses. But the process remains "consistently generative" thanks to his dancers, who Schlichting sees as important collaborators. Their unique interpretations of his movement vocabulary "explode with all sorts of languages," he says.
"I feel continually surprised by the work," says Schlichting. "And I still learn things about it by seeing it live in different spaces."
The choreographer is clearly a fan of wordplay in titles--he performed a work entitled Public Hair as part of Danspace Project's 2011 Body Madness platform. Stripe Tease is a nod to Davis' design, which features vertical stripes in vibrant colors, and perhaps to Schlichting's interest in repetition. Will this dance tease its audience? What will be revealed, and what will be withheld? We'll have to wait and see.
---