KATIE CLANCY - TAKES CLASS AND WRITES ABOUT IT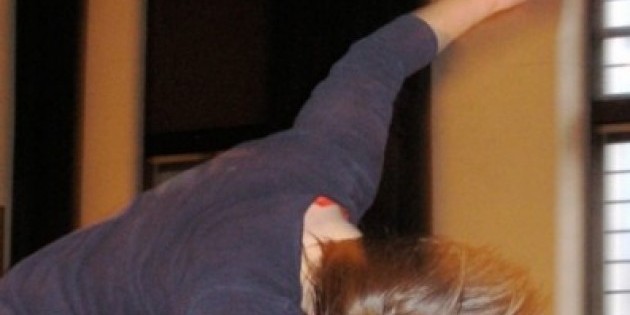 WRITTEN BY KATIE CLANCY- FOR THE DANCE ENTHUSIAST- MARCH 2008
 
THE CLASS:
Contemporary Dance with Doug Varone and Dancers - Daniel Charon, Natalie Desch, Adriane Fang, Ryan Corriston, and Eddie Taketa

THE LOCATION:
92 St Y- Harkness Dance Center (92nd St & Lexington; 4/5/6 to 86th St)

THE DAYS AND TIMES:
M-TH 10am-noon until May 15th

THE COST:
Single classes 6/pro rate* 2
Ten-class card 45/pro rate* 00
*Professional ID includes union card from Actors Equity, AGMA, SAG or SSDC or performance program showing your name. Register in person to receive discount.

WHAT KATIE HAS TO SAY:

I found out about Doug Varone and Dancers Classes from friends who took a Varone Workshop and got hooked. The professional rate was too good to pass up, so I committed to taking ten classes. Now that I've been in the class one or two days a week for the past three weeks, I am already planning on attending their summer intensive.

Right after class the company starts rehearsing. If you are sly, you can peer through the doors and watch them work. The way Varone demonstrates a gestural phrase and the dancers translate it is exciting -even when viewed through a peephole.

The class feels like a "company class" because many of Varone's dancers are present, warming up before rehearsal. Live djembe drum accompaniment is a stimulating addition. The sound ricochets off the domed ceiling giving the Harkness Dance Center's large ballroom space an even more expansive feel. I have noticed recently that classes at Dance New Amsterdam and Eden's Expressway have felt overcrowded. A colleague commented that she felt cramped, like she was unable to dance fully because of all the people and lack of space. This is not a problem at The Harkness Dance Center; the huge studio offers liberation to frustrated space hogs.

The Varone style is a quirky, graceful blend of modern release technique, contemporary ballet, and Kabuki Theater. Varone has created operas and musical theater, so there is always an element of personal expression and subtle character development within the movement. The style is challenging in its transitions- one must move down to and out from the floor with the prowess of a panther.

All the teachers I've had so far—Adriane Fang, Natalie Desch, and Eddie Taketa--are rhythmic and detail oriented. Adriane Fang teaches intricate combinations with sliding legs and counter-tempo arms. While it might seem like the arms are flailing, they actually have a direct relationship to what the rest of the body is doing. There are moments when you have to watch that you don't trip over your own feet as you perform monster-sized pas-de-bourees.

Instead of "corrections," the three teachers I've had so far give constructive suggestions about quality and choices. They are all light-hearted, making jokes and checking in with peoples' energy. They are also focused and know how to get our hearts racing. Eddie Taketa urged us to take bigger risks. Natalie Desch spoke about the flexibility of and expressiveness of the upper torso. Adriane Fang was adamant about allowing focus and facial expressions to become part of our work, "Don't dance deadpan!"

The classes flow from floor work to standing warm-up, from breath awareness exercises to spinal articulations, until finally everyone flies across the sunlit hardwood floors in various combinations of slides, jumps, and fancy footwork.

The Varone and Dancers Classes are challenging, sometimes humbling, but always inspiring.
---
The Dance Enthusiast's DAY IN THE LIFE covers the stories behind dance/performance and creates conversation. For more behind-the-scenes stories from NYC and beyond, click here.
---
The Dance Enthusiast - News, Reviews, Interviews and an Open Invitation for YOU to join the Dance Conversation.