Spotlight On: Katie Clancy Takes Class and Writes About It.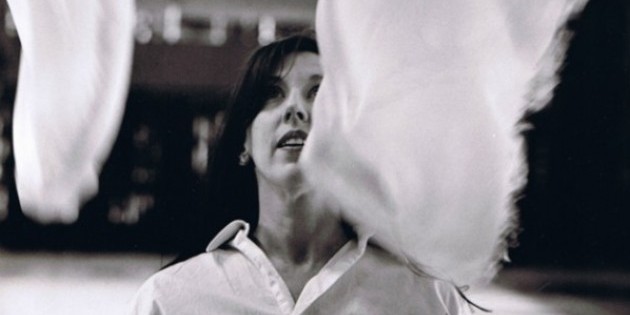 My week with Elizabeth Corbett at the Panetta Movement Center
Written by Katie Clancy- copyright 2008
---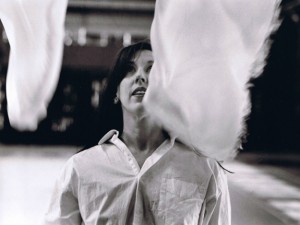 Elizabeth Corbett In Workshop Mode- Eyeing the Movement of Fabric as a Reference for Improv Material.
Photo Agnes Noltenius
Discretely tucked away in a mid-town office building, Panetta Movement Center is one of the city's best secrets...
The spacious and serene space caters to all dance enthusiasts- students, performers, choreographers and teachers. Aside from teaching a high caliber daily ballet class, owner Janet Panetta also hosts exceptional workshops taught by luminaries from such innovative companies as Pina Bausch and ROSAS. The workshops stay true to the center's motto: a meeting place for the international dance community.

During the first week of January, Panetta hosted a weeklong workshop with one of the brightest stars of the contemporary dance world—Elizabeth Corbett, a former artist with William Forsythe and The Frankfurt Ballet.

In case you are unfamiliar with Forsythe Technique or missed the premiere of "Kammer/Kammer" at BAM two years ago, it's important to realize how innovative William Forsythe has been to dance and performance. Like Corbett, he was born and trained in America as a classical dancer, but his career as a choreographer blossomed in Europe. Aside from working with major ballet companies around the world, he was the Director of Frankfurt Ballet and currently runs The Forsythe Company. Known for "turning ballet upside-down" with his unusual improvisation techniques, Forsythe's choreography is based in the engagement of contemporary visual art, architecture, and interactive multimedia.

For three hours each afternoon, Corbett, aiming to simulate the kind of rehearsal experience that her mentor of eleven years encouraged, brought a small group of dancers into a world of heightened creativity. "We were classically trained dancers who had an interest in exploring contemporary and avant guarde rep," she explained. "Forsythe opened us to a huge range. He might come to rehearsal about an idea, and we would all dive into it and get excited. Working with improv and collaborations, our time would be spent exploring—on ourselves and with others—until we created a base of movement that he would manipulate and modify."

Keeping that in mind, Corbett set up specific tasks that moved us around the room. We drew our names in space with our elbows, moved our hips through our partner's negative
space, and even attempted to describe the landscape of the city outside the window with our bodies. Corbett instructed us to use the studio space —it's winding ceiling pipes, cracks in the wood floor, window reflections—as our movement score. Within each assignment there was always freedom to explore and push personal and spatial boundaries.

At the end of the day, both my body and mind were exhausted, yet satisfied. I didn't realize how much mental energy is required to keep true to the task in Forsythe technique. At times it felt like I was like solving a complicated math equation. People assume improvisation is all about letting the brain go; but really, it's the opposite.

Corbett also taught a quirky phrase from the Forsythe Repertoire. Working through each move meticulously, she encouraged us to take risks and be clear with our actions. We had time to clarify and clean the minute-long phrase and practice it in small groups.

Above all, this workshop inspired awareness—spatial, physical, and mental. "It's everything, it's how we learn, create, define." Throughout the workshop, Corbett repeated two key words that kept dancers returning to the idea of mindful and intelligent improvisation: empathy and imagination.

In order to empathize—to truly sense one's body and surroundings—a dancer must listen. "Many times, our movement becomes like a rambling person who talks and talks without really saying anything. We have to take the time to listen to our bodies, the environment within the constructs of the task."

Corbett's workshop awakened me to physical habits engrained since my early training and unconsciously perpetuated over the years. I'm grateful for the access to this "fun" key to liberated creativity and new choices. My friend and classmate from NYU Tisch School for the Arts, Meg Madorin, agreed, "Sometimes my habits are so embedded that I don't even realize I'm repeating myself. Now I have a system that I can break out and explore freely."
FOOTNOTES
Grab a spot in the next workshop! Check out the great classes at Panetta Movement Center and studio rental.
Panetta Movement Center- located at 214 W. 29th St. -10th Floor-
Call 212-239-0831 or log on to
www.panettamovementcenter.com
---
The Dance Enthusiast's DAY IN THE LIFE covers the stories behind dance/performance and creates conversation. For more behind-the-scenes stories from NYC and beyond, click here.
---
The Dance Enthusiast - News, Reviews, Interviews and an Open Invitation for YOU to join the Dance Conversation.