The Dance Enthusiast Guide To Online Dance, Movement & Art Classes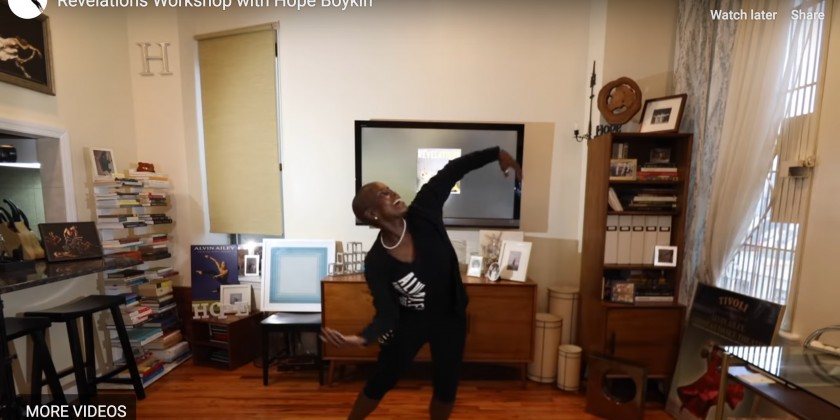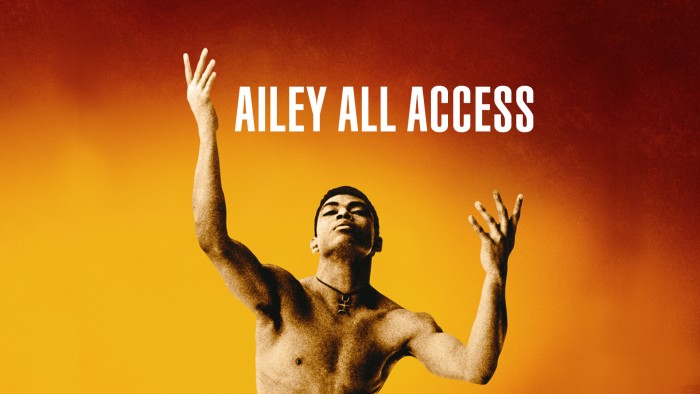 Photo credit: Alvin Ailey American Dance Theater
1. Ailey All Access
FREQUENCY: Available all the time
PRICE: Free of charge
LINK: https://www.alvinailey.org/ailey-all-access
Kicking off on March 30th, Ailey All Access is an online streaming series featuring performances of full length works from the repertory, Ailey Extension dance classes, original short films created by the Ailey dancers, and other specially created content.
---
Screen capture of https://movementbylara.vhx.tv/
2. LYT™ Daiy Yoga Classes with Lara Heimann
FREQUENCY: New sequences are released every day by 10AM Eastern Time (ET); each upload remains available for 48 hours.
PRICE: Free of charge.
LINK: https://movementbylara.vhx.tv
Dancer turned physical therapist Lara Heimann is doing her part in light of COVID-19 by opening up her movement platform for FREE for the next month to help all of the those who are missing class, rehearsals, or avoiding the gym,
"This is the best yoga/movement sequences I have ever done. It's because of this that I am still dancing at 36—no questions asked," vouched Kimberly Giannelli of The PR Social.
---
3. Naomi Goldberg Haas Launches "Parks For All" Fitness Series
FREQUENCY: As and when.
PRICE: Free of charge.
LINK: https://vimeo.com/user3727933
Who needs a barre in the studio when you've got hundreds—if not thousands—of benches in public parks? Led by Naomi Goldberg Haas, Artistic Director of Dances For A Variable Population, and filmed by Marisol Morales in Riverside Park, the first episode of "Parks For All" sees Rebecca Hite and Theo Gilbert beginning with round back stretches and ending with fun improvisational pieces.
---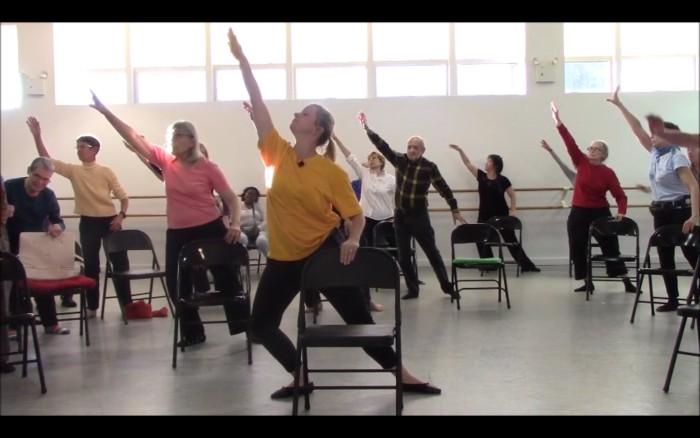 Sarah Marcus teaching a Dance for PD class, November 2017.
4. Dance for PD's Movement Archive
FREQUENCY: Subject to new uploads.
PRICE: Free of charge.
LINK: https://danceforparkinsons.org/resources/dance-at-home
Suited for all ages, Dance for PD's movement archive was created to encourage those with Parkinson's to keep moving, even when live classes are not accessible. Dance enthusiasts who are more accustomed to their TVs than computers can purchase At Home DVDs; all local and international shipping charges are waived for orders of the 3-DVD bundle — just use the code HEALTHY!
---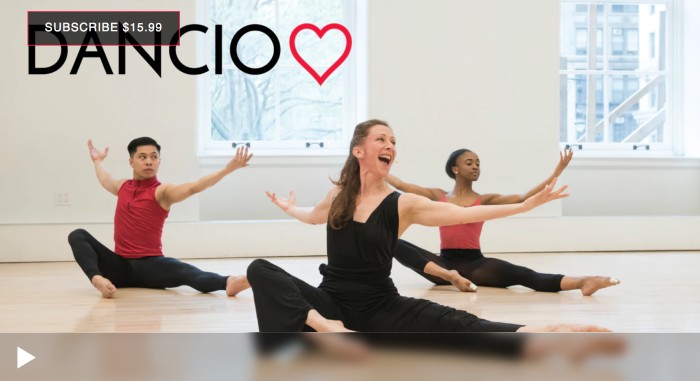 Screen capture of dancio.com
5. Dancio Offers 2-Weeks of Free Classes Taught by Dance Stars
FREQUENCY:
PRICE: Free of charge for two weeks for new users; subscription plan of $15.99/month applies after.
LINK: http://www.dancio.com/
Dancio's value proposition revolves around master classes which, in real life, may cost an arm and a leg, or be troublesome to get to. Their online dance classes feature the likes of Nicole Wolcott,
Blakeley White-McGuire, Diana Byer, and other renowned movers and shakers.
---
Instagram post by @ashleyboulder, a participating instructor at Dancing Alone Together.
6. Dancing Alone Together's Curation of Online Classes
FREQUENCY: Daily schedules are posted up to 3 days in advance.
PRICE: Free of charge
LINK: https://www.dancingalonetogether.org/
A thorough curation of free virtual dance classes, Dancing Alone Together (love the oxymoron) lists anywhere between 5 to 20 dance classes per day, sometimes almost hourly! This Saturday, March 21st, for instance, sees Afro Modern with Art on Purpose; Hip Hop with Daniel Kang; Improvisation with Alex Clair; and Ballet with Margaret Mullin among others.
---
7. LUNCH DOODLES with Mo Willems!
FREQUENCY:
PRICE: Free of charge.
LINK: https://www.kennedy-center.org/education/mo-willems/
In case you missed our earlier post, here's a reminder to check out these doodling classes. Mo Willems, the first-ever Education Artist-in-Residence at the John F. Kennedy Center for the Performing Arts, an Emmy Award–winning writer, and a New York Times best-selling author and illustrator, is inviting you to virtually join him in his studio to express yourself on paper every day for the next few weeks.
Other Motivational Materials
 
Liz Lerman's Atlas of Creative Tools: 3 samples
If you can spare 11 minutes, this video may change your outlook on a lot of things. Listen to the founder of Liz Lerman Dance Exchange tackle the topic of stepping outside your comfort zone, being creative inside and outside of the box, and not being perfect in the moment, but finding ways to support each others' work.
---
Dear Dancers and Enthusiasts, Do you have any online class resources that you would like us to share here? Please let us know and we will continue to add classes. Contact us at info@dance-enthusiast.com
---
The Dance Enthusiast's DAY IN THE LIFE covers the stories behind dance/performance and creates conversation. For more behind-the-scenes stories from NYC and beyond, click here.
---
The Dance Enthusiast - News, Reviews, Interviews and an Open Invitation for YOU to join the Dance Conversation.