The Essential Iconoclast—Elizabeth Streb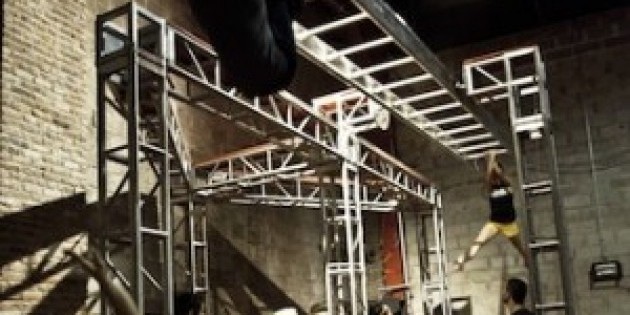 Behind The Scenes with Streb and Company
The Essential Iconoclast
Cory Nakasue in rehearsal with STREB
---
Story by Cory Nakasue for The Dance Enthusiast
Photos by Alvaro Gonzalez for The Dance Enthusiast
---
Sitting next to
Elizabeth Streb
as she conducts rehearsal is part thrill-ride, part strategy huddle, and proves to be a juggling act between talking physics and trying to ignore bodies as they whiz by. The zeal with which Streb operates, electrifies her Williamsburg space, the Streb Lab for Action Mechanics (S.L.A.M), where the company and their fearless leader prepare for their biggest show yet,
Kiss The Air
at the Park Avenue Armory
.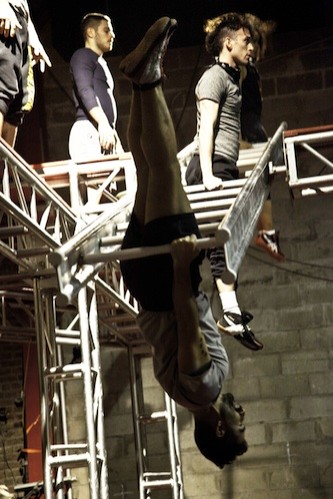 The STREB dancers in rehearsal, Photo Alvaro Gonzalez for The Dance Enthusiast
Streb, a MacArthur Fellow, and a self-described "action architect" is a kid in her own candy store of machines and contraptions that are all designed with one primary goal: "to expand the capacity of action to tell its own story." Streb goes on to explain, "If I'm going to make a 40 minute dance to a Beethoven's such-and-such, that's really not what movement does best. You're tampering with its nature by putting it to music at all. Music is the true enemy of dance as we know: it artificializes movement. Movement is causal, so (the two) really don't go together like that."

Even though she doesn't use music, Streb compares her machinery to an orchestra needing different keys and pitches to examine the capacities of sound, musing, "It's a whole episodic symphony of one move after another." The particular "instrument" the performers are working with when I arrive at rehearsal is the circling ladder,which Streb describes as "a pure diameter." She continues, "circles are really pure action, otherwise you have to stop and start constantly. That's not real. It's tampered with.To turn is everything. That's where the forces get generated…depending on where the body is, it (the forces) comes as a surprise to us."

Referencing her magnificent steel invention (between issuing words of warning and encouragement to the dancers) Streb reminds us, "We spent a lot of human hours trying to figure out how to hang on to this thing…we even have a t-shirt that says 'never let go'."
A purist if ever there was one, Streb intends to keep challenging herself, her performers, and her audiences to bring themselves ever closer to a real-time present moment. That pure second of delicious reality that you experience in her work is born of at least a year of designing, researching, building, and physical investigation by her company. She rigorously questions the laws of physics and semiotics to retrieve the tiniest pearls of authentic movement. Streb explains, "The audience rules in terms of language transmission.Let's just say searching for the content of action, is, for me, more fundamental than meaning. Meaning is assigned by the audience and the outside eye. I can't assign meaning, I haven't got control over it, but I can try to excise content out of our language. I'm trying to get to the part where there are no more parts. They used to think the atom was the final thing, but guess what, it's not. And maybe by smashing protons together they're going to find more fundamental particles."

A Day in Rehearsal with STREB: The Slideshow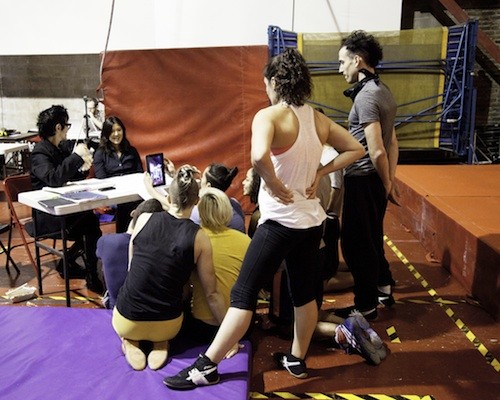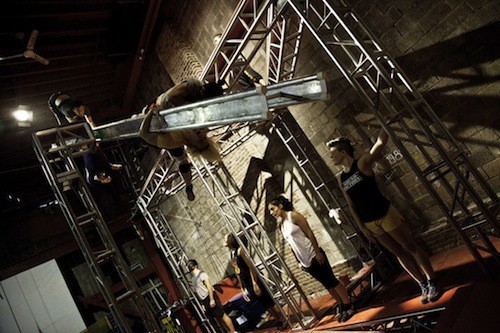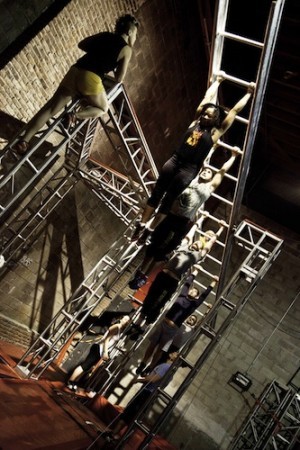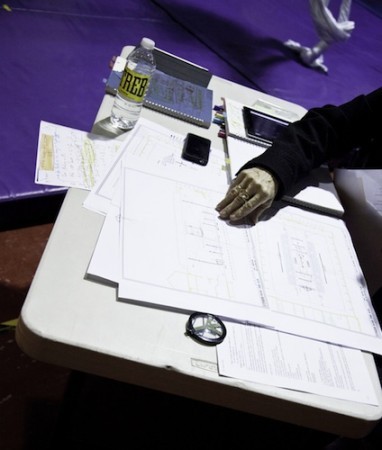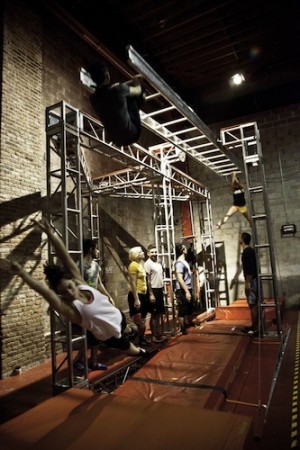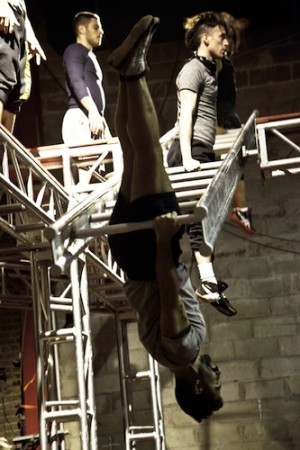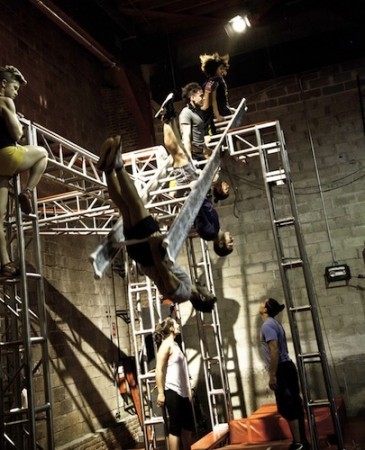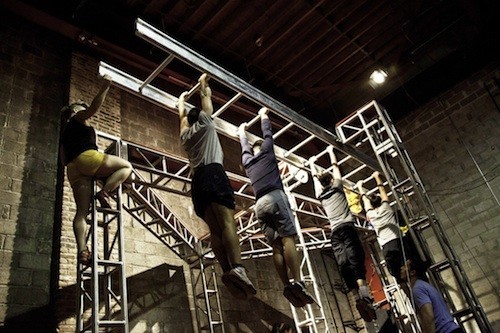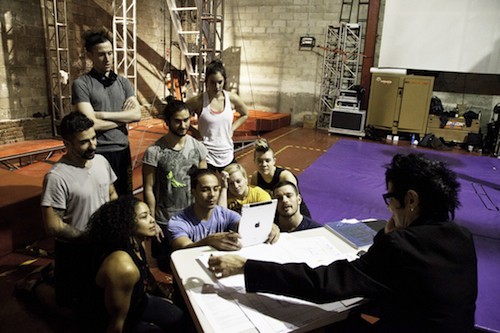 Whether she's smashing protons or using the pneumatic ejection systems, scaffold towers, bungees, air rams, and zip lines to study the impact of bodies (
up to 50 mph
), I am definitely having a
real
moment as I watch the company run through
Ascension
, the ladder piece. This work is impossible to "mark"–it's all real, all the time.The margins for error are almost nonexistent.
In parting, Streb leaves us with this: "I want people to watch us move and think, 'that doesn't follow the rules I've been taught operate on earth…"
Mission accomplished.
STREB: KISS THE AIR
PERFORMANCES AT THE PARK AVENUE ARMORY
December 14, 15*, 16, 20, 22, 2011 at 7pm
December 17 & 21, 2011 at 2pm & 7pm
December 18, 2011 at 3pm
Performance runs 70 minutes with no intermission
*Following the December 15th performance there is an Artist Talk with Elizabeth Streb and some of the STREB dancers, moderated by Kristy Edmunds. The Talk is free with the ticket purchase.
TICKETS are General Admission 5 for Adults, 5 for Children 12 and under
PURCHASE TICKETS HERE
FIND OUT MORE ABOUT STREB HERE
---
The Dance Enthusiast's DAY IN THE LIFE covers the stories behind dance/performance and creates conversation. For more behind-the-scenes stories from NYC and beyond, click here.
---
The Dance Enthusiast - News, Reviews, Interviews and an Open Invitation for YOU to join the Dance Conversation.