IMPRESSIONS: African Americana
PLATFORM 2012: Parallels Curated by Ishmael Houston-Jones with New Work by Kyle Abraham, Marjani A. Forté, Samantha Speis
PLATFORM 2012: Parallels
Curated by Ishmael Houston-Jones
New Work: Kyle Abraham, Marjani A. Forté, Samantha Speis
Friday March 23, 2012 8pm
Danspace Project at St. Marks Church, New York
---
©Cory Nakasue for The Dance Enthusiast : Photos by Ian Douglas (Courtesy of Danspace Project)
(for More of The Dance Enthusiast coverage of Parallels 2012)
PLATFORM 2012: Parallels marks the 30th anniversary of Ishmael Houston-Jones' revolutionary project. As he remarked in his opening statement at Danspace, the choreographers featured in this weekend's performance were, at the most, five years old in 1982. A friendly gauntlet had been laid before this generation's young African-American choreographers to not only explore the terms, "black" and  "Afro-American," but also terms like "outside the mainstream." 
---
Samantha Speis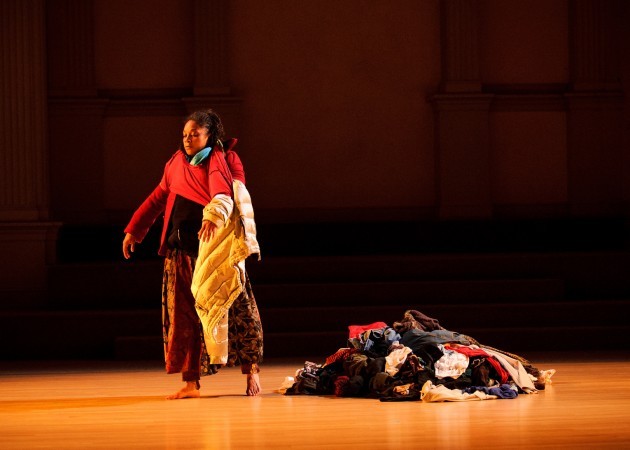 Samantha Speis' The Way it Was, and Now (First Rendition), was the first in the evening to tackle identity head on. Under a spotlight, framed by columns, dancing on an elevated platform, she wore an African print skirt as she performed isolated undulations. Athletic and quick, Speis moves like a sinewy rag-doll, alternately attacking and giving in to gravity. The solo lost its power quickly when she dismounted her "pedestal," and moved her way through a stage littered with random items of clothing covering it. The rest of the piece proceeded to comment on identity with lots stage business: layering the clothes on top of her original costume, trying to move underneath the layers, and finally, clearing the stage by wrestling with the remaining potential costumes on stage.
---
Marjani A. Forte
Speaking of costumes, Marjani A. Forte's choices in Here…, were oddly specific without serving any real purpose in the piece. Two dancers wore full skirts, though one was fancier, another female dancer looked ready to go to the office, a male dancer wore what looked like 1940s era military garb, and there was a strange addendum of a woman in contemporary clothes at the end.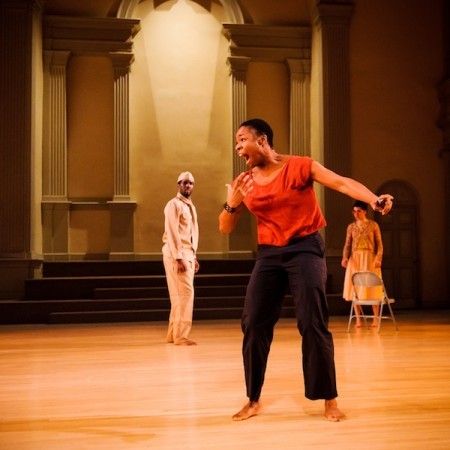 Forte sets us up for characterization that doesn't get fulfilled. Luckily the cohesion and invention in the choreography was remarkable and the dancers were all unique enough to render the costumes superfluous. The performers dynamically conveyed a sense vocal and physical repression, which resulted in violent facial and bodily contortions and convulsive movements that seemed to originate from invisible forces outside the body. The soundscore, comprised of iconic black artists and activists like Jimi Hendrix and Malcolm X, created the landscape as well as the voices that were trapped inside the dancers.
---
Kyle Abraham
Kyle Abraham also drew inspiration from artists past with his piece Boyz N' The Hood: Pavement. There are snippets of dialogue excerpted from the John Singleton film along with a well-chosen score of popular music and blues. This is the first ensemble work that I've seen from Abraham, and I'm happy to report that he displayed some fine choreographic chops with his talented cast of dancers. It would be so tempting for a dancer of Abraham's skill and arresting style to want to create silky copies in his image, but instead he showed restraint and a patience befitting someone who's emerging out of the "emerging artist" category. For instance, a recurring image in the piece is that of a person lying prone with their hands "cuffed" behind their back—a loaded image when we see a white dancer but put black dancers in this position; but the metaphor of the image expands as we see the male and female dancers of both races assume the position for longer and longer periods of time. That image continually gets reframed, much like the arguments about race and identity throughout the Parallels platform.


---
---
The Dance Enthusiast Shares IMPRESSIONS/our brand of review, and creates conversation.
For more IMPRESSIONS, click here.
Share your #AudienceReview of performances. Write one today!
---
The Dance Enthusiast - News, Reviews, Interviews and an Open Invitation for YOU to join the Dance Conversation.