IMPRESSIONS: Kathryn Posin Dance Company at the 92Y's DIG DANCE — "Evolution," "Triple Sextet," and "Memoir"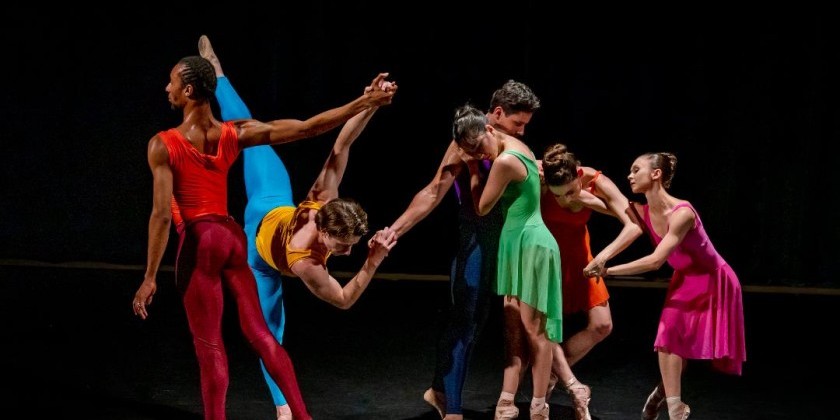 September 14, 2019

Kathryn Posin addresses her audience at the 92Y's Buttenwieser Hall before the show. Grateful for having observed and learned from the great pioneers of our dance world, she names close to a dozen choreographers and manifests the essence that each has instilled in her.
According to Posin,  Anna Sokolow stands for truth; Hanya Holm discipline; Merce Cunningham chance; and Alwin Nikolais humanity. Such an introduction sure is a tough act to follow, but Posin must have known that she had something special to present in an evening featuring all premieres.
Kathryn Posin at 92Y; Photo by Nan Melville
Steve Reich's Double Sextet with colorful costumes by A. Christina Giannini gets its choreographic treatment for six dancers and is therefore renamed Triple Sextet. If that title seems cerebral and calculated, so does the partnering and patterning in the work's first movement, "Fast."
While physically buoyant, the three male-female couples remain together in predictable fashion. The dancers perform upright balletic movement with skill and brio, but I get the feeling that Posin constructs her formations too carefully. Her architecture is as solid as Reich's repetitive loops and just when I long for the form and formality to break, she obliges – quite magically - by making one of her dancers a gateway to another world.
The phenomenal Daniel White stretches his long limbs and allows the other dancers to enter a new realm under his lifted leg or through various open shapes that he sculpts with his body. White becomes a vessel and a door to a garden of sensory awareness.
Kathryn Posin at the 92Y;  Photo by Nan Melville
What had just seemed a cold display of able bodies doing accomplished work morphs into a world of wonder and discovery in the composition's second movement, titled "Slow." Posin and the dancers deserve credit for carrying out the more experimental shapes incorporating pointe work with the same exactitude as the more familiar vocabulary in the first movement. The added dimension of sensory awareness transmits to the audience through a felt physicality that is never demonstrative. Reaching and touching become profound kinetic experiences. Rather than sticking to the male-female couple formula, Posin lets formations evolve and more organic shapes and connections paint a paradisiacal picture.
The hypnotic music picks up in a third movement which is yet again named "Fast." The dancers apply the digested information about proprioception and take off in flight. Claire Mazza, Camila Rodrigues, and Chanmee Jeong are not only technically adept en pointe, but also they know how to move. Alejandro Ulloa and Cristian LaVerde König prove to be both able partners and fine dancers in their own right, but it is White who leads the flock into a heavenly sphere.
Kathryn Posin at the 92Y;  Photo by Nan Melville
Veteran performer and original company member Lance Westergard performs MEMOIR, which he co-choreographed with Posin to a Bach Cantata. Experience and maturity paired with wit and elegance are a winsome combination. Is the second attempt necessary to get up from a kneeling position? We will never know if Westergard uses the moment of hesitation as a comment on aging or if aging makes the comment for him. However the moment was born, one embraces it, because the origin seemingly lies in our own perception of its wonder.
The evening's other ensemble premiere, EVOLUTION: THE LETTERS OF CHARLES DARWIN ambitiously pairs Posin as the "Narrator" reading a selection of Darwin's epistles with a cast of dancers in Victorian garb as well as animal costumes.
Momchil Mladenov in Evolution: The Letters of Charles Darwin; Photo by Liz Schneider-Cohen
Some of the letters are projected onto the dancers' backs, but Darwin's journey from England to Tierra Del Fuego winds half-way around the world and is tough to follow. Momchil Mladenov's imposing presence as Darwin and his fine, dancerly lines cannot avert my misgivings about the work's heavy-handed execution. Fewer letters would have given the story much needed breathing space.
The wordiness becomes monotonous and obscures the work rather than illuminating it. While Posin challenges herself with a grand concept and presents a work out of the ordinary, the schoolbook ballet vocabulary void of movement exploration does not live up to Darwin's mission.
---
The Dance Enthusiast Shares IMPRESSIONS/our brand of review, and creates conversation.
For more IMPRESSIONS, click here.
Share your #AudienceReview of performances. Write one today!
---
The Dance Enthusiast - News, Reviews, Interviews and an Open Invitation for YOU to join the Dance Conversation.