IMPRESSIONS: A Weekend of Dance in November in Three Parts: Stefanie Nelson with Maya Orchin, Boris Willis and Maria Takeuchi (ÉMU)in "Mothers, Myths, Monsters: Matraphobia" at Theater Lab (Part 2)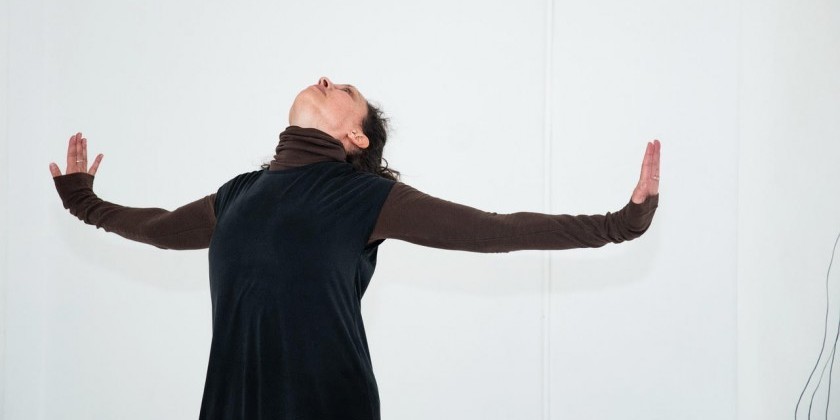 Prologue:
New York City. It's way too expensive. There's not enough space.  Crime is up and the place certainly looks grittier since the first wave of the pandemic.  But… barring more shutdowns from the dastardly Omicron mutation, our Twilight Zone Marathon of an existence, has been welcomely interrupted by the return of live theater. People, once afraid to breathe together in the same room, have left their solitary spaces for peopled venues. Now, I remember why I live here.
In one weekend I attended Yin Yue's premiere at the historic home of American modern dance, the 92nd Street Y; sat in a semicircle with 24 other souls in midtown's Theater Lab, where I contemplated motherhood's mythology with Stefanie Nelson and friends; then, whisked my way downtown to the La Mama Experimental Theater for a rare revisit of iconic older work by contemporary dance maestro, Stephen Petronio. I've been starving for this vibrancy, eclecticism, and intense physical commitment to art.

As Petronio claimed, heartily clanging a school bell to signal the start his performance, "We are here to reclaim our history as physical beings in the real world."

Amen, to that.
---
Mothers, Myths, Monsters: Matrophobia at Theater Lab ,Curated by Stefanie Nelson (Part 2)
Featuring, Maya Orchin, Boris Willis and Maria Takeuchi (ÉMU)
For those who don't know about it, Theater Lab is a women-run haven committed to innovation, collaboration and process. Orietta Crispino, the magnetic artistic director of this place, recently invited Stefanie Nelson in as curator to explore the complicated landscape of motherhood.

Not a stranger to investigating humanity's complexities in her own work ( see The Dance Enthusiast IMPRESSIONS 1, 2), Nelson chose three colleagues of varied artistic and cultural backgrounds to delve into the topic. The result was a sensorially rich and provocative experience which offered the treat of watching Nelson, dance, and introduced us to three artists whose work I hope to see again.

Sitting in a floor-to-ceiling white room one somehow feels suspended in space and ready for magic. Maria Takeuchi (ÉMU's ) audiovisual undulation, fills the area with just that. We become entranced. Sounds and images vibrate, ebb and flow. Projections of waves appear then transform into curvy abstractions. Patterns blend, fall away, and re-emerge. We may or may not be detecting the outlines of a woman's figure, a pregnant belly, a spine, a fetus.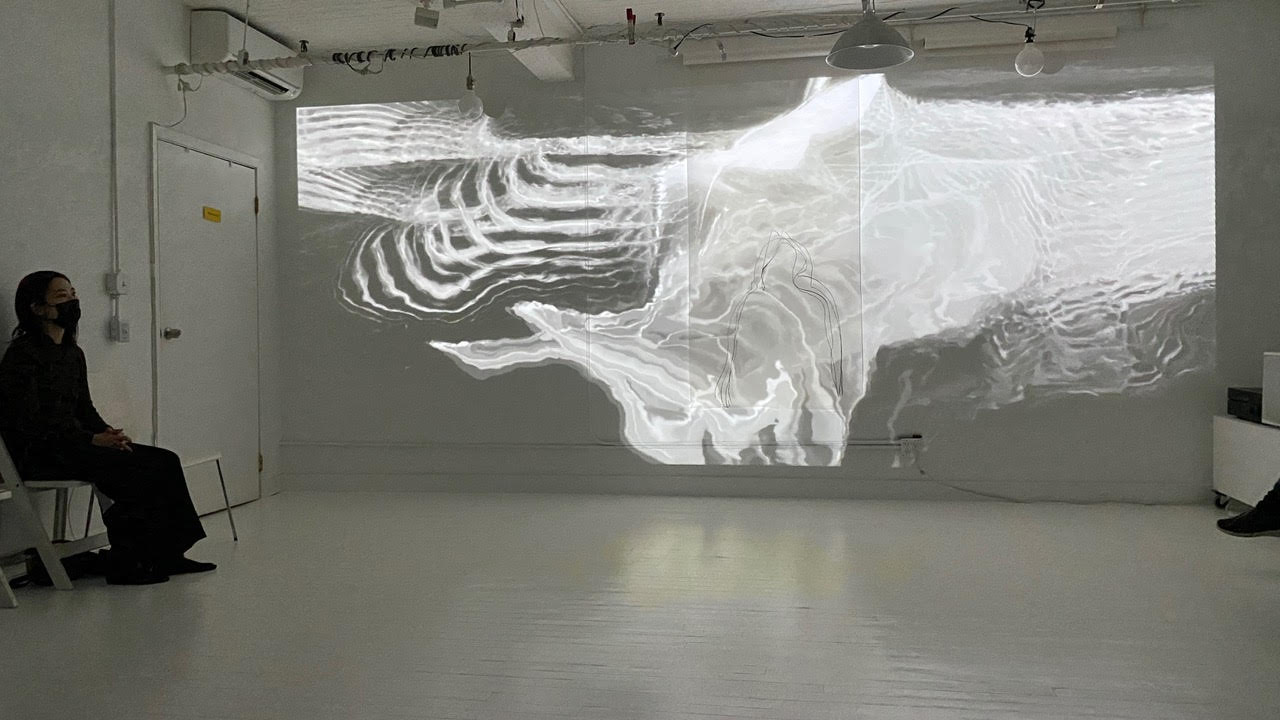 Maria Takeuchi (ÉMU's ) undulation; Photo Maria Takeuchi

Hypnotized by the shifting images and the aural resonance of waves, thunderstorms, and sloshy puddles, we notice Maya Orchin rolling across the floor as if swimming in primordial soup at the beginning of time. Or is she floating in the liquid of the womb, ready to be born? The work speaks, or rather, sings of mother as voluminous, cyclical, the all encompassing giver of life.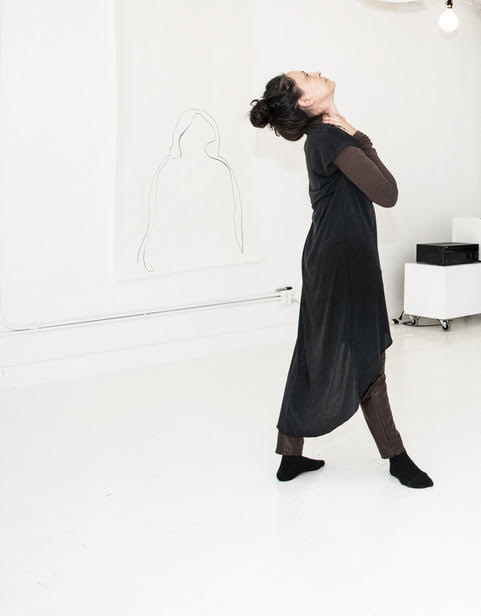 Stefanie Nelson,  Rehearses Flip by Maya Orchin; Photo Creativo Liquido

Flip, choreographed by Orchin,takes on the many phases of an archetypal mother. Flowing into the images of the first piece seamlessly, Nelson rolls toward the projections, taking in the the sea, observing, calling it towards her sensually. Here she marks a beginning, either conception or birth, the prologue. Repeating movement patterns, and delicately mining them to elicit complex moods, Nelson embodies motherhood's many chapters with the clarity and certainty of a woman who knows of what she dances. We observe  passion, bubbling delight, and tenderness, along with the  anxiety of day-to- day demands. Tracing paths from exhilaration to anguish, even capturing  the moment when a mother perhaps wonders if she is an individual at all, Orchin and Nelson remind us of the reality and depth of an often idealized role.
Screen shots of Dancing Avatars in Boris Willis' Mu

Boris Willis carries us into the cyber world for Mu. We enter the work as if traveling in a video game, and encounter dancing, not performed by humans, but by their avatars. One of my favorite moments happens at the start when we drive through a virtual neighborhood towards Willis' grandmother's home and find the avatar Willis and his avatar grandma dancing in her front driveway a la Merce Cunningham. While Willis' approach is new, using gaming technology for dance performance, the questions he addresses are ageless:  Where do I come from? Who are my people?  

Mu, Willis' pet name for his grandmother, presents mothers as the connecting points to our lineage and heritage. This turns complex when there are secrets: when you discover the person you once knew as your grandfather really isn't, but no one ever told you 'til now. OR, or when you ask your Black grandmother from North Carolina if anyone in the family was ever a slave or even connected to a slave, and you hear "No," or "We don't talk about things like that."  

What is fact? What is fiction? What is a true inheritance and a true experience? How intriguing to turn to alternative reality to get at what's real. Willis' family is fascinating but I often felt confused about who was who —and maybe that's appropriate, the point being, he was too. Full of questions, Willis comes to the conclusion that the importance of Mu was that she advocated for him  to be himself, adamant that he go out into the world and accomplish things she could only dream of.
---
---
The Dance Enthusiast Shares IMPRESSIONS/our brand of review, and creates conversation.
For more IMPRESSIONS, click here.
Share your #AudienceReview of performances. Write one today!
---
The Dance Enthusiast - News, Reviews, Interviews and an Open Invitation for YOU to join the Dance Conversation.