Impressions of Fall for Dance at New York City Center - Program 2
FALL FOR DANCE FESTIVAL 2014
Program 2 (presented October 10 & 11, watched October 10)
Lucinda Childs Dance Company - Semperoper Ballett Dresden - Sébastien Ramirez & Honji Wang - Alvin Ailey American Dance Theater
New City Center Theater, NYC
---
When did a dancer's hands last mesmerize you?
The opening duet in William Forsythe's U.S. premiere Neue Suite (2012) had me question if I discovered a fetish buried deep within me that I never knew about.  "This is too much," I kept thinking as one of the male dancer's hands moved the space in an affected manner. The awkward succession of posing in balletic pretense and the efficiency with which he pushed and molded the space was fascinating. The elegance of the man's long fingers around his female partner's body, the pressure against an imaginary surface that propelled him through space, caused my eyes to focus like a camera.
Neue Suite is an amalgamation of successive male/female pas de deux (featuring 11 dancers) danced to music by Händel, Luciano Berio, Thom Willems and Bach. First, there are dancers from the 'Semperoper Ballett Dresden,' Germany -- all  gorgeous creatures with an elasticity and pounce (attacking movement as if they intend to kill it) that will leave you spellbound. Then, there is Forsythe's choreography. Is it his movement that makes the dancers look exquisite, or is it the dancers that elevate his work? One way or the other, I am riveted.
Semperoper Ballett Dresden's Claudio Cangialosi and Chantelle Kerr in Neue Suite. Photo: Costin Radu.
Forsythe adds a multitude of angles to traditional ballet technique, much in the way that Merce Cunningham did to traditional modern technique, through his use of twists, tilts, and rotations of limbs.  He explores as many directions for the body to move in as there a facets in a brilliant gemstone. Through the use of baroque and modern music, he gives a developmental historic overview of his own work, within this work. He handles balletic vocabulary from classical, to neo-classical, to post-modern, employing exciting off-center balances and space-devouring leg extensions, but yielding to something broader and more expansive. Here is an evolutionary lesson of the art form ballet through a Forsythe' lens. However disconnected the duets seemed on one hand, they are seamless on the other.
Semperoper Ballett Dresden's Pavel Mosqvito and Duosi Zhu in Neue Suite. Photo: Costin Radu.
Pacific Northwest Ballet's director Peter Boal, who sat in front of me, turned around to say he was excited to see the work in person. His company will present it next year with an additional section that Forsythe will create tailored to the PNB dancers. The program note reads: "This specially created and newly arranged series of pas de deux focuses on physical interaction, one of Forsythe's key interests." I am left to wonder what could emerge if Forsythe would challenge the interactions of two people of the same sex.
All of the artists deserve to be mentioned with respect and admiration: Svetlana Gileva, Chantelle Kerr, Alice Mariani, Anna Merkulova, Elena Vostrotina, Duosi Zhu, Christian Bauch, Jan Casier, Joseph Hernandez, Julian Amir Lacey, and István Simon. Under the artistic direction of Aaron S. Watkin, Semperoper Ballett Dresden, Germany  has successfully put Dresden on the international ballet map.
Lucinda Child's Concerto. Photo: Peter Perazio.
The evening's program opened with Lucinda Child's Concerto from 1993 to Henryk Gorecki's "Concerto for Harpsichord and Strings." An academic affair, it came across as an exercise in restraint. Clad in black, the seven dancers looked as if they had been given orders not to attack the movement, but to follow a prescribed path as inconspicuously as humanly possible. Yes, patterns emerged. Yes, there was stillness here and there. Yes, they did not mess up. Yes, they were accomplished. If you prefer your toast dry, then this one was for you.
I have been thrilled and made delirious by the hypnotic repetition and ingenious development in some of Child's strongest dances. I have admired her sense to incorporate designs of various disciplines to create works of art that have made a lasting impact. Jennifer Tipton's lighting seemed utterly pointless and added nothing to the cerebral acrobatics of Concerto.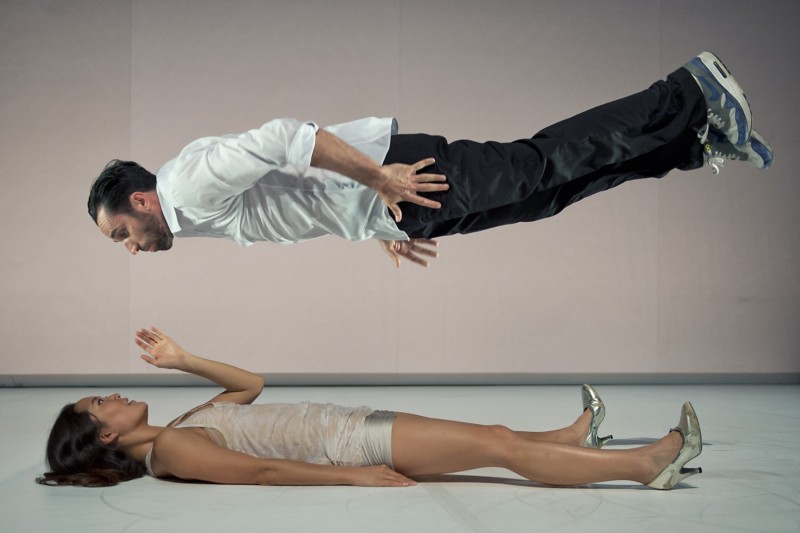 Sébastien Ramirez and Honji Wang in AP15. Photo: Nika Kramer
The charismatic performers Sébastien Ramirez and Honji Wang had some daredevil moments in their self-choreographed duet AP15. He jumped over her and caught her head between his legs while she rapidly hinged in order to not have her neck broken. Expertly executed, the sum of the piece did not amount to more than its impressive bursts of inventive partnering trickery, which I followed with interest.
The remarkable dancers of the Alvin Ailey American Dance Theater performed the closing number Minus 16 by choreographer Ohad Naharin. Samuel Lee Roberts, one of my favorite male dancers of this or any company, started the work with an extended solo that included mugging to the audience, interactions with the stage curtain, dreamy passages, wiggling and plain old extraordinary dancing. I could watch this dancer for hours. However, the dance continues on with sections that are less enjoyable, yet through either endless repetition, or long-winded audience participation, they are unfortunately just as vividly ingrained in my memory.