Meet the 2018 Bessie Nominee: Outstanding "Breakout" Choreographer Hadar Ahuvia nominated for "Everything You Have is Yours"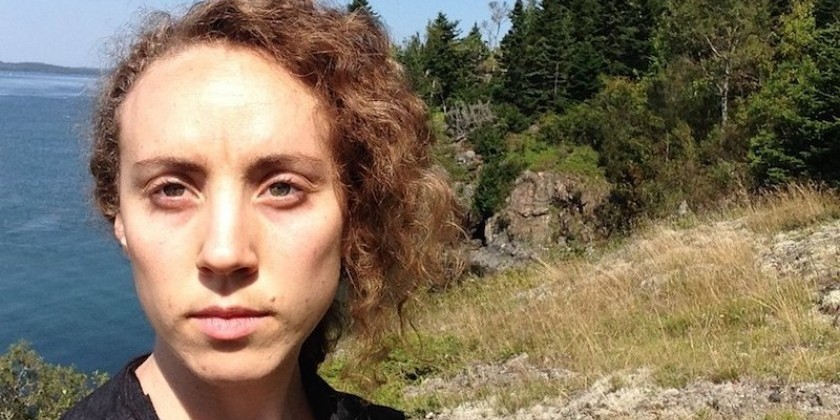 As summer comes to an end, the dance scene, conversely, heats up and dance fans brace themselves for the highly anticipated New York City's Dance and Performance Awards, The Bessies.
Taking place this year on October 8 at NYU's Skirball Center for the Performing Arts, the 34th Annual Bessie Awards celebrates the work of 43 nominees in five different categories: Outstanding Production, Outstanding Revived Work, Outstanding Performer, Outstanding Music Composition or Sound Design, and Outstanding Visual Design. In addition to The Bessie nominees, winners of  the 2018 Juried Bessie Award and the Outstanding "Breakout" Choreographer Award were announced on July 11th, which included interviewee Hadar Ahuvia.
The Dance Enthusiast has been delighted to interview a few of the Bessie nominees curious about what it takes to create an artistic experience worthy of an illustrious Bessie?
For a full list of Bessie nominees and ticket information, go to https://bessies.org/
---
Meet 2018 Bessie Nominee Hadar Ahuvia:
Hadar Ahuvia is a performer and choreographer who makes work grounded in physical research and political consciousness. Raised in the U.S.A. and Israel, she trained at the San Francisco Conservatory of Dance and received a BA from Sarah Lawrence College. Her work has been presented at Judson, Dixon Place, CPR, BkSD, Danspace DraftWork, Movement Research Fall Festival, AUNTS, Catch, Roulette, NYLA, the 14th St Y, and Eastport Art Center, and SPACE Gallery, Maine. Ahuvia has worked with Sara Rudner, Jill Sigman, Donna Uchizono, Molly Poerstel, Anna Sperber, Jon Kinzel, Stuart Shugg, Tatyana Tenenbaum, and Kathy Westwater, and currently performs with Reggie Wilson/ Fist and Heel Performance Group.  Ahuvia was 2012 DTW/NYLA Fresh Tracks Artist, a 2015 Movement Research AIR, a LABA Fellow at the 14th St. Y, a 2016 Grace Paley Organizing Fellow at Jews for Racial and Economic Justice, and the recipient of 2017-18 CUNY Dance Initiative Residency.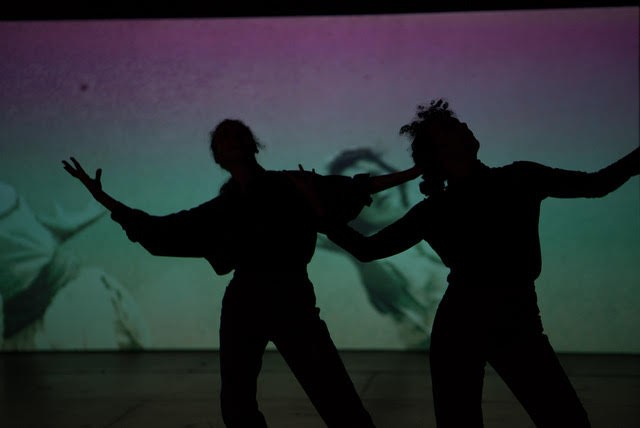 Pictured: Hadar Ahuvia and Mor Mendell; Projection: Gil Sperling; Lights: Kryssy Wright; Photo: Karl Cooney
Cecly Placenti for The Dance Enthusiast: When and how did your artistic journey begin?
Hadar Ahuvia: I had imagined myself mostly as performer for the work of others. I really tried to give myself the option to let that go, to fail at becoming what I thought I was supposed to be. When I moved to NYC, I made work to give myself the kinds of roles I wanted to be in. I wasn't getting hired, and I wasn't seeing political critiques made with rigorous physical practice, or I just didn't know about people already doing that work. Let's say I was more than just a little naive and self-righteous, but I'm learning.
I took an intentional break from dancing to do some healing. Writing and singing became important to my recovery and also a path back to performance. I started making work about my failure to be a good Zionist daughter and ballet dancer. That was ten years ago. You could say I'm still making that piece.
Sometimes I kept choreographing because it was the thing I was most terrified to do. I have a masochistic streak, but also, I was told by a wise teacher to go for the things I feared most. I am definitely surprised by the things I've done in my own work. I never fathomed I would make anything with a sense of humor in which I spoke, sang, and called out colonialism and white supremacy. Making work is exhausting, but it's also a thrilling place to grow, to learn about oneself and others, and to honor female ways of knowing through the body.
I'm surprised I've made it this far. I kept going when I felt defeated because I had a lot of emotion and spiritual support that I could build on. I also kept getting opportunities. Of course, some of this was easier because I'm white. I am trying to use this access to name the oppressions from which I've benefited. I've focused my energy on work that highlights through movement the continued assault on Palestinians by the Israeli government, supported by the US government, because I feel accountable as a citizen of both countries.
What has been the biggest challenge in your artistic journey? What was your proudest moment?
Ahuvia: In "Everything You Have is Yours" I had two conversations with my collaborators in which I confessed to the ways in which my desires and motives were wound up with white supremacy.
I don't mean to pat myself on the back for this, "oh, good job, you're woke now." To the contrary, I was really terrified to let people see who I really was or how, despite my critiques of colonialism and racism, I'm really trailing behind in my actions. (And I think some people did see it this way, or me martyring myself, or a distraction from the piece). But this vulnerability connected me to the focus of my work, which was exposing racism in the appropriation of Yemenite and Palestinian dance in the choreography of Israeli folk dance. My collaborators, Mor Mendel and lily bo shapiro were fundamental in helping me confront and move through my culpability. I was also reminded by my community that we need models of white folks failing, humbly, and of being uncomfortable and unresolved in facing our racism and whiteness.
Describe your creative process in 10 words or less.
Ahuvia: Try, edit later. What? How? Why? Share. Repeat.
I love the razor-sharp precision and clarity in that!  What do you do when you are not creating, what fills your creative well?
Ahuvia: I consider all my work creative. I collaborate with teens to find their own connections to Jewish tradition (which I think of expansively) as they prepare for their bat/bar mitzvah ceremonies and organize with progressive queer Jewish communities.
This week I replenished body/mind/soul by riding my bike, chanting at singing services for Yom Kippur and eating treif afterwards. I went to the library, read the work of Mizrahi artists, and cooked Shabbat dinner for friends.
Pictured: Hadar Ahuvia, lily bo shapiro, and Mor Mendel; Photo: Karl Cooney
How wonderful that you work at connecting teenagers to their heritage and tradition through movement.  Who inspires you?
Ahuvia: I'm inspired by my grandparents, who courageously gave up what was familiar for the unknown. I try not to idolize people but I am inspired by many.
What's next for you?
Ahuvia: Performing and speaking at a conference — Jews and Jewishness in the Dance World at Arizona State University.
That's so exciting, congratulations. Is there anything else you'd like to share with our audience?
Ahuvia: I want to thank my most recent collaborators, Gil Sperling, Stacy Grossfield, Mor Mendel, lily bo shapiro, and many others who didn't haven't official roles.
In my work I try to enact a cultural shift around Zionism.
I regularly check in with myself: am I doing this? How?
How through this work and platform am I supporting justice in Palestine/Israel?
How am I listening to and supporting Mizrahi and Palestinian artists?
---
The Dance Enthusiast Asks Questions and Creates Conversation.
For more of The Dance Enthusiast Asks, click here, including TDE ASKS 2018 Bessies Nominees: Part I, Part II and Part III.
Share your #AudienceReview of the festival or others for a chance to win a prize.