Meet the 2018 Bessies Nominees for Outstanding Production: Kota Yamazaki and David Thomson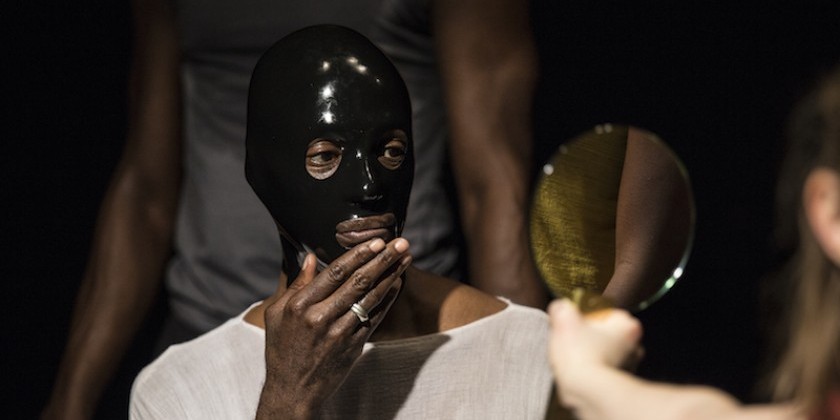 Kota Yamazaki is nominated for "Darkness Odyssey Part 2: I or Hallucination" and David Thomson is nominated for "he his own mythical beast"
As summer comes to an end, the dance scene, conversely, heats up and dance fans brace themselves for the highly anticipated New York City's Dance and Performance Awards, The Bessies.
Taking place this year on October 8 at NYU's Skirball Center for the Performing Arts, the 34thAnnual Bessie Awards celebrates the work of 43 nominees in five different categories: Outstanding Production, Outstanding Revived Work, Outstanding Performer, Outstanding Music Composition or Sound Design, and Outstanding Visual Design.
The Dance Enthusiast has been delighted to interview a few of the nominated choreographic collaborators: composers, designers, and performers. Choreographers indeed make dances, but what else — and who else — does it take to create an artistic experience worthy of an illustrious Bessie? 
For a full list of Bessie nominees and ticket information, go to https://bessies.org/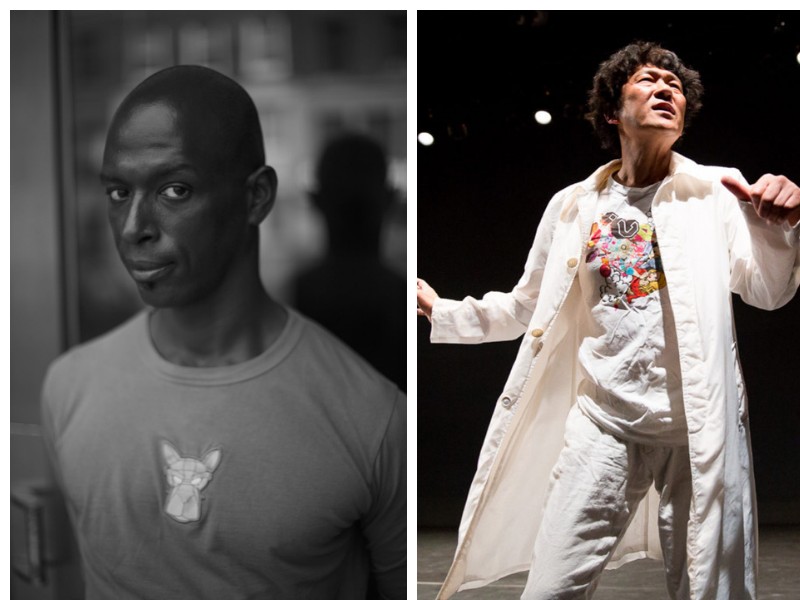 Meet 2018 Bessie Nominees David Thomson and Kota Yamazaki 
David Thomson has worked as a collaborative and performing artist in the fields of music, dance, theater and performance with such artists as Mel Wong, Jane Comfort, Bebe Miller ('83-'86; '03-'06), Remy Charlip, Marta Renzi, The Lavender Light Gospel Choir, Trisha Brown ('87-'93), David Roussève, and Wendy Perron among many others. He has performed downtown, Off-Broadway and in London with the Drama Desk nominated a capella performance group, Hot Mouth, founded by Grisha Coleman, Jonathan Stone, Viola Sheely and Thomson.
His own work has been presented by The Kitchen, Danspace Project at St Mark's Church, Dance Theater Workshop, Roulette and Movement Research at Judson Church.   Thomson has been Artist-in-Residence at many venues including Dance Theater Workshop, Movement Research, Baryshnikov Arts Center, and Gibney Dance Center. Thomson was honored with a New York Dance and Performance Award ("Bessie") for Sustained Achievement (2001) and as part of the creative team for Bebe Miller's Landing/Place (2006). An ongoing advocate for dance and the empowerment of artists, he was one of the founding members of Dancer's Forum and has served on the boards of Bebe Miller/Gotham Dance, Dance Theater Workshop and presently New York Live Arts. He holds a BA in Interdisciplinary Studies from SUNY Purchase.
Kota Yamazaki was first introduced to Butoh in 1977 through the teaching of Akira Kasai and began ballet training under the late Hirofumi Inoue in 1981. In 2002, Yamazaki moved to NY and founded his NY-based troupe Kota Yamazaki/Fluid hug-hug and performs nationally and internationally. Yamazaki has taught at Bennington College, Barnard College at Columbia University, Arizona State University, Columbia College Chicago, UC Riverside, Mount Holyoke College, University of Massachusetts, Miami Dade College, National University of the Arts in Korea, Yotsuya Arts Stadium at Kinki University and Kyoto University of Art and Design, Movement Research, CAVE and Vangeline Theater among others. His projects have been supported by The Japan Foundation, Asian Cultural Council, New England Foundation for the Arts (National Dance Project), Lower Manhattan Cultural Council and Harkness Foundation for Dance. In 2009, Yamazaki founded Body-Arts-Laboratory (BAL)-the artist-initiative organization-with the support from TOYOTA Kaizen Project (art environment support initiative) in Tokyo, and organizes Whenever Wherever Festival since 2009. On March 18, 2013, he received the Foundation for Contemporary Arts Award in New York for his artistic achievements.
---
 Raja Feather Kelly and Mina Nishimura in Kota Yamazaki​'s  Darkness Odyssey Part 2: I or Hallucination; Photo: Stephanie Berger
Cecly Placenti for The Dance Enthusiast: When and how did your artistic journey begin? 
Kota Yamazaki: I was a conductor in my junior high school and wanted to become a conductor (professionally). I loved to orchestrate different instruments, which make different sounds, to find harmony among them, and to find my own way of using my body. Maybe my way to dance was already begun then. 
David Thomson: I consider myself to be an interdisciplinary artist who works in different mediums. I began dancing in college and had no idea I would do this for a living. I just followed my desires and try to continue doing so. I don't consider being a choreographer a career, but simply another means of following a particular creative interest or project, among many others.
What has been the biggest challenge in your artistic journey? What was your proudest moment?
Yamazaki: I was invited by Germaine Acogny to make a piece for her Senegal-based company Jant-bi. I didn't speak any of their languages verbally or physically, and it was one of the greatest and most exciting challenges. I was proud of the piece I made in collaboration with Germaine and Jant-bi, called FAGGALA.
Thomson: Completing this piece, he his own mythical beast, which was my first evening-length work and the culmination of many other related works.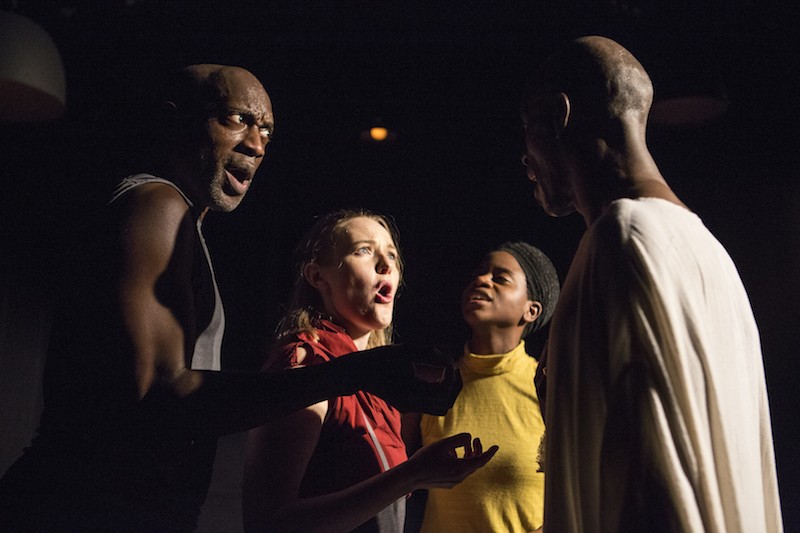 David Thomson, Paul Hamilton, Jodi Bender, and Katrina Reid; he his own mythical beast at Performance Space New York as part of Coil 2018; Photos by Maria Baranova
Describe your creative process in 10 words or less?
Yamazaki: It keeps changing as I get older. Never fixed. Like a life. 
Thomson: My history as an artist exists among the intersections of movement, text, sound, and song. Structuring environments that reframe actions and the perceived logic of the players.
What do you do when you are not creating? 
Yamazaki: Fishing, running, and making costumes. I also organize a small dance festival called Whenever Wherever Festival in Tokyo. Everything is inspiring.
Thomson: One of my passions is educating artists on concepts of sustainability. I am presently working with Kate Watson-Wallace on The Sustainability Project, which seeks to create and expand discourse surrounding ideas of financial, artistic, and personal empowerment in the performing arts community. 
I love how being creative in other ways inspires you to be creative at your craft. Who inspires you? 
Yamazaki: It used to be a Butoh pioneer Tatsumi Hijikata when I was younger. Now it's shifting. It's becoming more abstract and I cannot put the abstract figure into words.
Thomson: Ralph Lemon and Robert Rauschenberg
 From L to R: Julian Barnett, Mina Nishimura, Raja Feather Kelly, and Joanna Kotze in Darkness Odyssey Part 2: I or Hallucination; Photo: Stephanie Berger
TDE: How did your work on your Bessie nominated project begin? 
Yamazaki: After Tatsumi Hijikata died, I wanted to re-study, explore, and reconnect to Ankoku Butoh (dance of darkness) again after all these years. I had this in my mind since 1986 when I shifted my artistic path from an improvisational and rigorous Butoh performer to a contemporary dance choreographer after losing Hijikata, my greatest inspiration and idol.
Thomson: Part beast, part myth, part clown; a code-shifting chimaera was created as a response to my history of being a black body in a post-modern aesthetic that privileged concepts of neutrality in form and action as a means of subverting personal narrative.  This became the impetus for further questions regarding the perception of presence and engagement in performance.
What's next for you?
Thomson: Continuing my work on developing curriculum and awareness about artist sustainability, teaching, and working with other artists (Yanira Castro, Katie Workum, and Patricia Hoffbauer).
---
The Dance Enthusiast Asks Questions and Creates Conversation.
For more of The Dance Enthusiast Asks, click here, including TDE ASKS 2018 Bessies Nominees: Part I and Part II.
Share your #AudienceReview of the festival or others for a chance to win a prize.