The Dance Enthusiast Asks Bessie Nominees (Part 2)
The Dance Enthusiast Asks: Rashaun Mitchell
Outstanding Emerging Choreographer Nominee Rashaun Mitchell nominated for "NOX" at Danspace Project
Mitchell's work is also nominated for Outstanding Production of a work performed in a smaller capacity venue of less than 400 seats

Oct 1st 2012
*Watch out for the Bessies, New York Dance and Performance Awards on October 15, 2012 8pm at The Apollo Theater in Harlem
* Read More Q+A's with Bessie Nominees for Outstanding Emerging Choreographer
Liz Santoro
Lee Scher and Saar Harari of LeeSaar The Company
Jennifer Weber of Decadancetheatre
---
Tara Sheena for The Dance Enthusiast

Tara Sheena for The Dance Enthusiast: How did you start choreographing? Did you always know you wanted to be a choreographer?

Rashaun Mitchell: I started choreographing when I was very young. I was always preoccupied with creating make-believe worlds through words, pictures, movement, whatever was available to me. I had an interest in taking ugly things and making them beautiful or replacing them with beauty. This interest developed when I started formally training as a dancer. My first piece in high school was a terrible duet that I choreographed to Dead Can Dance. I'm pretty sure there was a flow-y skirt involved. After graduating from college, I wasn't sure that I wanted to be a choreographer. I thought I would dance until I was older and then go back to school and do something else with the second half of my life. That idea was put to rest when my friend, Anne Carson, approached me to collaborate. We worked on several projects together before arriving at NOX. I continued to be skeptical of the profession of choreography with each project, but I feel like NOX cemented something within me, a desire to create my own performance pieces.

TDE: How do you usually begin a work (an idea? Movement phrase? Piece of music?)

Mitchell: I've always had very eclectic tastes and I realized pretty early on that I wasn't concerned with creating a style or a "signature". Each piece for me takes on its own life and identity. It's always difficult to pinpoint how an idea is born. Sometimes one thought or recurring image clashes up to another and the seed for something new is created. One step leads to the next. But usually the decisions that I make are practical. Function and necessity are important to me. I have to understand WHY something exists. And dancers bring their own set of stories with them, so my ideas have to be filtered through other people. This social act and transference is the part of the process that most excites me. It's also the most difficult. Whatever the task is, it has to feel believable coming from that particular person.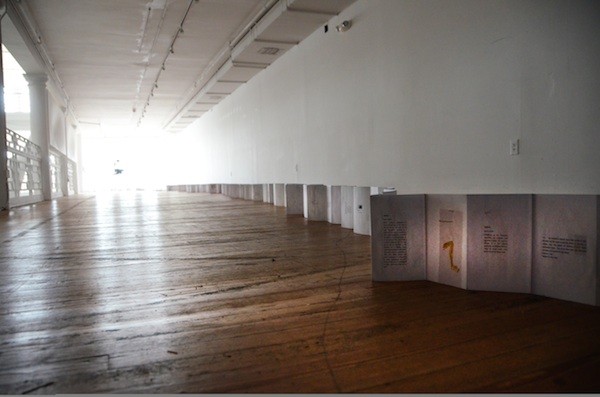 NOX on the floor; Photo Courtesy of Rashaun Mitchell

TDE: What inspired the work that earned you your Bessie nomination?

Mitchell: For NOX, I was mainly inspired by the layering, collage-like format of the book. The drawings, translations, narrative, and mementos are all arranged in a beautiful, seamless way. Time expands and contracts throughout. There's a perfect balance of intellectual curiosity, emotion and abstract gesture. I tried to create a movement language and performance world that reflected this balance and uncertain relationship with time. Silas Riener was the only dancer I could imagine working with on this project. He encouraged and allowed me to go to a more experimental place. I needed to see the movement on him in order to know what it was. As a result, when transferring any movement onto my body, there was a sense of it being once removed, but also of returning home. My role then took on a more mysterious and distant tone. I decided to work towards this, to use it to my advantage. Light also played a huge part in the piece. Davison Scandrett did a fantastic job of translating the movement and sound ideas through light as well as adding his own original ideas. I think a big inspiration for me is the talented people that I get to work with.

TDE: What was the biggest challenge with the work?

Mitchell: The biggest challenge with the work was editing myself. I have a tendency to want to fill up space with more and more movement. My eye wants to see complexity. I was really trying with this piece to find complexity in empty spaces, to create suspense, to make sure that everything in the piece was absolutely necessary. I would make up movement and I would always end up stripping it down to its bare essentials.

TDE: How do you know when the work is finished or, at least, ready for an audience to see?

Mitchell:  The work is never finished. If there is another performance of NOX, I'm sure I would rework it. I consider it a site specific piece. The space is a key player. We've done it with a multi-leveled space and a roving audience, with a glass wall, with purely natural light. I have to sit in a space and imagine the dance. For me, it's very intuitive. It would be hard to top the St. Mark's sanctuary, but I tend to think the newest version, the most recent vision in my mind is the best.



TDE: Do you think about your audience when making work?

Mitchell: I always think about the audience when making work. I don't understand how one could not. It's important for me to know with whom I'm trying to communicate. I consider the audience to be a part of each dance. If there is any through line in my pieces, it's a desire to be inclusive and to examine the audience/performer relationship. Dance is a way of communicating that makes sense to me.

TDE: Who is your favorite choreographer of the moment?

Mitchell: At the moment I'm really intrigued by Jen Rosenblit. She seems to be on to something. I'm curious about the direction of her work over time. It's subversive without being bratty. Sarah Michelson continues to prove her genius. Devotion (at the Kitchen and at the Whitney Biennial), are two of the best pieces I've seen in a long time. I really appreciate Tere O'connor for his wit and inventiveness. Thomas Hauert (in Belgium) has some very interesting movement and elements.

TDE: What's next for you? And, for this Bessie nominated work?

Mitchell: Now I'm working on a group piece called Interface that is set to premiere in New York in March. There are a lot of exciting elements in the piece that need to get organized in the right way. I'll be working on that in the coming months. Silas and I are also exploring a new duet, very different from NOX. We'll be performing versions and excerpts of this new collaboration in the spring. I'm also looking forward to performing for Jerome Bel and Deborah Hay this fall at MOMA. I still have an interest in being in other people's work and stretching myself in that way. As for NOX, I'm not sure, we'll see. I don't have any specific future plans for the piece. The images from Danspace are still burned into my mind. I feel good about what we all made together.
To Find out More about the Bessies and the Bessie Nominees, Click Here
To Find out More about choreographer Rashaun Mitchell Click Here
To Connect to Dance/NYC's Bessie Pages for detailed info, Click Here
---
The Dance Enthusiast Asks questions and creates conversation.
For more of The Dance Enthusiast Asks, click here.
---
The Dance Enthusiast - News, Reviews, Interviews and an Open Invitation for YOU to join the Dance Conversation.