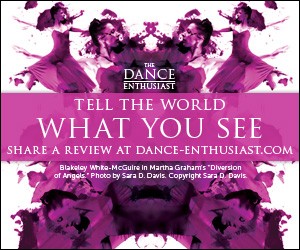 Related Features
YOUR DANCE UP CLOSE: Presenting -Ladies of Hip-Hop: Black Dancing Bodies Project × Intergenerational Knowledge Transfer a video by Works & Process at Lincoln Center
Video Performance filmed by Loreto "Still1" Jamlig
Video Performance co-produced by Lincoln Center for the Performing Arts, The New York Public Library for the Performing Arts, and Works & Process at the Guggenheim
Commissioned by Works & Process at the Guggenheim
---
Dance Enthusiast Correspondent Sarah Cecilia Bukowski writes for The Dance Enthusiast :
"As the title [ Black Dancing Bodies Project × Intergenerational Knowledge Transfer] implies, the eleven performers are intentionally drawn from across generations: "dance elders," "innovators," and "young celebrants." Grooving alongside one another in tight duos, trios, and quartets, they inhabit shifting unisons and breakouts that highlight their individualities and clearly embody the evidence of their mutual and iterative processes of knowledge transfer. From swing and house to popping, voguing, and whacking, the dancers joyously express the physical and cultural lineage of these dance styles, culminating in a processional that allows each individual to engage directly with the viewer. The library's architecture and design are incorporated to striking effect as long reading tables become runways, glass walls become portals, and stairwells emblazoned with the names of legendary creatives become sites for new ones to be born." -- Sarah Cecilia Bukowski, New York
For more of Bukowski's thoughts re The Ladies of  Hip- Hop. read her article here
About the Film:
Works & Process at Lincoln Center: Ladies of Hip-Hop: Black Dancing Bodies Project × Intergenerational Knowledge Transfer
Led by Ladies of Hip-Hop Executive Director Michele Byrd-McPhee and Trustee LaTasha Barnes, this intersectional project captures the knowledge, beauty, and power of Black female street dancers. It seeks to look beyond the traditional lens of exposure for Black bodies in dance, which has overwhelmingly focused on Eurocentric dance aesthetics, including modern, contemporary, and ballet.
The Black Dancing Bodies Project is an ongoing documentary effort to represent Black women in street and club dance culture (including street and club dance, hip-hop, house dance, Waacking, and Lite Feet) through a series of sessions that include photography and interviews. A residency for fourteen of the major practitioners in support of this effort will facilitate the direly needed exchange of inspiration and transference of knowledge between dance elders (ages 50–60), innovators (ages 33–49), and young celebrants (ages 20–32).
The ultimate goal is to create works such as books, performances, and docuseries spotlighting and preserving the beauty, strength, and lived experiences of Black women in street dance. The artists note that since hip-hop and house dance culture are themselves approximately forty or fifty years in development, we are fortunate that the creators and elders within the community are still alive to share their knowledge and the traditions.
This video featuring Michele Byrd-McPhee, Ebony Nichols, Tomoe Carr, Nadine Sylvestre, Tatiana Desardouin, Lenaya Straker, Oluwatoyin Sogunro, Reyna Nunez, Miyabi Wright, LaTasha Barnes, Deborah Conton was filmed by Loreto "Still1" Jamlig on the very last day of their bubble residency. With generous support from The Andrew W. Mellon Foundation and Doris Duke Charitable Foundation, this performance was created inside a Works & Process bubble residency at Bethany Arts Community. The production followed COVID-19 safety protocols and medical counsel, including testing artists before they isolated together for two weeks to create the work, culminating in filming at The New York Public Library for the Performing Arts at Lincoln Center. Special thank you to Linda Murray, Curator, Jerome Robbins Dance Division.
YOUR DANCE UP CLOSE  is a place for you to share your video stories with The Dance Enthusiast