DAY IN THE LIFE OF DANCE: Ladies of Hip-Hop in "The Black Dancing Bodies Project," a Works and Process Commission
Artistic Director / Choreographer: Michele Byrd-McPhee
Dancers: Imani Arrington, LaTasha Barnes, Michele Byrd-McPhee, Tomoe "Beasty" Carr, Jai'Quin Coleman, Deborah Conton, Tatiana Desardouin, Nubian Néné, Ebony Nichols, Reyna Núñez, Roukijah Rooks, Khadijah Siferllah, Toyin Sogunro, Lenya "Tweetboogie" Straker, Miyabi Wright
Panel Discussion Moderator: Cara Hagan
Video Performance filmed by Loreto "Still1" Jamlig
Video Performance co-produced by Lincoln Center for the Performing Arts, The New York Public Library for the Performing Arts, and Works & Process at the Guggenheim
Commissioned by Works & Process at the Guggenheim
Clark Studio Theater, Lincoln Center
November 3, 2022
---
"If I could speak my mind, what would I say?"
This is the central question in Ladies of Hip-Hop (LOHH)'s "The Black Dancing Bodies Project," an intersectional, intergenerational, and interdisciplinary project of self-expression and creative exchange. As part of the Guggenheim's Works & Process series presented at Lincoln Center's Clark Studio Theater, LOHH shared a video performance, panel discussion, and in-process choreopoem, all of which point to the essential work of legacy and community building for Black women in street and club dance forms.
Ladies of Hip-Hop in The Black Dancing Bodies Project x Intergenerational Transference. Screenshot from the short film
The evening led off with a screening of "The Black Dancing Bodies Project x Intergenerational Transference," a short film that showcases the wealth of styles in the LOHH canon. Filmed in January 2021 at the still-shuttered New York Public Library for the Performing Arts, the energy of every shot triumphantly asserts the dancers' steadfast presence in the face of precarity. To watch the 6-minute-long video, click here.
As the title implies, the eleven performers are intentionally drawn from across generations: "dance elders," "innovators," and "young celebrants." Grooving alongside one another in tight duos, trios, and quartets, they inhabit shifting unisons and breakouts that highlight their individualities and clearly embody the evidence of their mutual and iterative processes of knowledge transfer. From swing and house to popping, voguing, and whacking, the dancers joyously express the physical and cultural lineage of these dance styles, culminating in a processional that allows each individual to engage directly with the viewer. The library's architecture and design are incorporated to striking effect as long reading tables become runways, glass walls become portals, and stairwells emblazoned with the names of legendary creatives become sites for new ones to be born.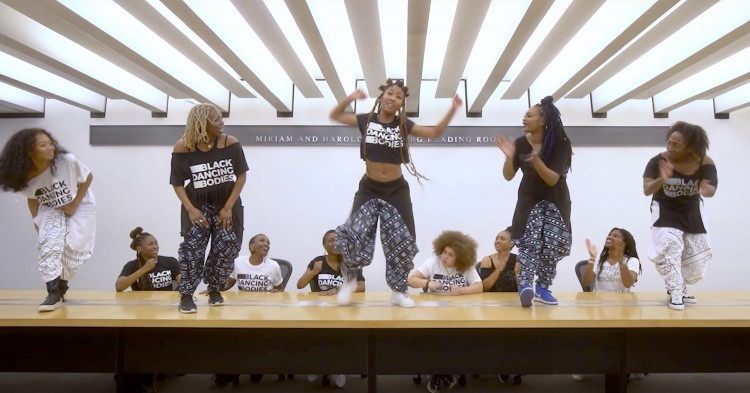 Ladies of Hip-Hop in The Black Dancing Bodies Project x Intergenerational Transference. Screenshot from the short film
The film is a jumping off point for the development of LOHH's ongoing mission-driven work in "educating and cultivating Hip-Hop's next generation of female leaders." The artists themselves are a testament to this mission, particularly as their unique voices add dimension to their considerable gifts as movers. Fresh from a thirteen-day writing residency, seven Ladies raise their voices in "SpeakMyMind," a choreopoem that draws from the lineage of Ntozake Shange's "For Colored Girls," to address the historic devaluation, invisibilization, and appropriation of the Black female body. In an act of defiance and process of reconnaissance, each dancer deployed their talents in rhythm, rhyme, and movement to express their worldview and assert their place in hip-hop's legacy.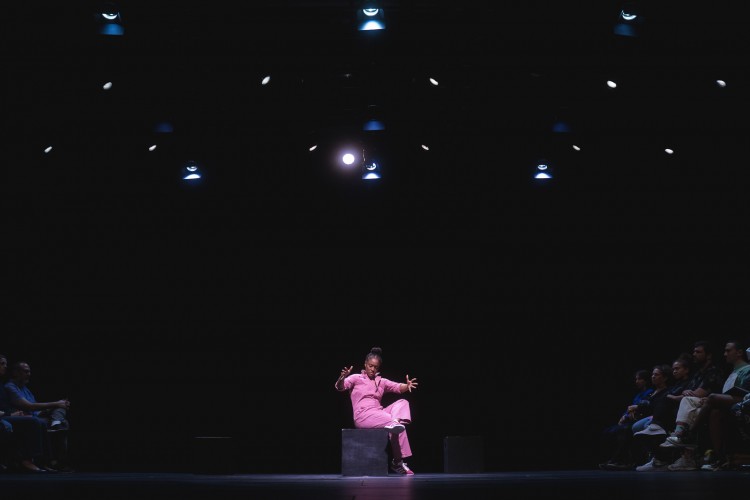 Michele Byrd-McPhee in SpeakMyMind choreopoem commissioned by Works & Process; photo by Loreto "Still1" Jamlig
Prior to the choreopoem's performance, a panel discussion illuminated the importance of the excavation and creation processes behind the work. Each dancer in this intergenerational group shared their experience in the collective journey of self-discovery, deep listening, and truth telling to create their individual choreopoems. For many, using their spoken voices as expressive instruments was new and challenging territory, and the choreopoem format allowed them an opportunity to engage in simultaneous physical and linguistic interplay, as Jai'Quin Coleman summed up nicely: "my body, my voice—I'm my own instrument." The process allowed them to explore their intersectional identities and trace the commonalities of their lived experiences as Black women in a safe and supportive environment. Many said it was the first time they had even thought to be asked the question: "If I could speak my mind, what would I say?"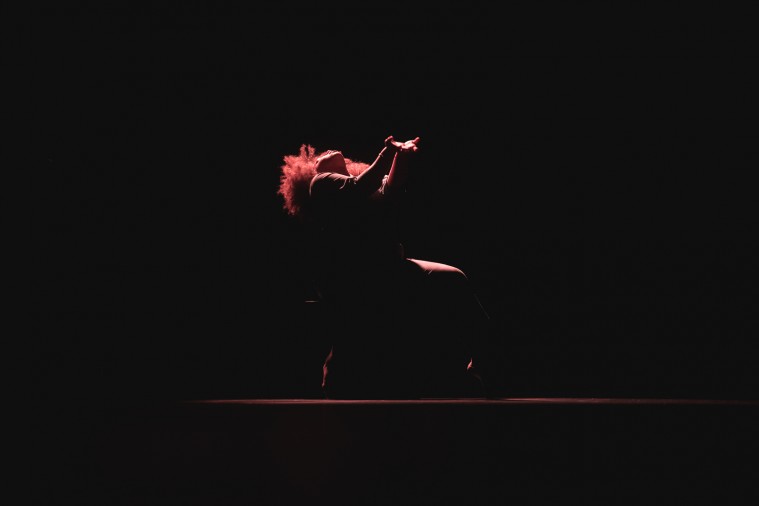 Reyna Núñez in SpeakMyMind choreopoem commissioned by Works & Process; photo by Loreto "Still1" Jamlig
LOHH founder and Executive Director Michele Byrd-McPhee leads off the series of solos in "SpeakMyMind" with a grounding exploration of selfhood and society, connecting the personal narratives of pain and trauma to structural systems of power and privilege. The elder in this group, Byrd-McPhee's nuanced articulations and smooth acrobatics show that she has most certainly "still got it." The lithe Miyabi Wright reflects on her mixed Japanese and Black heritage in the search for self-recognition in a world that habitually provides more barriers than tools for self-actualization. Roukijah Rooks' gestural language serves as a frame to display her dynamically powered technique and athleticism, reminding us all along that "being strong takes strength." Imani Arrington takes an introspective turn in confronting repression to reveal her longing for the roots and traditions that will allow her to find herself. Reyna Núñez explores self-image in mixed heritage identity and the layered complexities of hair in the sexualized commodification and denigration of Black female bodies. Khadijah Siferllah mines the internalization of hate and cultural pressures that make her dancing practice a defiant expression of self-love. Coleman's elastic virtuosity and assertive presence make for an apt closer, with her use of mirrored gestures making clear that these women all speak the same language. Though the piece remains unfinished, perhaps it is meant to be a conversation without end.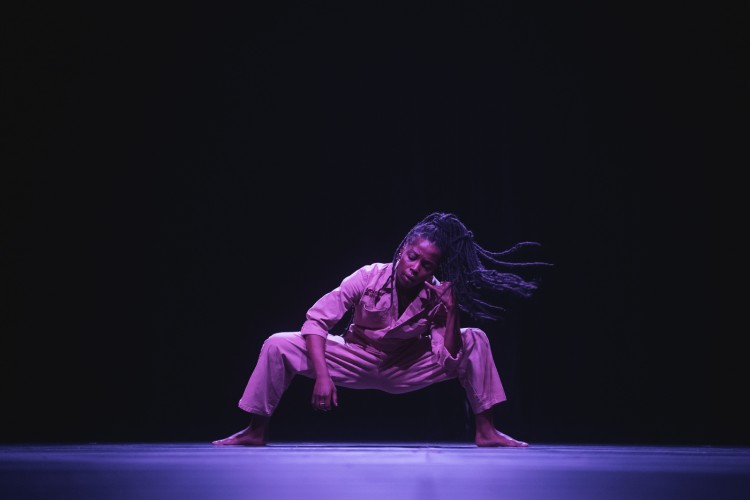 Roukijah Rooks  in SpeakMyMind choreopoem commissioned by Works & Process; photo by Loreto "Still1" Jamlig
On the whole, the choreopoems are effective in engaging as both confrontational and confessional, and the many threads connecting the individual stories will certainly continue to coalesce as the project develops. While each woman's voice stands powerfully on its own, the incorporation of music and soundscape—a fluttering jazz saxophone, a gospel verse, echoing drums—lent welcome depth and context to their words and movements. The intimate staging would be amply suited to the accompaniment of both live musicians and historical recordings, particularly given the vitality of musicianship in the Afro-diasporic canon. As "SpeakMyMind" continues on its journey toward its premiere at the Guggenheim in January 2023, there is no doubt of its merits in cultivating an embodied, living legacy with consummate care.
---
The Dance Enthusiast's DAY IN THE LIFE covers the stories behind dance/performance and creates conversation. For more behind-the-scenes stories from NYC and beyond, click here.
---
The Dance Enthusiast - News, Reviews, Interviews and an Open Invitation for YOU to join the Dance Conversation.