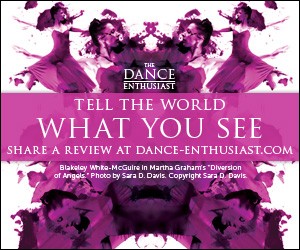 Related Features
Eiko Otake: A Body in Places - Part III
Experiencing "After Fukushima: a 24-Hour Event" and More during Platform 2016
On the fifth anniversary of the Friday that an earthquake and tsunami hit, and three nuclear plants in Fukushima, Japan, suffered a disastrous meltdown, the Danspace Project exhibited William Johnston's photographs of Eiko Otake dancing outdoors in the No-Man's Land that this catastrophe irradiated and left uninhabitable. The exhibition at St. Mark's Church in-the-Bowery was part of a memorial service titled "After Fukushima: a 24-Hour Event," on March 11, 2016. The memorial was itself part of the ambitious Platform of activities this spring that the Danspace Project built around Eiko's touring program A Body in Places. Singers and poets performed at the memorial, and in the late afternoon artists and scholars spoke at a related symposium.
Spread along pathways lining the floor of the antique sanctuary, and propped against its carpeted banquettes, Johnston's photographs depict a landscape of great natural beauty. Unruly weeds and sunflowers thrive amid gutted homes, which spill their wrecked contents into the yard. Ivy creeps across disused railway tracks; and sunshine washes over stubbly fields beneath startlingly blue skies. The ocean looks as timeless as ever frothing against a sandy shore. It's hard to grasp that this lovely place has been poisoned. Yet in a country known for its crowding, the emptiness is almost total. Only Eiko, hunched and grieving, wanders amid the overturned fishing boats and past neatly assembled piles of televisions and other radioactive debris.
William Johnston's photographs of Eiko Otake dancing outdoors in Fukushima
Her pathetic figure reminds me of Renaissance paintings depicting Adam and Eve's expulsion from the Garden of Eden, as if the tale from Genesis were not a fanciful account of humanity's origins but a warning of disaster yet to come. One day, perhaps, the gentle rustling that surrounds us will be only a memory, and the survivors of nuclear contamination or human-induced climate change will bitterly lament their exile from a paradise we took for granted.
The photographs of Fukushima accompany Eiko to many of the places she performs these days, either as a formal exhibition or in the form of postcards and a video, so that seeing her body in the photographs and also present before them audiences can experience a personal connection to this place of devastation on the other side of the globe. For many of these viewers, Eiko says, the initial response will be merely a question. "Oh! This woman whose name I don't know, is here. Why? But this woman, with the same costume, has been in Fukushima. Hmnn. Why?
This season's Platform is generous in scope. The Danspace Project has published a gorgeous illustrated catalog, with wonderful essays by observers and participants including Eiko's precious recollections of her mentor, the late Kazuo Ohno. And the Platform opened on February 20, with a program of "Talking Duets," a series of improvisations highlighting the kind of intimate, one-on-one connections that interest Eiko now. The audience could take part, too, by submitting questions for the dancers to consider as they moved.
"Talking Duet"with  Eiko and Emmanuelle Huynh. Photo by Lucile Adam for Thalie Art Foundation.
The night I attended, a feisty and sarcastic Eiko, dressed in loose rehearsal togs, strode around the space aggressively and grappled with a bemused Emmanuelle Huynh. The round-robin format, with Danspace executive director Judy Hussie-Taylor reading aloud questions and calling time with a desk bell, proved most congenial to experienced improvisers like Huynh, who could fall back on their technique. An inventive Bebe Miller packed more discoveries into the first few moments of her solo than were otherwise seen all evening; while Eiko's duet with John Kelly was a sentimental affair, as they reminisced about the apartment building where they live as neighbors. None of this activity seemed particularly interesting, however; and certainly it paled in significance beside Johnston's photographs of Fukushima.
More substantive has been the related film series at the Anthology Film Archives, and a Thursday-night book club also organized around the idea of "place." Here viewers could watch films like Noriaki Tsuchimoto's "Minimata: The Victims and Their World" on a double-bill with Eiko and Koma's "Lament," remembering and pondering the diseases caused by industrial pollution and the AIDS epidemic; or Andrzej Wajda's "Kanal," a film about Polish resistance to Fascism. These films are clearly political in nature; and by removing her work from abstract, theatrical settings to perform in the context of real-world hot spots that Eiko describes as "areas of historical memory" the dancer is clearly arranging her solos against a series of political backgrounds. "I've been to Hong Kong. I've performed in the very area where the Occupy Movement and the revolution happened," Eiko says. "I performed in Chile. I worked with Chilean poets. There's no misunderstanding why Chilean poets. This is a country where poets were very important and read as social conscience. The poets still make a lot of memories evoking both the socialist time and Pinochet's oppression."
Yet, to my consternation, Eiko also insists that her work is NOT political. "I don't think I am effective in making political work because I still believe in artistic transformation which has no message," she says. "However, I need to be inspired. I need that anger. I need to work with that remorse. If I don't do that, it's not me."