IMPRESSIONS: Limón Dance Company 2019 Season at The Joyce
Choreography by José Limón, Colin Connor, Francesca Harper with special musical guest, Nona Hendryx
Artistic Director: Colin Connor
Dancers: Jacqueline Bulnes, Terrence D.M. Diable, Angela Falk, David Glista, Gregory Hamilton, Jesse Obremeski, Eric Parra, Frances Samson, Savannah Spratt, Lauren Twomley, Mark Willis,Mariah Gravelin (apprentice)
Special Guest Performers: Miki Orihara and Stephen Pier
Live Music: Nona Hendryx 
Other Music: Sarah Sugarman compositions from 2006-13; Henry Purcell arranged by Simon Sadoff, and Jon Magnussen (2002)
Lighting: Christopher Chambers original and based on Steve Woods ( for José Limón works)
Costumes: Barbara Erin Delo & Angel Wong, Pauline Lawrence, Epperson, Marion Williams
Rehearsal Director: Logan Frances Kruger
---
Martha Graham, entranced by José Limón's commanding 6 foot 1 physique and magnetic dancing presence, wanted him to be the first male dancer in her all female company. Limón's mentor and artistic director, Doris Humphrey, thankfully dissuaded him from the proposal. He could have very well been distracted and never developed his choreographic voice.
And what we would have missed! His 1947 masterwork, The Moor's Pavane, and 1967's Psalm look radiant as danced by the adroit young artists of the 2019 Limón Dance Company. I can't contain my praise about this group. They danced their hearts (and several other body parts) out this season.
The 2019 Limon Dance Company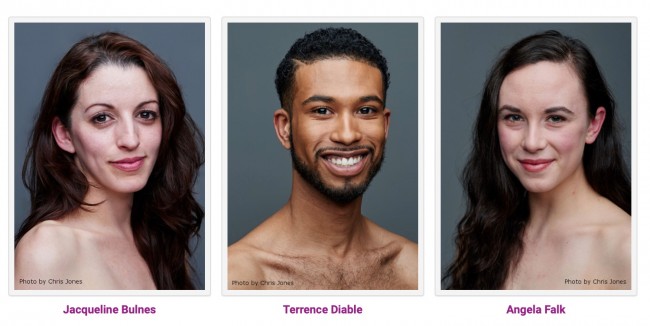 ---
It's elating to witness the shifting tides of Limón's Psalm. The company, entering in pairs, becomes a quartet, then quartets, a trio, then trios, sextets, lines, arcs, circles, and so on — keeping us attentive. Limón knew how to sculpt the stage with movement. These challenging patterns, entrances and exits, changes in the body's levels (jumps, runs, leans, walks in a forced-arch plie) along with the fluctuating musical metre of the choreography, are wonderful to see — especially when the entire company, a handsome, diverse group of twelve is on stage.
But we don't simply see the variations, we feel them. Limón's work is based on breath — falling, rising, suspending. When someone we are with changes their breath pattern — if they hold it in, or let out a deep sigh, pant, gasp, or breathe easily — we sense what they are experiencing and can be empathetic. Psalm's suspensions, glides, and the staccato changes elicit our participation. Even as we sit, we breathe with the dancers. Jon Magnussen's music — angelic voices singing "Alleluia," surprising moments of silence, and bursts of percussive rhythm — serves to amplify the experience.
David Glista (lit central figure) and Limón Company in Psalm by José Limón; Photo by Christopher Jones 
Almost imperceptibly a solo emerges from a huddling group of dancers. David Glista, a small-framed man who moves with gigantic force, dances gloriously, mostly spinning on his knees. He pulls elastically away from the floor with occasional outbreaks of flight. Psalm was inspired by the idea, from Jewish tradition, that there is a group of honorable men whose work it is carry the sorrows of the world. Glista, one of these men, struggles between being weighted down by the burden and piercing the sky, perhaps attempting to escape it.
Carla Maxwell, the company's former artistic director, performed a mitzvah when she cut the piece to thirty-one minutes and commissioned Magnussen's music (I don't know how long it was before). It still seems a tad lengthy for today's attention spans. But, as danced by the present company, so worth the experience.
---
Jesse Obremski,Mark Willis, Savannah Spratt  (on floor) and Jacqueline Bulnes in The Moor's Pavane; Photo Christopher Jones
The Moor's Pavane, an extraordinary feat of choreography, distills Shakespeare's tale of Othello, into a twenty-one minute court dance for four of the play's main characters: "The Moor" (Othello), Mark Willis; "His friend" (Iago), Jesse Obremski; "His Friend's Wife" (Amelia), Jacqueline Bulnes; and "The Moor's Wife" (Desdemona), Savannah Spratt. But one needn't know Othello the play to comprehend this ballet. The story was designed so expertly by Limón and is enacted with such nuance and intensity by this stellar quartet, we are immediately drawn in.
The four each raise one arm and touch hands in the center of a small circle to begin their stately dance ritual. Bowing in reverence, rising in salutation, they acknowledge one another. As the dancers break away from their formal grouping, which they do periodically to "converse" in different pairings, the story beneath the aristocratic facade unfolds. Tension builds with each interruption from protocol to personal exchange and back again.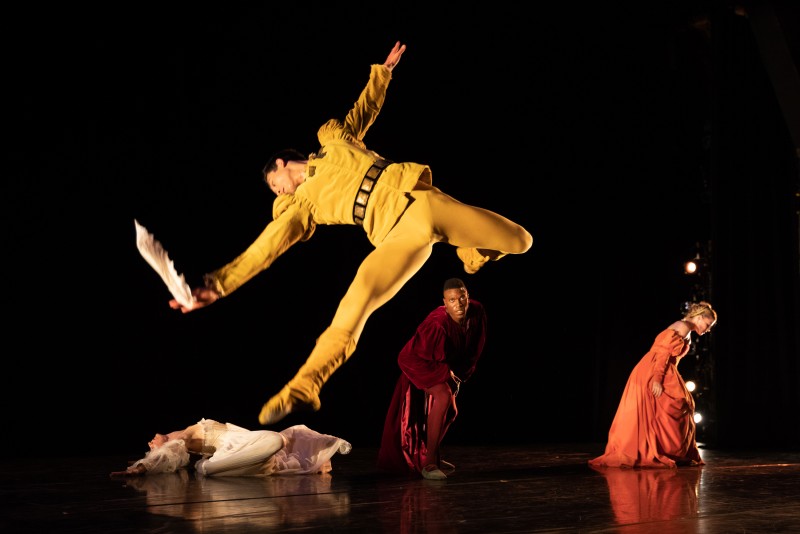 Jesse Obremski, Jacqueline Bulnes, Savannah Spratt, and Mark Willis in José Limón's The Moor's Pavane; photo by Hayim Heron at Jacobs Pillow 
Through movement, both athletic and gestural, as well as well-placed stillness, we discover that Obremski is not a friend at all, rather a scheming, jealous snake with elegant clothes and superficial mannerisms. Bulnes, his wife. matches her husband's unctuousness with guile and vanity. Spratt, the Moor's wife, lacks the artifice that overflows in the actions of Obremski and Bulnes. Her movement indicates that she is completely in love with Willis, the Moor, and an innocent, full of hope. Willis moves marvelously between regal control and gutsy emotional explosion. He loves fully and when he is duped into believing his wife has cheated on him, becomes broken inside and blindly enraged.
The inevitable conclusion is tragedy. The Moor murders his wife in a fit of passion, then realizing what he has done howls in pain at the catastrophe. Only Desdemona dies in this version of Othello, but that is enough, the other three are left to live with the consequence of their actions, which is a death in itself.
---
José Limón 
Limón is often referred to as a choreographer of human dignity. He explored grand themes and humanized them, wrestling with intricate, opposing feelings. He refined and exalted the relatable principles of breath and weight in his choreographic language. When danced fully, as seen in these performances, there is nothing so beautiful. I especially appreciate that the male figures in Limón's choreography are not relegated to being beefy hunks or supporters of beautiful women. They (and also the women) emerge as both heroic and fallible, graceful, stately, and cunning — rich with complexity.
---
So how is humanity choreographed in the 21st Century? Colin Connor's Weather In the Room (2015), a New York premiere, considers the deeper meaning behind the daily gestures and habits of a long-together couple. He looks at a relationship, not as a giddy romance or lustful encounter, but a time-tested enduring exchange.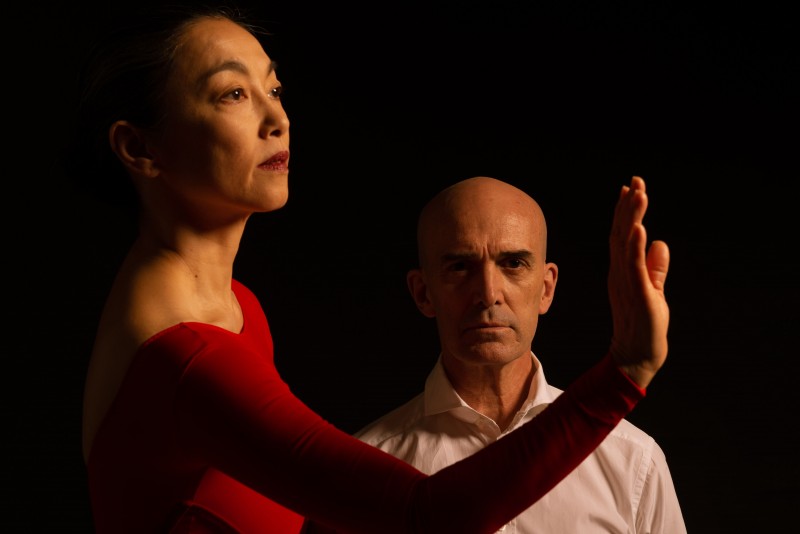 Miki Orihara and Stephen PIer in Colin Connor's Weather in the Room; Photo by Christopher Jones
Returning home from an evening out, real-life married pair, guest artists Stephen Pier and Miki Orihara, sit in opposite corners of their carpeted dressing room slowly removing small items of clothing. As they stare away from one another, lost in separate thought, Connor sweeps in three young couples to illustrate their elders' reflections, arguments, awakenings, and changes of mood.
Angela Falk and Gregory Hamilton in Colin Connor's Weather in the Room; photo by Christopher Jones 
In a stunning duet section in the middle of the dance, these couples magnify earlier motions of Pier and Orihara. They rivet us, as they twist into astonishing falls, support each other in lush expressive extensions of their bodies, and leap into the air as if to catch moonbeams. Perhaps they remind the older couple of who they were so many years ago at their beginning.
The corps could be guardian angels of the elder's relationship, shadows of Pier and Orihara's younger selves, or students being guided by experienced teachers. However one sees them, the juxtaposition of talents here is thoughtful and speaks eloquently. I long to see more finely-wrought intergenerational work on stage.
Frances Samson and Terrence Diable in Colin Connor's Weather in the Room; photo by Christopher Jones
Francesca Harper's world premiere, Radical Beasts in the Forest of Possibilities, places us in the middle of a dystopian, mechanical world where humanity is difficult to detect. Jacqueline Bulnes seems to be searching for it with a flashlight while the other members of the cast try to rip it out of their bodies, grabbing at themselves wildly.
Devoid of personality except when they shake uncontrollably, as if shocked, they reach out to the audience with open palms. I am not sure exactly what this is saying, but it doesn't look good for the world. Also, everyone is clothed in tatters. A bomb has apparently exploded and this is what remains.
Jacqueline Bulnes ,Mark Willis, and David Glista in Francesca Harper's Radical Beasts in the Forest of Possibilities; Photo by Christopher Jones 
Nona Hendryx's superb, atmospheric electrical soundscape burps, ripples, and reverberates in space, underscoring the cavernous emptiness of the forest. As her music moves towards a piano score, humanity comes back into play. We can feel her fingers touching the keys and sense that perhaps there will be hope for the digital inhabitants of Harper's world. 
A standout performance in this work came from Frances Samson, who whipped her body about, flinging her limbs outward as if possessed—radical and impressive. Christopher Chambers lighting for this and all the pieces of the Limón 2019 program deserves the highest praise.
---
The Dance Enthusiast Shares IMPRESSIONS/our brand of review and Creates Conversation.
For more IMPRESSIONS, click here.
Share your #AudienceReview of performances. Write one today!