Maria Bauman and Andre M. Zachery Embody Present and Future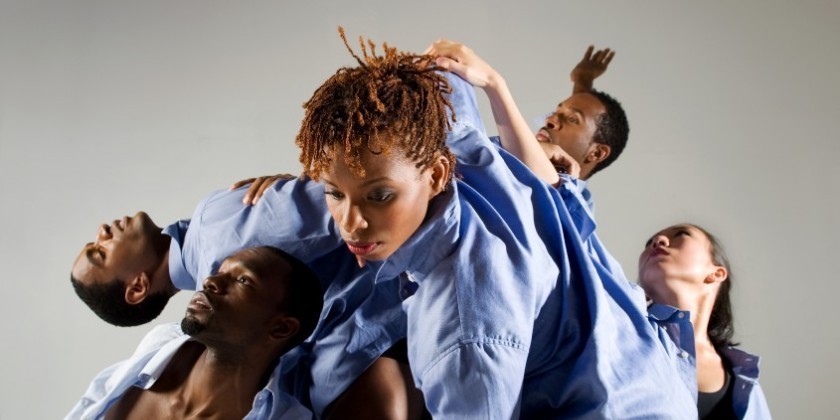 DraftWork
MARIA BAUMAN / ANDRÉ ZACHERY
October 10, 2015 Saturday at 3:00PM More Details at Danspace Project click here
Free and open to the public! No advance reservations.
---
Curated by Ishmael Houston-Jones, the DraftWork series hosts informal Saturday afternoon performances that offer choreographers an opportunity to show their work in various stages of development. Performances are followed by discussion and a reception during which artists and audiences share perspectives about the works-in-progress.
This weekend at Danspace Project's DraftWork, choreographers Maria Bauman and Andre M. Zachery will show new works in progress. Although they are working in disparate modes – Bauman in a solo improvisational practice  and Zachery working collaboratively at the intersection of movement and technology - each choreographer's artistic investigation focuses on self-actualization. They, each in their own way, are honing a present movement practice to shift their futures.
Dancer and choreographer Maria Bauman will present two works: Grace is High and Low, a solo paired with music by Roberta Flack, and The Well, a work in progress which includes original vocal music and body percussion by Philadephia-based artist, Bethlehem. Bauman, known best for her work with Urban Bush Women and her own company MBDance, is now pursuing her Master of Fine Arts at Temple University. I had an opportunity to speak at length with Bauman about Grace is High and Low, an iterative, structured improvisation that she is thrilled to bring to the DraftWork program this weekend.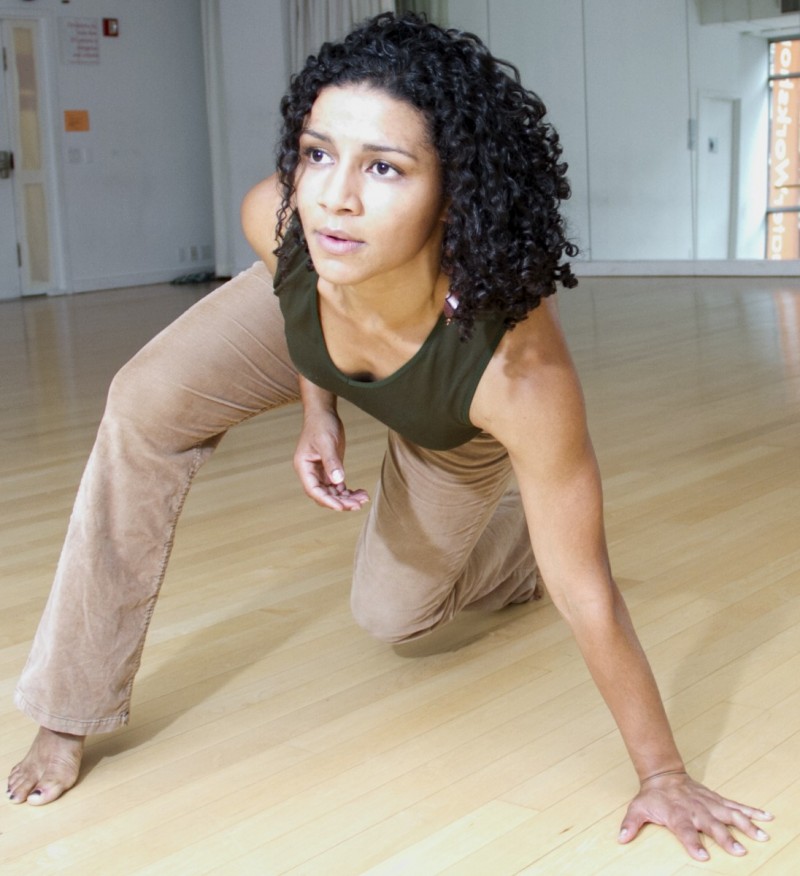 Maria Bauman: Photo by David Smith
Grace is High and Low is an evolving work by design, rooted in Bauman's improvisational practice. Increasingly, she is "drawn to improvisation as a way of telling the truth… to be as present and clear as possible, to be a vessel." This improvisational practice is a way to consider, synthesize and honor what she knows in her body and in the world.  
Each performance of this structured improvisation includes a room read-- a moment to see and consider who is in the space. In this case, the room will be St. Mark's Church, where the audience is often seated on three sides. Bauman is interested in how her performance becomes more dimensional in response to the placement of people in the room. Viewing her improvisational practice as an act of courage, she muses:
"There is a certain kind of improvisational practice [where] not only am I revealing and surrendering part of myself to myself, but I am also revealing and surrendering to you, the people who are here. Do I have the courage to do this when you are here? How is this different [than improvising alone]? How does myself change because you [the audience] are here?"
Bauman's investment and joy in these movement investigations and observations is palpable in her voice. So is her consideration for feedback. In addition to the excitement of potential feedback from audience members and curator Ishmael Houston-Jones, Bauman recalls her first public performance of Grace is High and Low in May, where her mentor Jawole Zollar, Founding Artistic Director of Urban Bush Women, told her that she was really struck by the movement, but not the music. It brought up interesting artistic questions for Bauman prompting further creative research. What does this dancing have to do with this music? The original music was a part of the creative impulse for the solo. What if I keep the essence of this [movement] with very different music?é
"I'm interested in using this same [movement] structure with different pieces of music to see the result. With the Roberta Flack, there is a tension and some narrative building that the audience does… witnesses have to make something of that [tension]."
As I listened to Bauman describe her process, particularly positioning audience members as a community that witnesses and impacts her work, I am indeed struck by her commitment to continued practice and discovery; her courage, as she says, "to dip into the source of [herself]."
"It is a growing into my artistic voice more fully, by being willing to expose myself in this way… This solo performative improvisational practice is calling me as a way to clarify and claim my artistry."
---
André Zachery and his company, Renegade Performance Group, will show Neon Cross, a new work from his program Untitled Distances to premiere as a part of Renegade Performance Group's upcoming season, The Afrofuturism Series, at The Irondale Center in Fort Greene, Brooklyn in November. Untitled Distances investigates the theme of migration in black diasporic culture. Through the mode of afrofuturism, black migration "will be remixed and reimagined through contemporary dance, digital projections, and interactive sound environments."
To discuss the upcoming performance, I met up with Zachery at the 3-Legged Dog (3LD) Art + Technology Center in the Wall Street area of Lower Manhattan where he works as an assistant video and media designer. Before we chat, he is finishing up a project on a computer software application called Isadora, programming lights and media production for a New York Fashion Week event the next day. The software program name is a nod to the American modern dance pioneer, Isadora Duncan.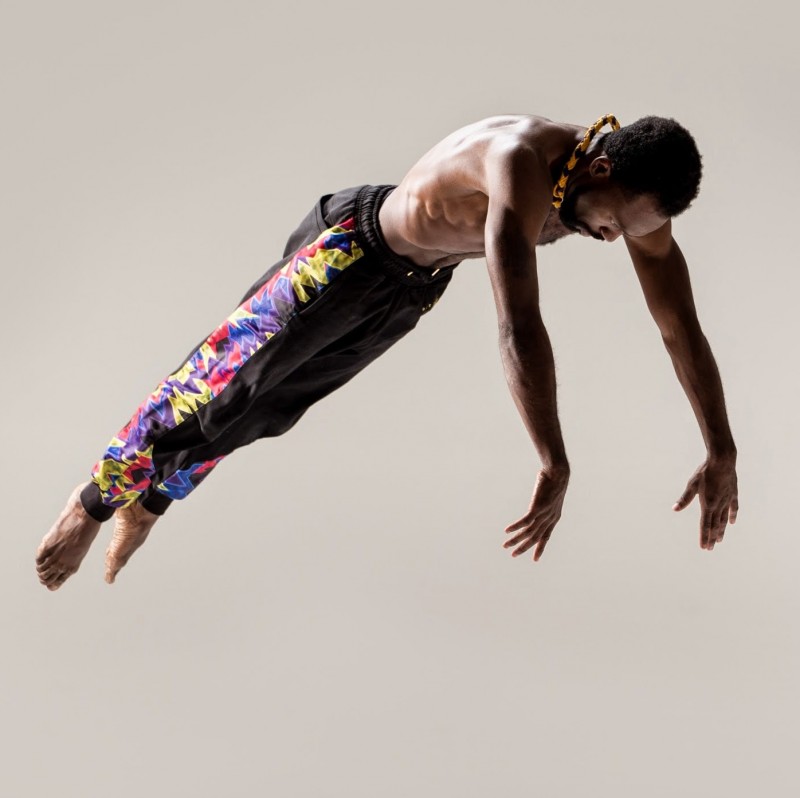 André Zachery; Photo Courtesy of the Artist
It is so fitting to see Zachery working with technology named after the free-spirited artist best known for her bare feet, scarves and forging her own path within the American modern dance movement, as so much of Zachery's recent work is about merging performance and technology to forge a body of dance work within the Afrofuturism movement. According to Zachery, Afrofuturism is constructing a new narrative of blackness in the 21st century where everything that you are and everything that you find joy in as a black person is "okay." The inclusive nature of Afrofuturism builds community across varied experiences of black peoples facilitating a collective effort for what he calls, re-representation. That is, building new references for blackness instead of worn out stereotypes. In terms of movement practice and performance, that means decentralizing eurocentricity as the focus of technical practice in order to create space for the black body to move freely without pre-conceived notion. In terms of technology, it is agency; technology gives us ownership over what our blackness can do. For Zachery, the Afrofuturism project creates a better future for black people and gives us a purpose beyond ourselves.
In Untitled Distances, Zachery investigates some poignant questions: What does it mean to exist now in the black diaspora? How does black culture exist in the digital realm? Do we have permission to imagine connecting to the ancestors through the digital medium? According to Zachery, the narratives of black Diasporic peoples are fully wrapped up in migration, crossroads and people coming together. This work uses the power of technology and movement to connect black Diasporic cultures across geographies and past/present to future.
André Zachary  Renegade Performance Group ; Photo Courtesy of Artist
One way he describes doing this is in collaboration with sound designer, Jeremy Toussaint-Baptiste, with whom he says he has a John Cage and Merce Cunningham relationship; allowing the chance of independently created sound and choreography to come together by circumstance. For Zachery, this relationship between circumstance and chance taps into a spiritual practice, an ancestral lineage that is "in front of you, and from with in you."
Like Bauman, Zachery is also deeply committed to a practice that relies on his embodied knowledge to problem solve and discover new outcomes.