DANCE NEWS: DANCE NOW Takes Its Final Bow On December 31, 2021
On October 28, 2021, DANCE NOW's Founders and Board announced in a letter to artists, audiences and supporters that they had made the difficult decision to shutter operations as of December 31, 2021. The full text of the letter is shared below: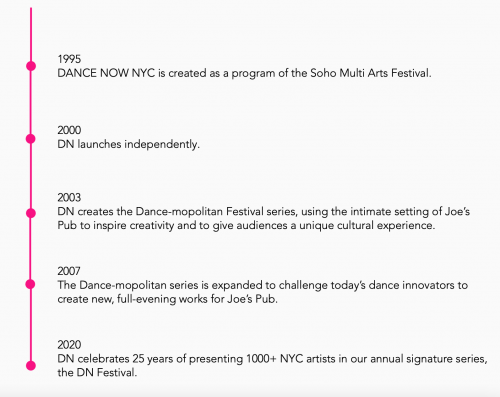 DANCE NOW's brief timeline. View the full timeline 
here
.
Dear Beloved DANCE NOW Community,
DANCE NOW started in 1995 as a wild experiment to bring artists and audiences together through unconventional and accessible programs as a catalyst for creativity and exploration.  From a small program in the Soho Arts Festival to a widening network of performance, creative development, and educational opportunities, DANCE NOW (DN) has been steadfast in our love for dancemakers and their ability to tell stories, to connect and provoke, to move and inspire.
It is with a heavy heart, but also tremendous pride and gratitude, that DN shares that this is our final bow. The combined challenges of the COVID epidemic, the uncertainties around live performance, and loss of some foundational income has led the Board to this necessary decision. While the leadership announced the close of programming by December 31st, DANCE NOW is honoring all existing commitments to artists through 2022, including the commissioning fees of 22 digital works and a creative commission for Kyle Marshall. The Fall On Demand program, featuring short dance works by The Davis Sisters, Davalois Fearon, Paul Singh, Rourou Ye, Audrey MacLean, and The Bang Group, will premiere at a virtual Watch Party on November 4, 2021 and will serve as the final performance event for DN. 
Over the years, DN presented dance in more than 25 traditional and unconventional venues throughout NYC, and became the fall kick-off to the dance season. In 2003, DN created the Dance-mopolitan series, using the intimate setting of Joe's Pub at The Public to inspire creativity and to give audiences an up-close and personal cultural experience. In the past decade, DN has diversified its programming to help start, expand, and advance the careers of artists through residencies, teaching and performance opportunities, including more than 25 evening-length works for Joe's Pub. DN constantly grew our community of artists, seeking out new voices, while continuing to support and promote existing artist relationships across many generations. In response to the challenges of COVID, DN celebrated our 25th Anniversary through a new digital platform and interactive artist-to-audience celebrations. DN has presented the work of 1,000+ choreographers and more than 10,000 performers have graced our stages and screens. 
To our partners, funders, and audiences, thank you for your faith, investment and support on this exciting adventure. To our staff, Board and advisors, thank you for helping to steer the ship over the years. To Lauren, thank you for going above and beyond in every role you've taken on to realize the DN vision for 13 years. And to our beautiful, brilliant and passionate community of artists, thank you for 25 years of extraordinary dance and magic.
It has been our honor and privilege to have been an ally, accomplice, advocate, and ringleader. We look forward to seeing how we can all continue to dance outside the box!
With much love,
Robin Staff, Founder & Artistic Director
Tamara Greenfield, Founder & Board Chair
---
What better way to honor an arts institution than to memorialize their shows in writing? 
The Dance Enthusiast pays tribute to DANCE NOW:
---
The Dance Enthusiast Shares news from the dance world and creates conversation.
For more Dance News pieces, click here.
If you have important news to share, please send announcements or press release to info@dance-enthusiast.com!
---
The Dance Enthusiast - News, Reviews, Interviews and an Open Invitation for YOU to join the Dance Conversation.